Since my son is only one years old, I've only thrown one birthday party for him so far. He will turn two in a few months and I've begun thinking of party themes for his birthday along with ideas of things all the little ones in attendance can do for fun while there. I think a good party theme complete with coordinating ideas for games and decor just adds to all the birthday fun. Today I wanted to share ten ideas of party themes and ideas with you. Some are great for boys, some for girls, and some of the themes would work for both. Happy party planning!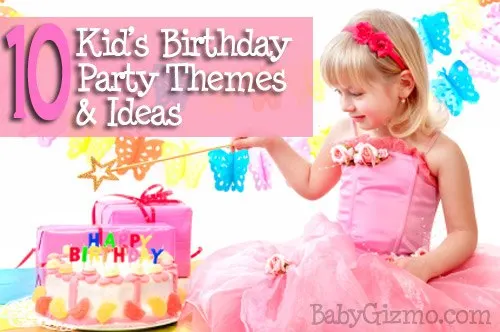 1. Tea Party Birthday. Do a fun tea party birthday for your little one complete with apple juice or sparkling cider for the tea. Make tiny finger sandwiches, bite sized desserts, and a tea pot shaped birthday cake. Have a puppet show, decorate plastic tea cups and decorate with pink balloons.
2. Wacky Birthday Party. The key is silly. Buy some cheap wigs, fake mustaches, and silly hats at your local party supply store and let the guests have fun dressing up in silly disguises. Have a costume contest and give the winner with the silliest get up a fun prize. Have your child's birthday cake colored tye-dye and decorate with a rainbow of colored balloons. Hand out disposable cameras to all the party guests and let them snap pictures of each other in their wigs and mustaches.
3. Tiny Birthday Party. Think small. Give each guest their own tiny birthday cake. Make tiny decorations with small balloons and small birthday banners. Give everyone in attendance a tiny goodie bag filled with tiny presents.
4. Animal Birthday Party. Have your child's cake made to look like their favorite animal. Buy or make animal face masks for each party guest to wear. Buy party plates, napkins, and cups with animals on them. Have everyone do their best animal noises and impressions.
5. Spa Birthday Party. Invite all of your daughters friends over for a day at the spa. Give fancy manicures and pedicures or even facials. Fill everyone's goodie bags with a sleep mask, a new polish, nail file, and a new lotion. Make popcorn and put on some movies while the girls relax and get pampered.
6. Western Birthday Party. Give your little cowboy or cowgirl a party to remember. Serve western appropriate food from the grill, design the birthday cake to look like a cowboy boot, and pass out cowboy hats to everyone in attendance to wear. Get some hay stacks for people to sit on while they eat, play western music, and pass out cookies shaped like cactus' and horses.
7. Pirate Birthday Party. Give your little pirate a fun party he won't forget. Pass out eye patches to all the kids who come. Have a temporary tattoo station. Give everyone a "loot bag" filled with gold wrapped chocolate coins. Shape the birthday cake to look like a pirate ship. Play hide and seek. Make your own "Happy Birthday Mate" birthday banner to put up for decoration. Fill a pinata with "buried treasure" and let the kids take turns trying to smash it open.
8. Mickey Mouse Birthday Party. Cut out Mickey heads on thick black paper and write the party information on them for DIY invitations. Decorate with a Mickey banner and red, black, and yellow balloons. Get a Mickey Mouse pinata or jump house for the kids. Fill goodie bags with Disney stickers and small Mickey trinkets (I always see these at The Dollar Tree). Complete the party with a cake that looks like Mickey Mouse and put Mickey Mouse Clubhouse on the TV for little toddlers to enjoy watching. You can even make cute Mickey Mouse cupcakes for the party!
9. Circus Birthday Party. Hire a clown to make balloons for all the kids. Make snow cones and cotton candy. Serve fun foods like pretzels with cheese dip, hot dogs, and set up a little candy bar complete with jelly beans and circus animal cookies. Do face painting. Make sure to decorate with lots of bright balloons and streamers. Shape the cake like an elephant or a clown.
10. Hawaiian Birthday Party. Dress the birthday boy or girl in a fun Hawaiian shirt. Pass out sunglasses to all the boys and grass skirts to all the girls. Serve chicken, steak, and shrimp skewers complete with pineapple juice and a Hawaiian themed birthday cake. Decorate with tiki lamps, pineapple cut outs, and surf boards.
Now that I've shared ten birthday party theme ideas with you, share a few with us. Do you theme your children's birthday parties? What are some themes you have done in the past? Leave a comment and let us know.