About the author: When asked her job title, "Zookeeper" is what immediately comes to mind to Laura El Alam, homeschooling mother of four. The daily drama of raising two toddlers and two teens keeps Laura perpetually on her toes . . . and frequently on her last nerve. In her nonexistent free time, she is a writer for SISTERS magazine and a professional nap-taker.
Like all stay-at-home moms, I supervise an extremely busy household. Items on my to-do list seem to reproduce like enthusiastic rabbits, no matter how many items I check off. I'm sure you all agree that the last thing we parents have time for is washing dishes twice. Yet, sadly, in our family, that is exactly what we (by "we," I mean "I") were doing for several weeks until we heard about Lemi Shine.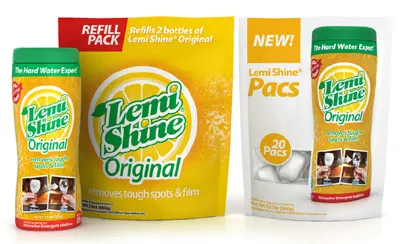 For several months I have been calling our dishwasher a traitorous beast. It runs noisily and enthusiastically through its wash cycle for over an hour. It puffs out steam and occasionally bellows and grumbles. You would really think it's accomplishing something. But you are wrong. Until recently, when you opened it up to unload it, you would find dishes and utensils covered with an unsightly white film. You would discover drinking glasses embedded with a nasty, gritty residue. Time after time, I moaned and glared at our machine as if it were a naughty puppy who had soiled the carpet. It ignored me.
My children became so used to this film-and-grit problem that they formed a habit of peering into –and smelling–every single glass before they would pour a drink. As you can imagine, this routine was especially reassuring to our dinner guests.
Most of the just-out-of-the-washer dishes ended up in a "reject" pile by the kitchen sink. (Guess who got to wash them by hand?)
I tried many products and treatments to solve the problem: Jet Dry, vinegar, a product called "Dishwasher Magic," and various upscale dishwasher detergents that cost only slightly less than my actual dishes. Nothing solved the problem. According to an expert (a.k.a. my wise friend and neighbor, who has lived in this area longer than I have), we have Hard Water in our part of Southern California. The pervasive white film is caused by mineral deposits. Her mom recently paid a repairman to professionally de-scale her machine. I was not willing to pay for that dubious-sounding service until I had exhausted all other options. But what would solve my problem?!
Finally, just when I could not bear to re-wash another load of dishes and was ready to chuck all our tableware into the garbage and commit to disposables for eternity, I heard about Lemi Shine.
There is a whole "system" of Lemi Shine products: machine cleaner, detergent booster, auto dish detergent, and spot free rinse. I didn't have time to research all this when I was speed-shopping at Wal-Mart, so I simply grabbed a small bottle of Original Detergent Booster. I was dubious that it would actually work, but was reassured when I read that it is "made with real fruit acids and natural citrus oils." To use, you simply add the detergent booster to the main wash receptacle of the dishwasher, and put regular detergent into the pre-wash receptacle. Note: "Receptacle" is a word I am borrowing from the Lemi Shine bottle.
My very first load of dishes done with Lemi Shine came out film-free. I am not exaggerating when I say my children gasped to see how vibrant the original color of our dishes suddenly looked, when not blurred by white mineral build-up. My kids gazed, admired, and exclaimed. It was like discovering a new solar system, right there in our kitchen. But what about the drinking glasses–would they pass the test? My kids sniffed. They peered into the bottom of the glass and felt around with their fingers.
The smiles that brightened their skeptical faces were worth a dozen bottles of Lemi Shine. And my overworked self will definitely be buying it again.
*We have seen Lemi Shine on sale at Walmart, Target, Home Depot, Amazon and other nationwide retailers.
**Disclosure: This is NOT a sponsored post. The writer just really likes Lemi Shine and wanted to tell you about it.