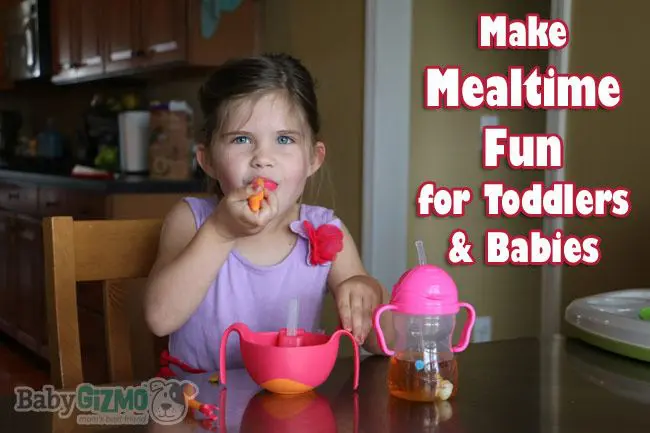 At one time or another, we all struggle with getting our toddlers to eat. Am I right?!? It seems like when my boys were in the delightful toddler stage, they could go for days on a hunger strike just because. That is IF I let them, of course. I asked nicely. I pleaded. I begged for them to eat what I made for them. I swear yesterday their favorite food was mac 'n cheese, and today they wouldn't touch it with a ten foot pole. Sound familiar?

Mealtime, whether it is with a baby, toddler or preschooler, can definitely be a challenge from time to time. So, today I want to share with you some great products that will at least make it more fun while still keeping things practical. Anyone looking for a sippy cup that doesn't actually leak? Yep, we are showing you one today along with some other great products from b.box.
B.Box is an Australian-based company that is passionate about creating fun and functional everyday baby essentials with the goal to make the lives of parents more convenient, in a cool and innovative way. Plus, their products are BPA, Phthalates and PVC free so they're safe for our kids and the environment!
Let's start with the three new b.box products first.
b.box bowl + straw
This is no ordinary toddler bowl. This one not only has two handles that are designed for little hands but it features a removable clip and straw so kids can drink liquid such as soup or milk.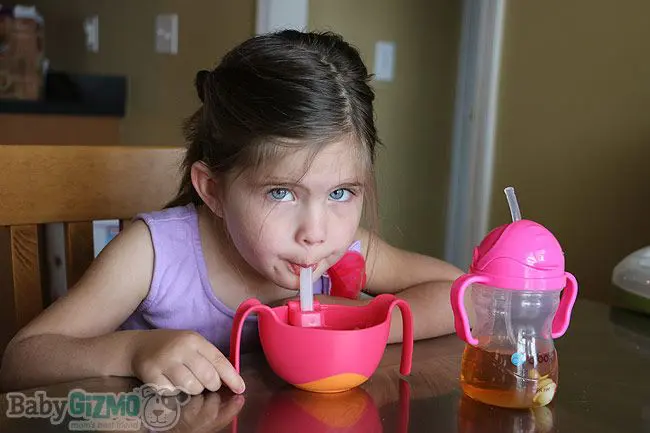 Our little tester loved drinking the milk first and then scooping out the cereal with a spoon.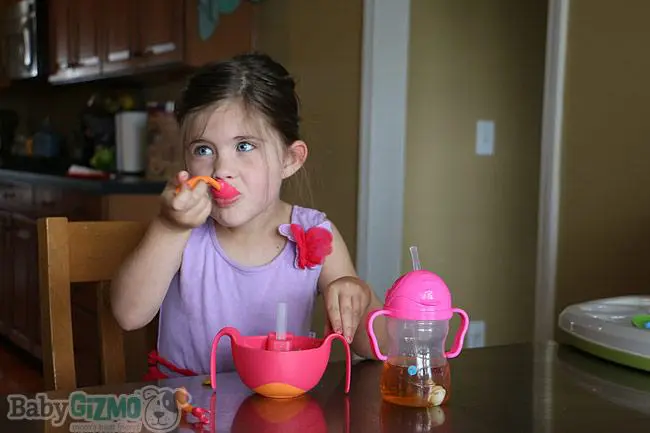 That's not all! It also comes with a lid for easy storage AND a bonus insert for snack time on the go. We love that the snacks stay inside the bowl when the snack insert is on but is easy for little hands to grab the snacks to eat. The b.box bowl + straw retails for $14 and comes in five fun colors: Ocean Breeze, Strawberry Shake, Passion Splash and Lemon Sherbert.
SHOP the b.box bowl + straw here (and get 15% off with code "babygizmo3)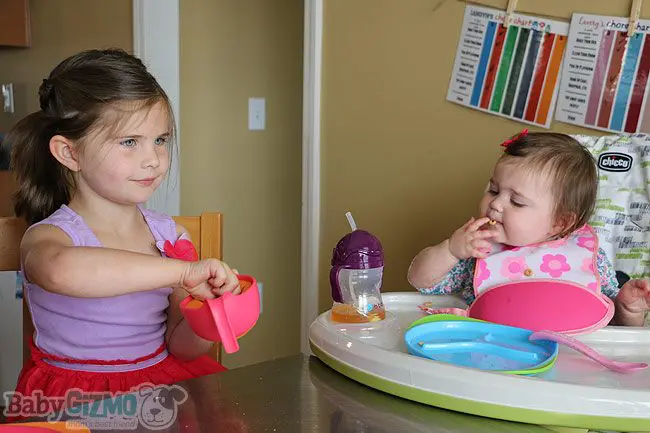 b.box toddler cutlery
Boring forks and spoons aren't going to convince any toddler that it is fun to eat. They are usually big, tedious and don't really fit in their tiny mouths. b.box has introduced a toddler cutlery set that is going to change that. Designed in consultation with a leading pediatric occupational therapist, this unique fork has been designed to fit the size and shape of little mouths. Bursting with color, there is no boring here and they are specially designed to fit little hands and give kids ultimate maneuverability and control. The angle between the head and handle has also been carefully designed to ensure correct hand to mouth positioning. Plus, for added convenience it comes with its own case for mealtimes on the go!
SHOP the b.box toddler cutlery here (and get 15% off with code "babygizmo3)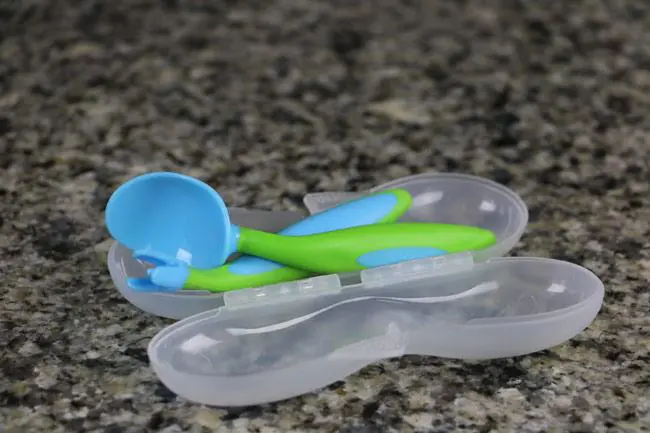 b.box divided plate
What are new utensils and a bowl without a great new plate? Not to worry, b.box has you covered there too! This new divided plate is great for kids who tend to like to explore new tastes and textures separately. You know that peas rolling into the applesauce can ruin a toddler's entire day, right?! The divided plate is the perfect size to fit on a high chair tray or in front of your toddler at the family table. It features a non-slip base and easy grip rim to make this a perfect toddler plate.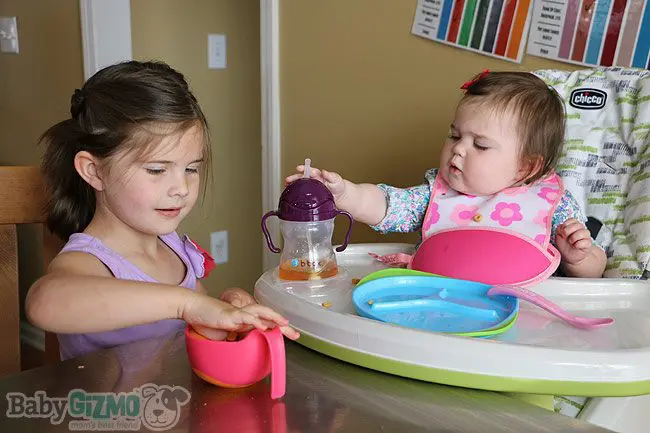 The Bowl + Straw, Toddler Cutlery and Divided Plate are all dishwasher safe and BPA, Phthalates and PVC free, so they're safe for our kids and the environment.
SHOP the b.box divided plate here (and get 15% off with code "babygizmo3)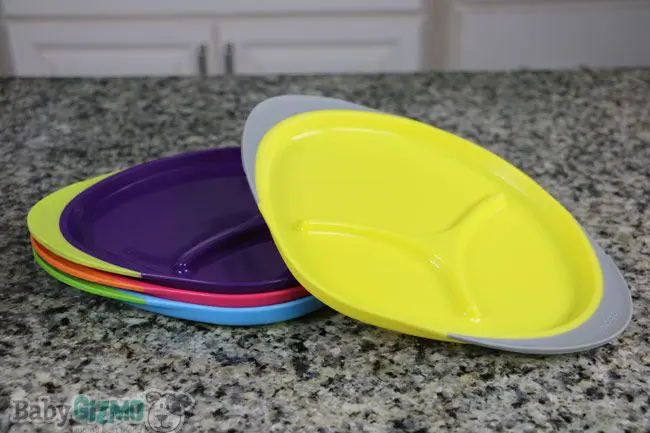 b.box travel bib
Not all bibs are created equally. Some don't stay on, some are hard to clean and some bibs just let the food slide right down onto the baby's lap. Not the b.box travel bib. This one has your baby covered. It securely attaches around the baby's neck with snaps that really stay closed. Plus, I love that it has a large "catcher pouch" at the bottom of the bib that catches spills and food that is dropped for easy clean up! That's not all. There's no need to store this bib in a zip lock bag while on-the-go because after baby has finished eating, pop the INCLUDED spoon inside, roll the bib into the catcher pouch and zip closed. Then when you get home, just wash and dry it ready for your next outing. Yep, easy as that and it comes in some bright, fun colors. And you guessed it – BPA, Phthalates and PVC free!
SHOP the b.box travel bibs here (and get 15% off with code "babygizmo3)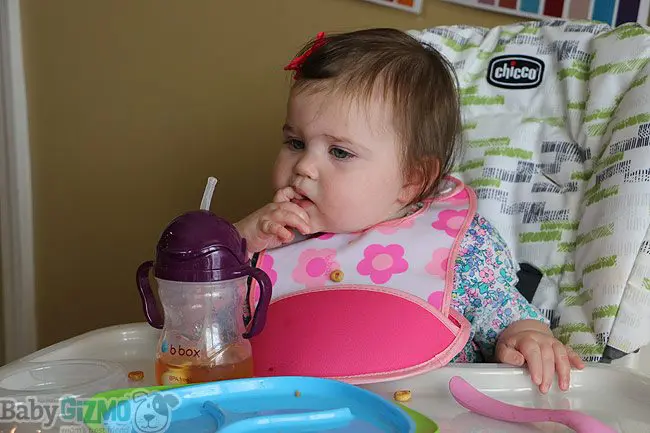 b.box sippy cups
I know you've been waiting for me to tell you about those no-leak sippy cups that I mentioned at the beginning and now is the time. The b.box sippy cups aren't new. As a matter of fact, they are award-winning cups! Why? Probably because they actually work!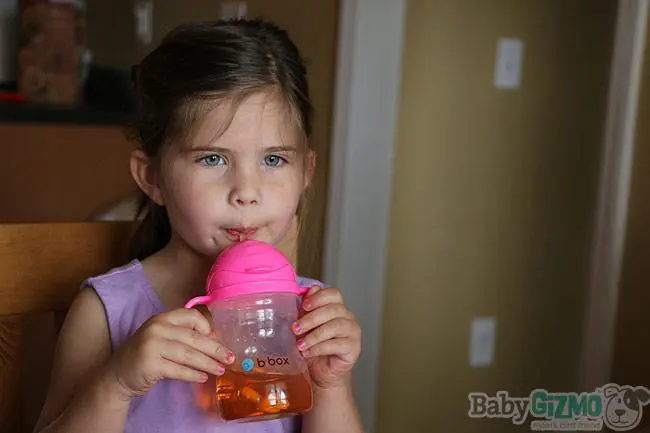 The b.box sippy cups have easy grip handles for little hands, a simple flip top lid that is great for transitioning from bottle to cup and the innovative weighted straw lets tots drink at any angle the cup is tipped. Little ones aren't left sucking air and can drink to the very last drop! Yes, that feature REALLY works. Plus, they are leak proof! For real. As long as the simple flip top lid is closed, turn the sippy cup over and shake all you want – the cup doesn't leak. That's right no more leaking sippy cup when it accidentally tips out of the diaper bag and onto your car's floor.
While these aren't new sippy cups, we are letting you know about them not only because they are awesome but they just launched five new neon colors. That's news-worthy, right? If not, the fact that these cups are leak proof and have that cool, innovative weighted straw certainly is.
SHOP the b.box sippy cups here (and get 15% off with code "babygizmo3)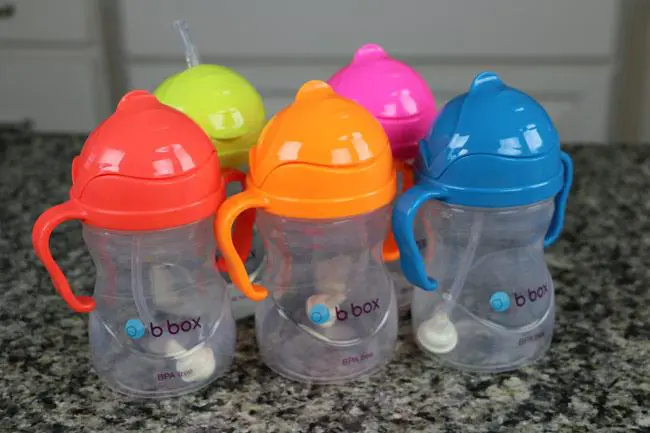 Now, that you know about all the new b.box products that we are loving right now and have watched our video about it, it's time for the GOOD NEWS!!
We have an exclusive DISCOUNT for you! Yep, we have 15% off all B.Box products with code "babygizmo3" and it is good for a 15% discount from any order from www.bboxbaby.com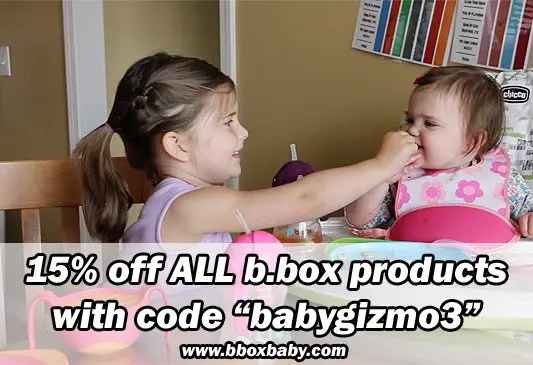 *Disclosure: This is a sponsored post by b.box. As always, all thoughts, opinions and statements are our own. We don't talk about products we don't actually like.