The latest trend of edible flower cakes stirred up fond memories of living down the street from my 'hippie' Aunt Jan. She would encourage us to eat the dandelion weeds growing wild in the yard. I haven't had dandelions since the age of about 9 when she moved away, but I still recall the sweet and earthy taste of those bright yellow wild flowers and how much fun it was to pick them.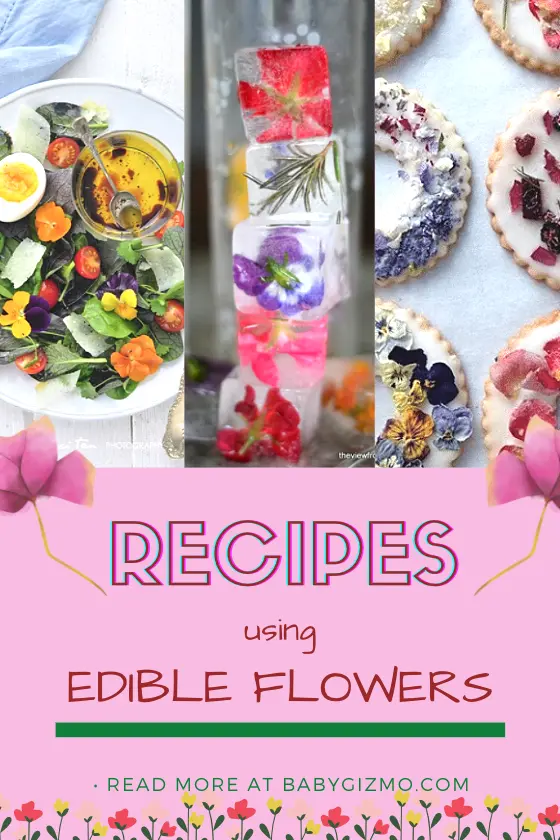 These edible flower cakes not only sparked my childhood memories but they also sparked my interest in other ways that we could use these colorful adornments to make any dish extra beautiful and perfect for spring! Here are 10 recipes using edible flowers.
1. Microleave & Edible Flower Salad via My Cooking Hut
Edible flowers can make even a simple salad look gorgeous!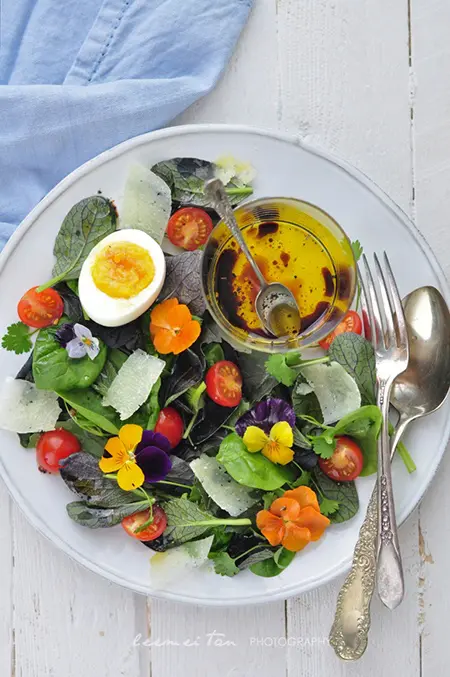 2. Mini Chocolate Cakes With Edible Pansies via Martha Stewart
Garnish individual sized cakes with edible pansies to add a beautiful touch.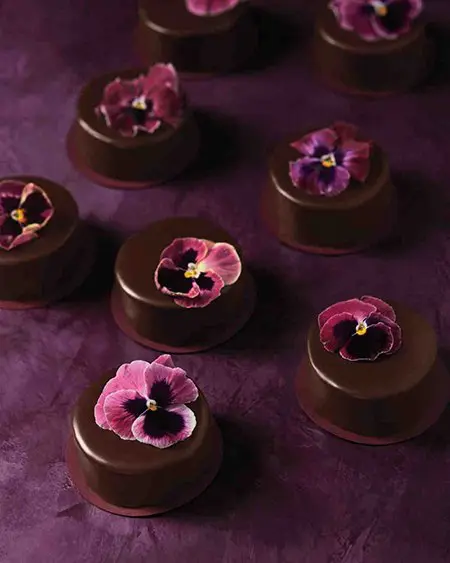 3. Pink Lemonade Lavender Thyme Sorbet via Boulder Locavore
Refreshing pink lemonade sorbet with an herbal and floral kick.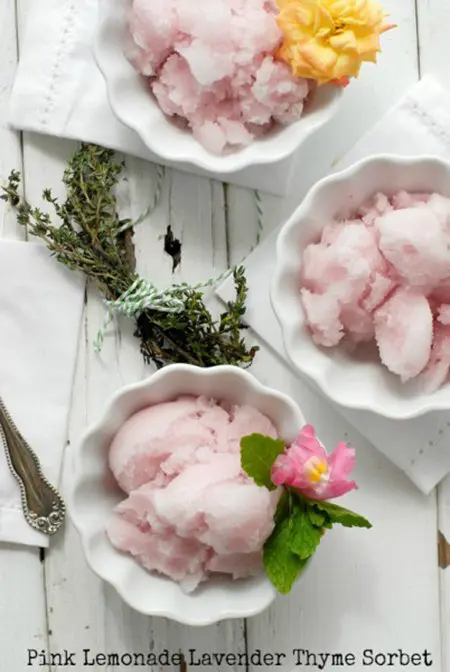 4. Earl Grey Panna Cotta Tarts via Kitchen Heals Soul
Light and delicious Earl Grey flavored tarts garnished with edible flowers.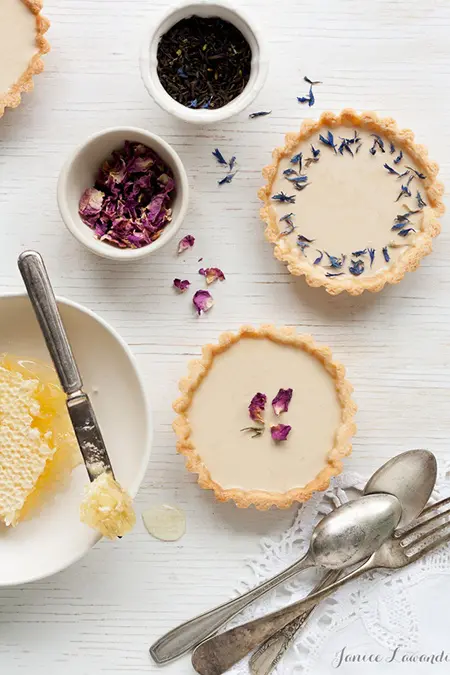 5. Edible Flower Ice Cubes via The View From Great Island
Make an extra pretty presentation at the drink table at your next party with these edible flower ice cubes.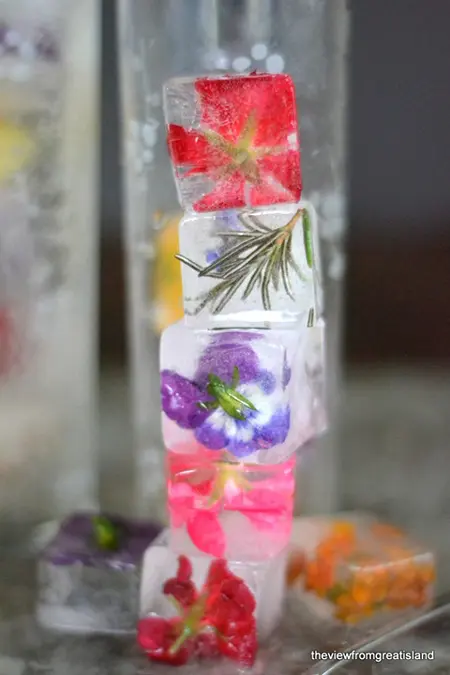 6. Hibiscus, Lemongrass, Basil, and Honey Sweet Iced Tea via Half Baked Harvest
Speaking of drinks, doesn't this Hibiscus, Lemongrass, Basil, and Honey Sweet Iced tea sound so refreshing? And look how beautiful the deep red color is!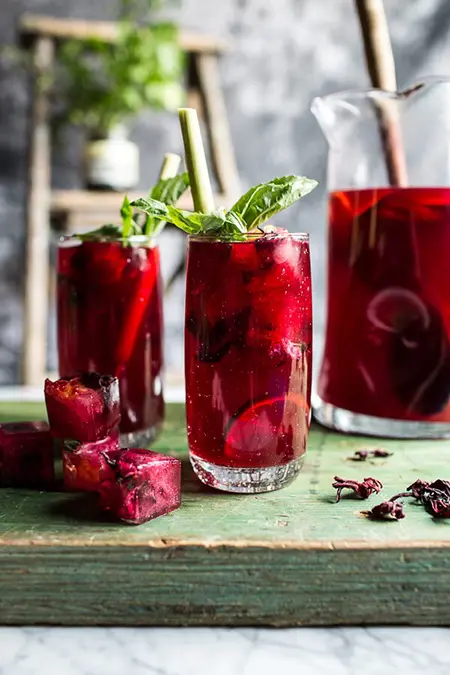 7. Edible Flower Lollipops via Pop Sugar
These precious edible flower lollipops will be a sweet surprise for both adults and children.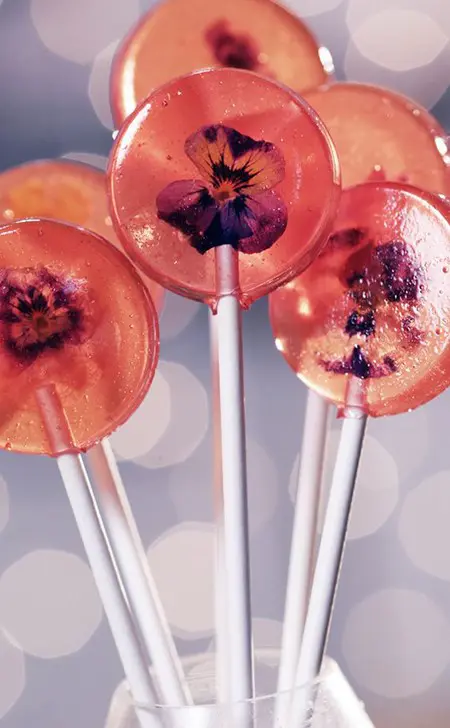 8. Lavender Shortbread with Fruits, Flowers, and Herbs via Bon Appetit
These deliciously beautiful shortbread cookies will be the hit at your next tea party.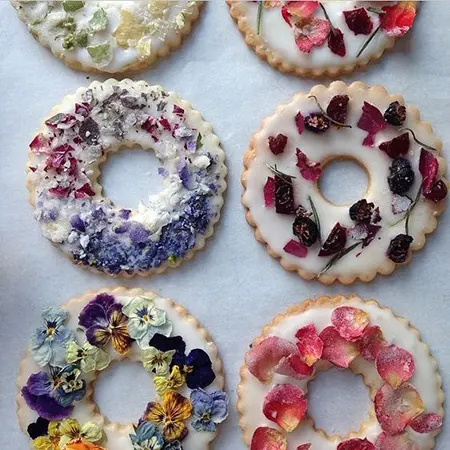 9. Color Blocked Chocolate Bark with Edible Flower Confetti via Paper & Stitch
This stunning chocolate bark with edible flower confetti is a work of art that is almost too beautiful to eat.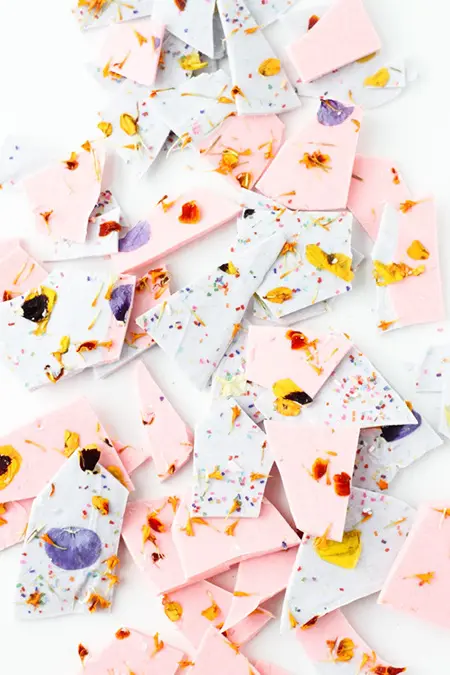 10. Crystallized Flowers by Leite's Culinaria
Adorn any dish with these crystallized flowers to add an elegant touch.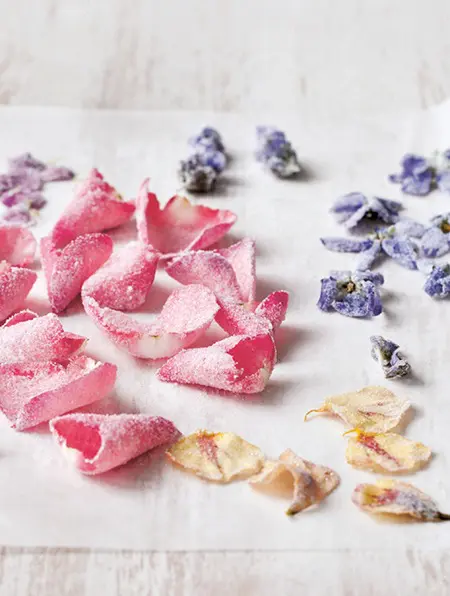 About the author: Rubina Umarji is the owner and executive cake artist of Rubina's Cake Shoppe. After the birth of her son in 2009, she left her career in engineering to focus on her two passions: her family and her edible art. Since then, she's had the opportunity to showcase cakes and gourmet confections to thousands of dessert loving clients as well as over 100 of Hollywood's hottest stars and has had her cakes featured on television. Now her days are focused on teaching cake decorating classes to all ages. Her favorite students are her two children, ages 4 and 6. She frequently writes cake decorating tutorials and recipes on the Rubina's Cake Shoppe Blog (www.rubinascakeshoppe.com/blog).