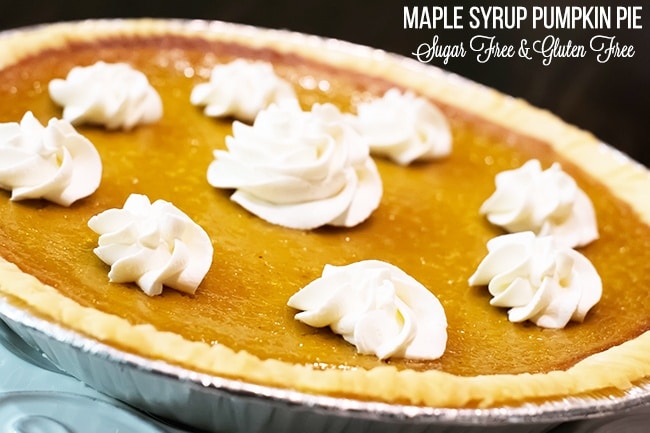 If you love pumpkin pie as much as I do, run to the store and get as many fresh pumpkins as you can and make this Maple Syrup Pumpkin Pie. Trust me, it's worth it! This is not just any pumpkin pie, it's a healthier twist on the much loved traditional dessert. It has that same classic taste but without the sugar and gluten. This pie is rich and creamy with the perfect balance of sweetness and spice allowing the fresh pumpkin flavor to be the star of the dish.
When friends and family asked me for this much loved recipe they couldn't believe something so great could taste so good without refined sugar. Although I have a traditional bakery, you might notice that many of my recipes are naturally sweetened. As a mother of two young kids with a sweet tooth, I'm always creating ways to modify classic recipes so my children can experience the joys of eating dessert without the after affects of them bouncing off the walls. We love sugary treats, but we save them for special occasions (and for when grandma is around to deal with the consequences instead of me).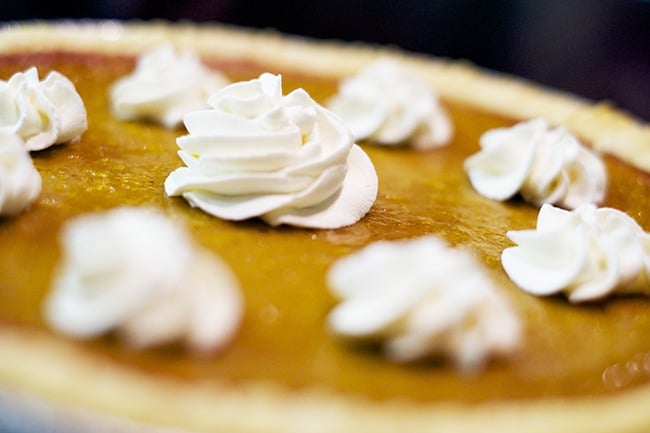 Maple Syrup Pumpkin Pie:
(makes one 9" pie)
Ingredients:
One 9" pie crust (gluten free crust recipe here)
2 cups fresh pumpkin puree
1 cup maple syrup
1 teaspoon cinnamon
1 teaspoon pumpkin pie spice
½ tsp nutmeg
1/2 teaspoon salt
7 oz heavy cream (You can use 1 cup of heavy cream if you don't have a kitchen scale. The result will be a creamier filling that is not as firm but just as delicious)
½ cup milk
2 large eggs
Directions:
To make the fresh pumpkin puree:
Preheat the oven to 350 degrees.
Wash the pumpkin, then cut the pumpkin in half and scoop out the seeds.
Place the two pumpkin halves facing down in a 2-inch deep baking dish.
Fill the bottom of the pan with about ½ inch of water.
Bake for 45 minutes to 1 hour until the flesh is soft and you can easily poke a hole into the pumpkin with a fork.
Once cooled, scoop out the flesh and puree it in a food processor.
To make the pie filling:
Preheat the oven to 375 degrees.
Blend together the pumpkin puree, cinnamon, nutmeg, pumpkin pie spice, salt, cream, milk, maple syrup and eggs in a food processor.
Pre-bake the pie crust– Poke a few holes in the pie crust with a fork. Place a large piece of parchment paper on top of the piecrust and fill it with dry beans or pie weights. Press them down so they are evenly spread out. This ensures that there are no bubbles in the pie crust. Bake in the oven for 10 minutes. Remove the pie crust from the oven. Remove the beans and the parchment paper.
Put the pie crust on a baking sheet and pour the filling into the pie crust.
Bake the pie in middle of the oven for 1 hour, or until the filling is set but the center still shakes slightly (the filling will continue to set as pie cools). Transfer the pie to a rack to cool completely.
Enjoy!!
About the author: Rubina Umarji is the owner and executive cake artist of Rubina's Cake Shoppe. After the birth of her son in 2009, she left her career in engineering to focus on her two passions: her family and her edible art. Since then, she's had the opportunity to showcase cakes and gourmet confections to thousands of dessert loving clients as well as over 100 of Hollywood's hottest stars and has had her cakes featured on television. Now her days are focused on teaching cake decorating classes to all ages. Her favorite students are her two children, ages 3 and 5. She frequently writes cake decorating tutorials and recipes on the Rubina's Cake Shoppe Blog (www.rubinascakeshoppe.com/blog).