We found out about a year ago that my son has a moderate/severe peanut allergy. That knowledge precipitated our choice of preschool and some changes we made around our home. His food allergies impact our lives in so many ways, not the least of which are holidays, especially Halloween.
Most of our holidays are centered around food, and for a child with food allergies, things can be downright dangerous. I'm so grateful that my son's allergies are moderate enough that we have not made any ER trips, but for many families, many children, this is a daily reality.
Halloween is such a fun and festive event. Kids get to choose their favorite characters and dress up with friends, gathering candy with family. But for kids with food allergies, trick or treating can be life threatening.
That's why I love The Teal Pumpkin Project.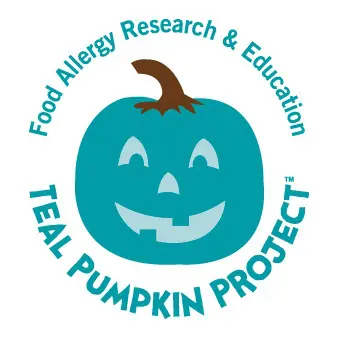 The TEAL PUMPKIN PROJECT and the Teal Pumpkin Image are trademarks of Food Allergy Research & Education (FARE).
Join over 100,000 households that have taken the Teal Pumpkin pledge. Paint a pumpkin teal. Place it outside your home. Put up a sign and pass out non-food treats to raise awareness of food allergies and promote inclusion of all children this Halloween.
Need ideas for non-food treats? Try some of these:
glow sticks
bouncy balls
silly pencils
bubbles
funny erasers
mini slinkies
stickers
crayons
markers
temporary tattoos
kazoos
vampire fangs
fake snakes
spider rings
playing cards
coloring books
notepads
finger puppets
bracelets
yo-yos
Will you take the pledge?