People in my life are always surprised to find out how little money I spend at the grocery store each week. While it ranges depending on a few different factors, I typically spend between $50-75 a week on food – and one of the biggest contributing factors is that I meal plan. I thought today would be a great time to share how I make it work for our family.
First, I'd like to point out a few things that are more unique to our situation. For starters, my husband's company feeds them lunch every day – and for this, I am forever grateful! He gets a hot, delicious meal and I don't have to worry about packing a lunch for him or spending money eating out each day. Next, we eat pretty clean and simple meals. I love to think that I will peruse Pinterest each week to find new and exciting meal ideas for my family, but most often we eat "tried and true" recipes that I know easily. Third, I don't mind going to more than one store per week. More on that later. And last, I previously shared that my husband eats gluten free, so as a whole our family tends to eat gluten free as well – at least at dinner time.
I don't typically plan breakfasts and lunches during the week. My husband eats the same thing for breakfast each day – either gluten free waffles with coconut oil, Cheerios and almond milk, plain greek yogurt, or gluten free oatmeal. That's simple, and I make sure to always have those staples in the house. My kids rotate between a few different staples, like cereal, eggs, waffles, french toast, mini bagels, or muffins. I typically drink a protein shake each morning… and coffee. Lots of coffee.
Lunch for the kids varies depending on our schedule. I don't plan ahead for it though, and we just rotate between simple meals that have a fruit/vegetable, dairy, healthy fat, grain, and a protein.
Nine times out of ten, our dinners are planned for. I start my process by flipping through our supermarket sale flyers, which typically come out on Thursday and start on Sunday. I prioritize a protein – so whichever supermarket has the best sale on meat or seafood is typically where I will do my shopping. So, I will take whatever meats and proteins are on sale (and appealing, that goes without saying) and make my meal plan for the week from that.
A hint, though – often times, a store will mark UP the price and then put it on "sale" to make it seem like a good deal. This happens with boneless, skinless chicken breasts, where they'll mark the price up to something outrageous, like $9/lb, then advertise "50% off!" which is still not a good price. So, with that said, it's important to have a baseline price for the meats, produce, and other products you purchase. For example, I know that $1.99/lb is a good price in our region for boneless, skinless chicken breasts.
Let's say chicken breasts, pork loin, and ground turkey are on sale this week. I will then first think of my standard recipes involving these three meats. If nothing sounds appealing at the time, or I'm in the mood to try something else, I will check Pinterest for ideas. Then, based on my choices, I compile a shopping list. I usually try to double a recipe for leftovers – either for lunch or dinner the following day, or to freeze for another meal down the road. Given those three meats, a sample week might look like this:
Sunday: Burrito Bowls with Grilled Chicken Breasts
Monday: Southwestern Wraps with leftover grilled chicken
Tuesday: Roasted Pork Loin with Mashed Cauliflower and Balsamic Green Beans
Wednesday: Italian Style Roast Pork Sandwiches with Sweet Potato Fries and Salad
Thursday: Slow Cooker Turkey Chili
Friday: Leftover chili
You'll see there's a lot of overlap between the burrito bowls and southwestern wraps, so you can reuse leftover ingredients.
If you are lucky enough to have a local farmer's market, I highly recommend buying your produce from it. The prices are typically lower than that of a traditional grocery store. Additionally, we all know that we should be eating more local foods!
Another one of my tips – shop at Aldi! This is in no way a sponsored post. I genuinely love Aldi. Their prices on pantry staples are almost always cheaper than any other grocery store. I cannot do all of my food shopping at Aldi, because their selection is not as wide as a traditional store, but I am able to do the bulk of my shopping there. Because of this, I try to hit Aldi first before going to other stores. Their gluten free, organic, and natural options are growing all the time! Plus, if you are ever unsatisfied with a product, they will not only replace the product – they'll also refund you.
One last quick tip – using a meal planning calendar can be very helpful to see the whole week laid out at once. There are many options available online, and it doesn't have to be anything fancy. Even just some scrap paper on a magnet on the fridge would do the job. Tip Junkie has a few different printables available!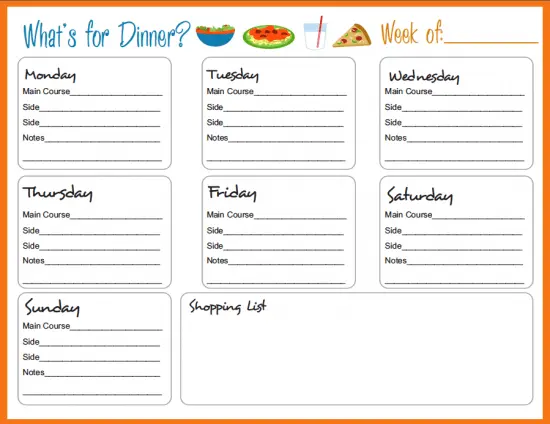 I don't find meal planning to be complicated, but it does take a bit of preparation. You do need to have a list when you grocery shop, and do not deviate from it. Sometimes, if I am trying to be really strict, I will price everything out ahead of time and only bring cash with me- I can only buy the things I had planned for! Please share any tips you may have for meal planning in the comments!