"Surrender to an age of bravery and honor and witness epic battles of steel and steed. From ringside seats, discover a feast of the eyes and appetite with more action, more fun & more excitement than ever before. As you thrill to a rousing live jousting tournament, marvel at awe-inspiring horsemanship and falconry, Medieval Times serves a four-course meal fit for royalty. Hang on to your helmet. The show is about to begin." – TripAdvisor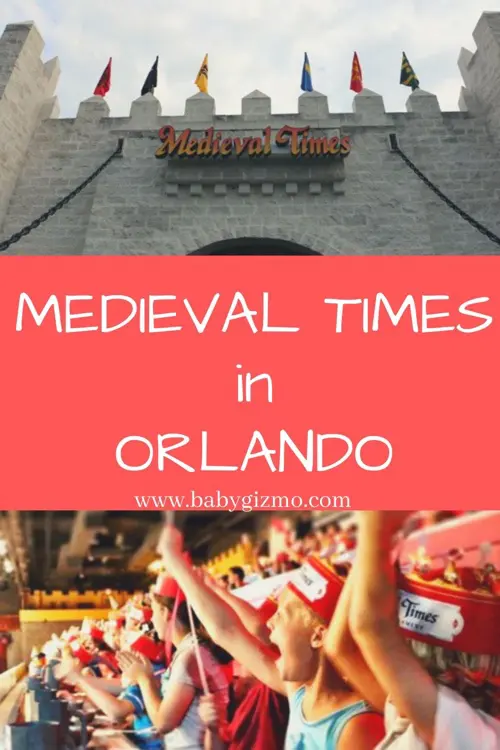 If you are headed on vacation to Florida and are looking for family-friendly activities that are NOT Disney and Universal Studios, we have just the place! We headed to Medieval Times Dinner Show for the kids' first visit and had an amazing time. I had been to Medieval Times in California and Illinois and I wanted to share the fun that is this 11th century European-style castle with the kids. With the interior displays of medieval artifacts, and the thrilling show with knights, horses and even a king and queen, this was a visit that my kids adored.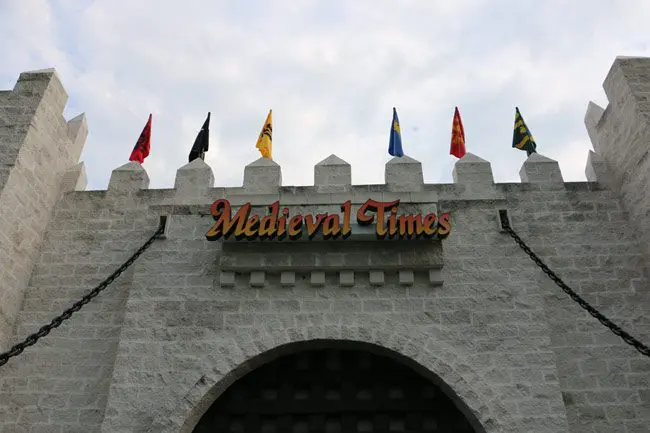 How long has Medieval Times been open?
This isn't a one time show. This dinner show has been going strong every night (twice a night!) since 1983. In fact the Orlando location was the original Medieval Times and the show has since grown to nine locations in the United States.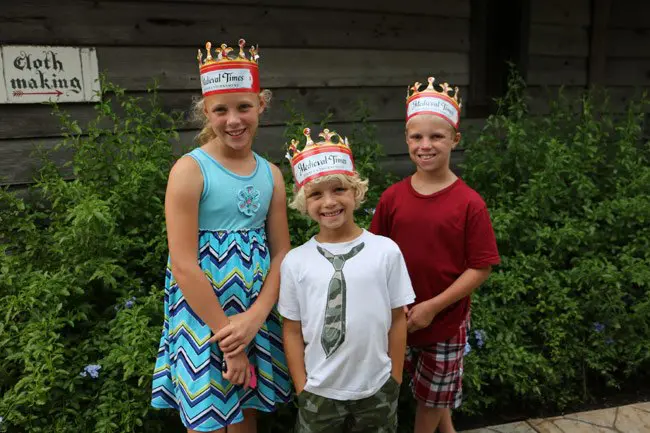 DINNER
While enjoying a four course meal "Medieval Style", we watched as knights battled in a medieval style tournament that included jousting and sword fighting in a huge arena that included the presence of a King and Queen. The dinner is tomato soup, rotisserie style chicken and sides and cake for dessert that is all served medieval-style with no utensils so be ready to get a little messy. (Don't worry – they provide wet wipes for clean up!)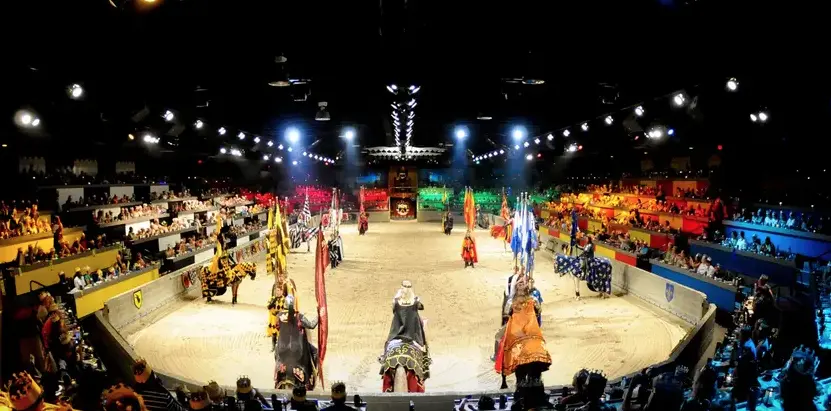 Medieval Times Show
Even though it was really tasty, it's not really about the food, it's all about the show! Depending on which section of the arena you are sitting, you are designated a knight to cheer for and ours was the red knight.
The kids had the best time cheering for their red knight and were super excited when their knight won the entire battle. If you are looking for something to do in the evening that is much more than dinner, we couldn't recommend Medieval Times enough. We had a fantastic time!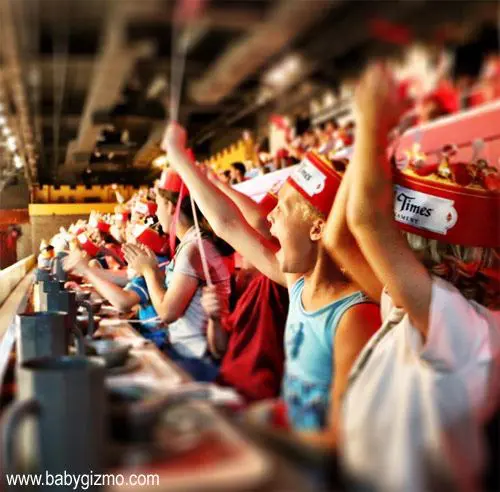 The sword fighting and the photos with the king rounded out our visit to Orlando!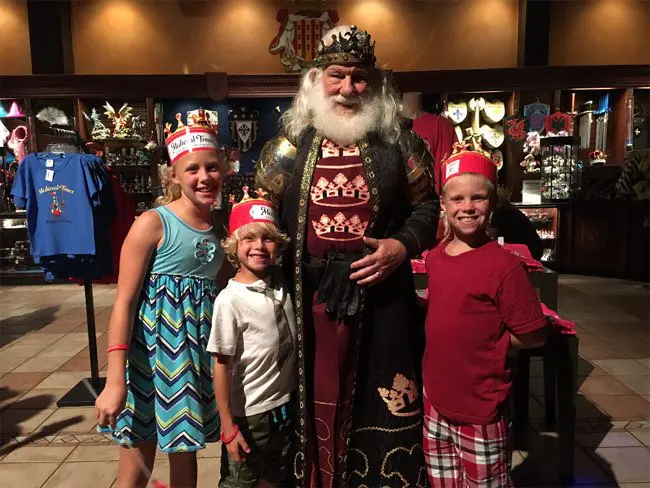 Overall, our visit to Medieval Times in Orlando was a blast! We highly recommend checking it out if you are looking for an exciting, family-friendly activity! You can find more information on their website.
FAQs
How much is Medieval Times Orlando cost?
Medieval Times Orlando is Adult: $64.95, Children 12 & under: $36.95. Other locations prices vary.
What type of food do they serve at Medieval Times?
Medieval Times' noble guests feast on garlic bread, tomato bisque soup, roasted chicken, sweet corn, potatoes, the dessert of the Castle (usually cake), coffee and two rounds of select beverages.
How many Medieval Times locations are there?
There are 10 Medieval Times castles.
Buena Park, CA
Orlando, FL
Myrtle Beach, SC
Dallas, TX
Baltimore, MD
Atlanta, GA
Lyndhurst, NJ
Chicago, IL
Scottsdale, AZ
Toronto, ON
Are there gluten free options at Medieval Times?
Yes, there are gluten free options if you request it. For example, instead of bread they have given carrots, celery, and humus. Instead of an apple turnover, people have received an Italian ice push pop. There are also vegetarian options.
Is Medieval Times scary?
No. It's just pure family fun.
*Disclosure: Thanks to Visit Florida for hosting our family on our visit to Medieval Times.