Thanks to Blinds.com for sponsoring our Home Tour Series.
We teamed up with Blinds.com for a multi-video YouTube series that shows you inside our home, the choices we made and some of our favorite things right now. It's time for Part 2 of our "Baby Gizmo Home Series". Today we are taking you inside our kitchen!
Let's start with the windows and work our way around the room. Our windows (and patio doors!) are two of my favorite things in the kitchen. It not only lets all the light in to give me that light and bright kitchen I was looking for but they are also the view to the backyard.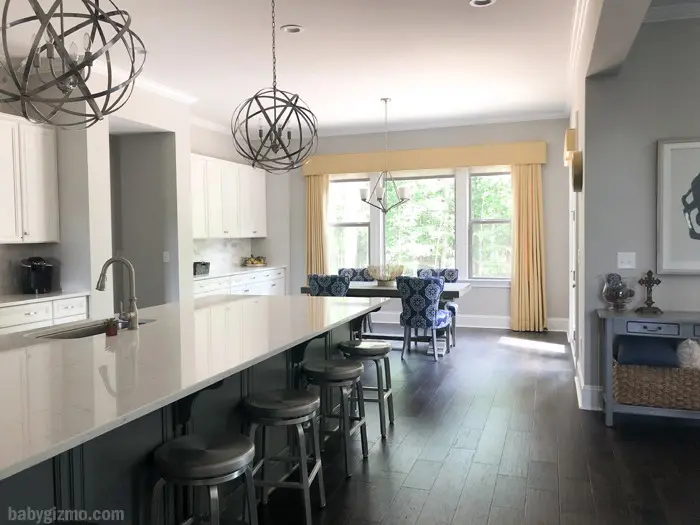 We wanted our window coverings to compliment our kitchen but not block the light or view during the day and give us privacy at night. We worked with a Blinds.com designer and I think our solution was perfect.
We started by adding Motorized Blinds.com Solar Roller shades in Stria 5% Grey Mist. These shades are gorgeous and allow me to put them up and down with just a push on a button on the remote. We keep them up during the day to allow the light to flood the room and put them down in the evenings for privacy. I can't tell you how much I love these shades. They are my favorite window coverings in the entire house. And yes, the extra money for the motorized features is TOTALLY worth it.
We also put the Blinds.com Solar Roller shades in Stria 5% Grey Mist on the patio doors on the adjacent wall but we opted to go without the motorized feature there.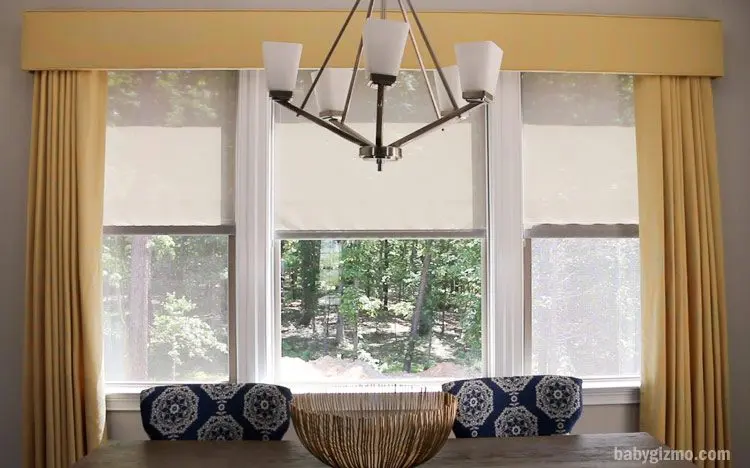 The shades are great but I also wanted to add COLOR to my kitchen and the perfect way to do that is with drapes. You are either a draperies person or you're not. I am a draperies gal. Love them. Since I knew I wouldn't be opening or closing drapes in the kitchen, I chose Decorative Side Panels in "Henning Butter" and a Fabric Cornice in "Henning Butter". The yellow fabric was just the amount of bright color I wanted for my kitchen!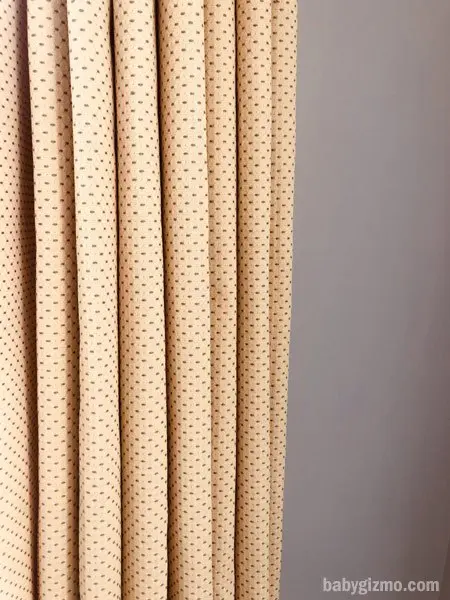 I also had mini cornices made for the patio doors in "Henning Butter" to complete the entire window coverings look.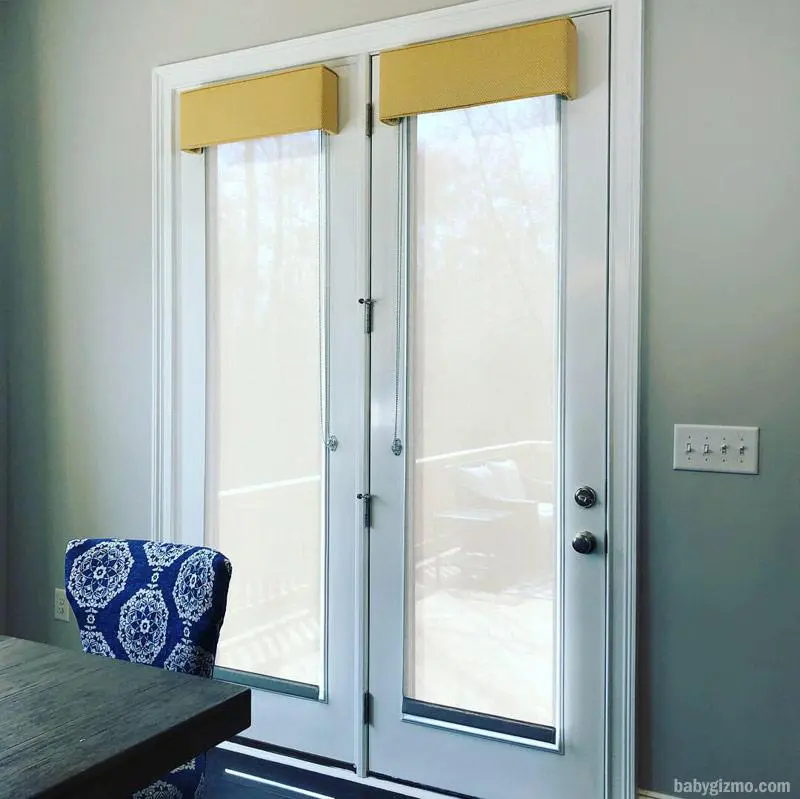 Next to the windows is the kitchen table. We got this table for steal at the Pottery Barn Outlet and it is the Pottery Barn Banks Extending dining table in Gray Wash. We paired it with four chairs that we found at Home Goods. We plan to add two solid colored chairs at the ends of the table but haven't found the perfect pair yet.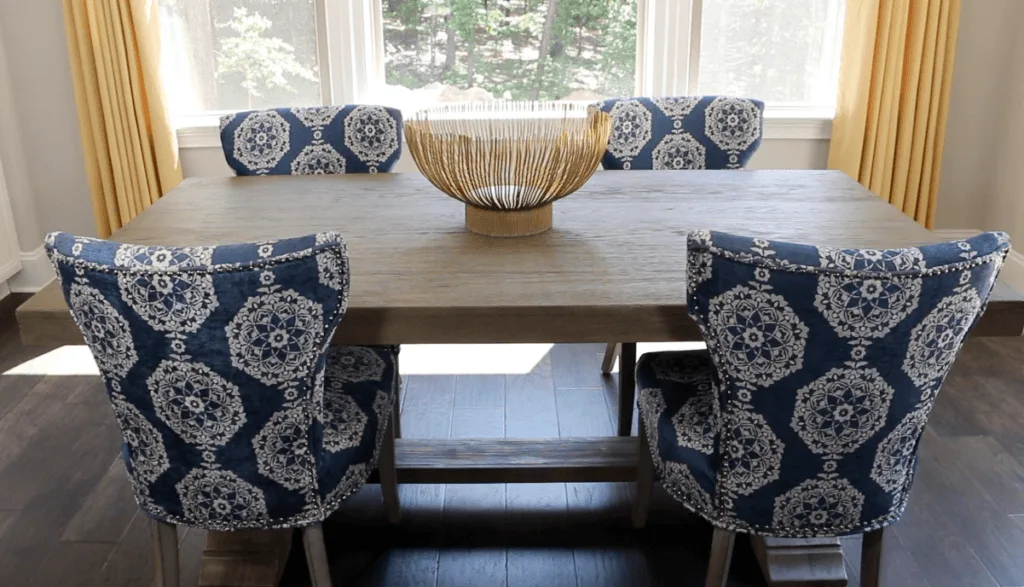 Moving into the center of the kitchen, we have a GIANT island. We chose quartz countertop in "Cashmere Carrara" and opted to put our sink in the center island.
For snacks, chats and quick meals, we added 5 metal stools from Crate and Barrel to the far side of the counter.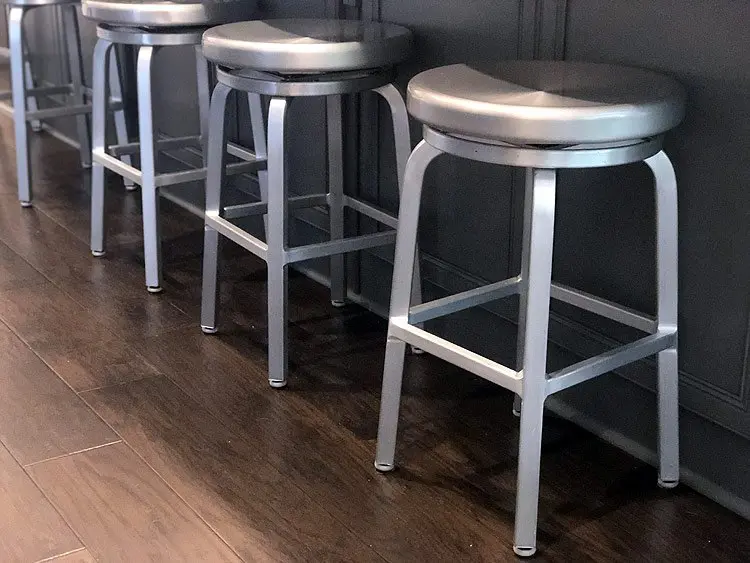 The cabinets in the kitchen are Wellborn Cabinets with the surround cabinets in "Glacier – White" and the center island in "Willow – Grey".
The backsplash is called "First Snow Elegance" and we had it done in a "brick joint pattern".
Our floors are Palmetto Road Mountain Ridge (Boone) but we are still on the fence if we really like them or not. We are holding back judgement on our floors because we are waiting to see how well they hold up to everyday traffic. From just the first 4 months, we aren't sure how they will do. We'll update you on the floors at a later date.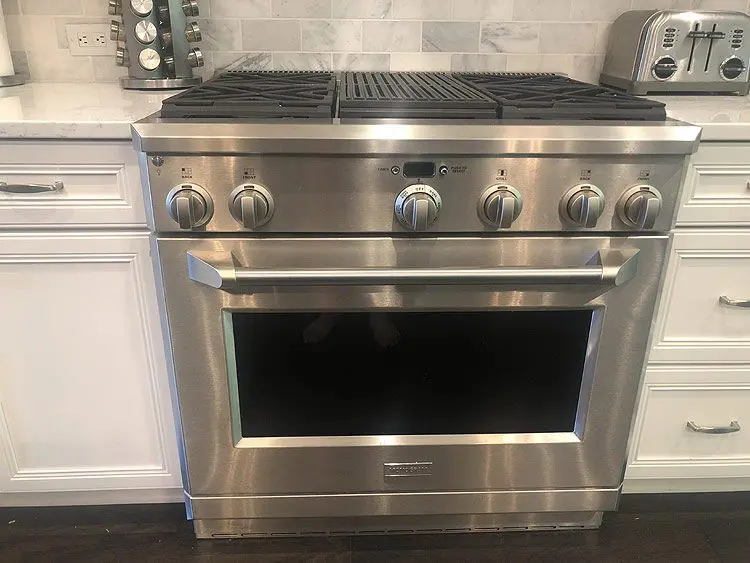 Now, let's get to the appliances. We chose to upgrade our stove/range to the GE Monogram 36 inch dual range and we LOVE it. It is beautiful and works great! We also have a GE microwave and 2nd oven in our kitchen.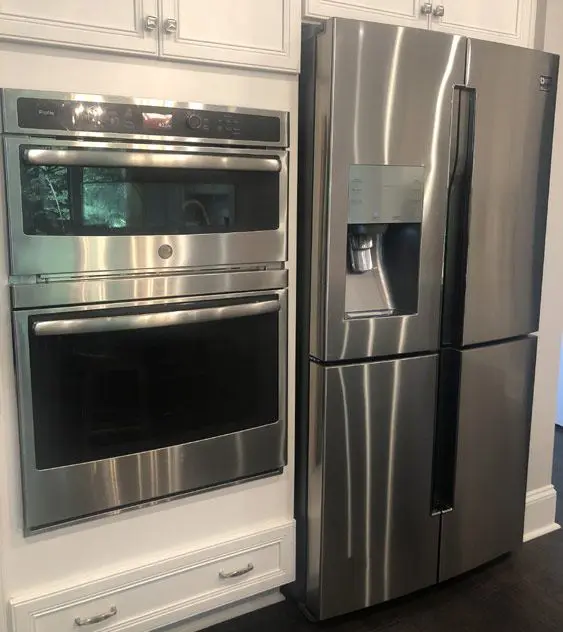 Our refrigerator is the Samsung Counter Depth 4-Door Flex Refrigerator. We were very nervous with our refrigerator purchase because it seemed like everyone online hated all the current brands of refrigerators for one reason or the other. We took at chance on this Samsung Refrigerator because we really liked the 4 door option and the "flexzone" which allows us to make the lower right freezer a refrigerator if we needed. I'm happy to say that so far we really like it. No problems at all.
Overall, we love our new kitchen! It's true that the kitchen is the heart of the home and where the family gathers so we're super pleased that our kitchen turned out like it did.
Don't forget that you can do a full walk-through of our kitchen in our Baby Gizmo Video Tour above.
*Disclosure: Thanks to Blinds.com for sponsoring our Home Tour Series.