It's finally time to talk about our Samsung Counter Depth 4-Door Flex Refrigerator.
Most of you know that we moved into our new house 2 years ago. Yep, we just had our 2 year anniversary last month. One of our big decisions when we moved in was what appliances did we want in our new house. While the stove, dishwasher and microwave were all chosen through the builder, we were on our own with a refrigerator.
As a family of five, we did not take this decision lightly. My husband and I both had very strong opinions on what we like in a refrigerator and what we don't. For example, I was not a fan of the freezer drawer on our last refrigerator. A freezer drawer always just ended up being a messy, black hole of freezer burned food and I couldn't handle that again. My husband, on the other hand, hates what a standard, side by side, french door refrigerator looks like.
We both wanted stainless steel but I wanted a refrigerator that didn't show fingerprints. He wanted a refrigerator that was big enough to hold enough groceries for a family of 5.
After searching all the stores (online and in-store) we decided that the Samsung Counter Depth 4-Door Flex Refrigerator was the winner. We had never had a Samsung refrigerator before so this was a gamble.
It had most of what we were both looking for but wasn't without it's faults. We knew that customers complained about the ice maker so we were going in with our eyes wide open.
Now that we've had the Samsung Counter Depth 4-Door Flex Refrigerator for 2 years, we feel comfortable giving you the good, the bad and the ugly.
The refrigerator has 4 (yes, FOUR!) doors. That already makes it different than others. It looks like a french door refrigerator with the two doors cut in half but when you open it, you realize it's MUCH different.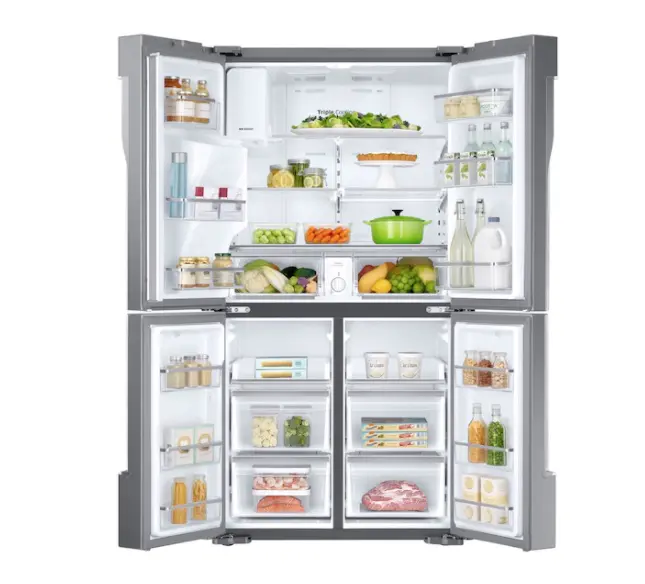 The top two doors open to one large refrigerator space. There are adjustable shelves that go from standard to slide-in or flip-up to store bottles and other tall items such as milk jugs, iced coffee jugs and orange juice bottles with ease.
The Samsung Counter Depth 4-Door Flex Refrigerator doors have a bunch of shelves that hold even a gallon of milk. The placement of the ice dispenser makes door shelves on the left door smaller and not really useful for anything but salad dressing size bottles.
There are two large produce and meat drawers that we find are standard size and roomy enough for our needs.
Let's start with our favorite feature and what makes it different (and better!) than other refrigerators – the FlexZone.
The FlexZone converts one of the bottom freezers to refrigerator for flexibility that fits your needs. This is hands down the coolest feature. The entire top section of the refrigerator is a refrigerator only. The bottom two freezer sections are separate, and therefore, one can be set as a freezer, "cooler" for drinks, or refrigerator.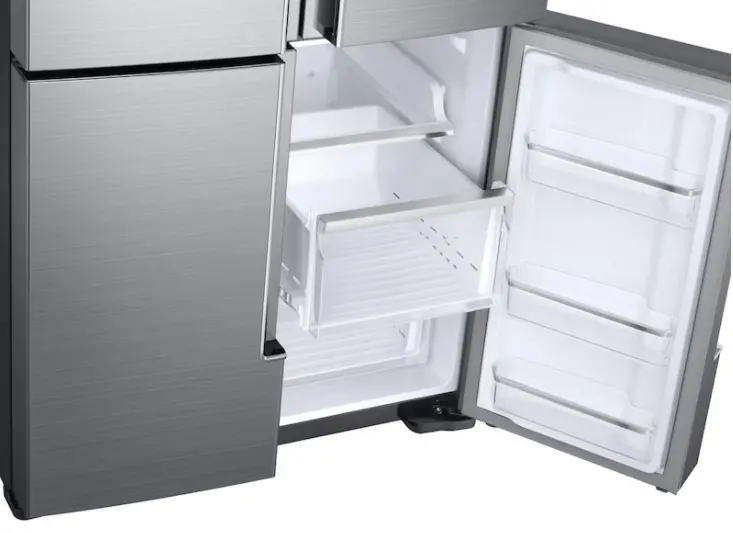 The freezer on the bottom left is ALWAYS a freezer. There is no option to make it anything else. The freezer section on the bottom RIGHT is the FlexZone one. It can be whichever of the cooling zones (freezer, cooler or refrigerator) that you make it.
We have a big, upright freezer in our garage that holds most of our freezer items so we didn't need that much freezer space in our kitchen. Therefore, we made the bottom right a beverage cooler that we store sodas, water bottles and wine bottles in. It's SO convenient.
If we ever needed more freezer room, we could just change it to freezer mode anytime. It really is a cool, flexible feature.
After reading so many complaints on the Samsung Counter Depth 4-Door Flex Refrigerator ice maker, we were curious to how our refrigerator would fare on that subject. We knew it wasn't going to make as much ice as we needed. My kids LOVE ice. But we also knew that no refrigerator is perfect in the ice making arena right now.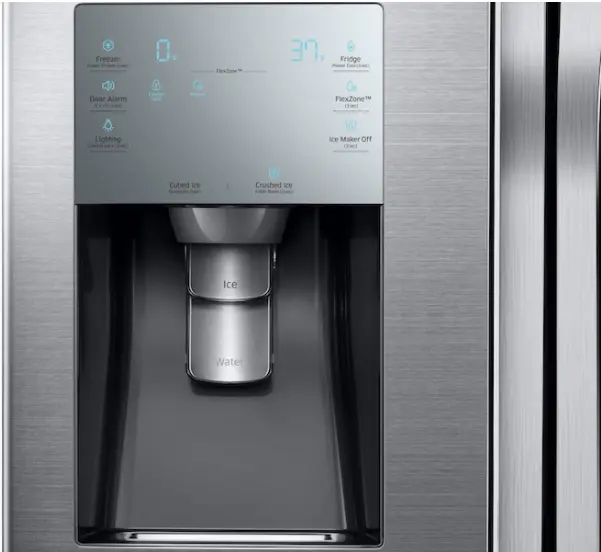 In our first 6 months, our ice maker failed us. Yep, we were expecting it. Thankfully, Samsung's warranty was great and they had a technician at our house to fix it in no time. They swapped out the ice maker motherboard and we were back in business in no time.
To be honest, my kids don't use as much ice in the winter so the ice making ability of the refrigerator is fine then. The summer is a whole other issue. We are always short on ice. Between sports, coolers being filled and just the hot weather, the fridge ice maker just can't keep up. So much so, that we keep a bag of ice in our garage freezer.
The ice maker isn't a deal breaker with the Samsung Counter Depth 4-Door Flex Refrigerator and we haven't had another issue (besides the amount of ice made) since the original problem we had.
One other small issue is that Samsung claims that the Samsung Counter Depth 4-Door Flex Refrigerator is "fingerprint resistant". I'm not sure what they mean by that but I know that my refrigerator shows fingerprints ALL DAY LONG.
It doesn't bother my husband. Of course, it doesn't. But I find myself wiping down the fridge every day. Not sure why my kids can't just put their hand inside the handle to open it but they obviously can't. So, if you are expecting fingerprint proof, don't. It's not.
Other than that one small complaint, we honestly love our refrigerator. It's easy to clean. The 28 cu. ft. capacity is perfect for our family of 5. The FlexZone is amazing. And it looks great.
If you are interested in getting the Samsung Counter Depth 4-Door Flex Refrigerator, Samsung has it ON SALE right now!
PURCHASE THE Samsung Counter Depth 4-Door Flex Refrigerator
Mr. Gizmo has been doing videos every six months on his YouTube channels updating people on our experience with the Samsung Counter Depth 4-Door Flex Refrigerator. Here is his first one:
and here is his most recent one:
Thinking about a Samsung Washer and Dryer set? We got you. Samsung Washer & Dryer Review Including Addwash, Smart App and Steam