It's time to talk about the Samsung Washer and Dryer. Is there any chore more annoying than laundry? I'm guessing that there is but laundry just seems to be staring me down every single day. With a family of five, it's never ending. It's not that I hate it, and would rather do laundry than clean the toilets any day of the week, it's just that the dirty clothes pile up so quickly.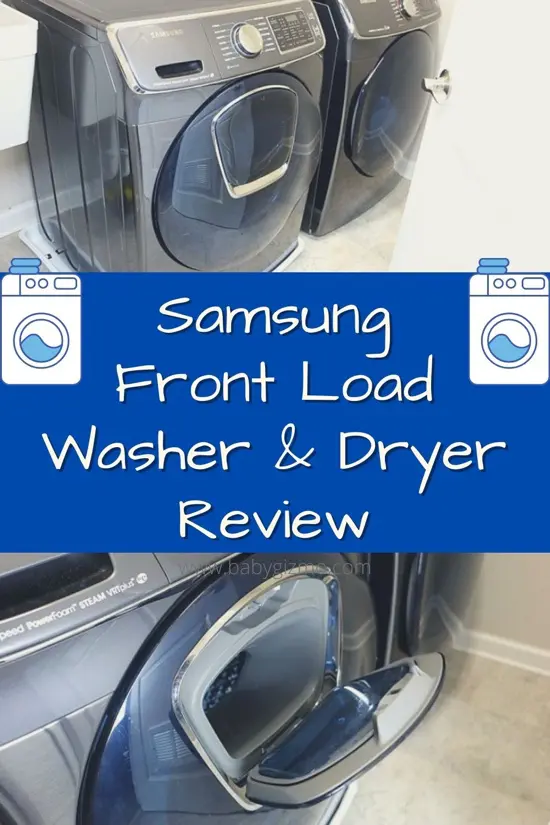 Other than my home office, my laundry room is my 2nd most visited room. That being said, I take pride in having the best laundry appliances so that my washing days (which is everyday most weeks!) go as smoothly as possible. They need to be easy to use, QUIET, large, nice to look at and they must clean the clothes well! Yep, I have high expectations that my laundry appliances have to uphold to.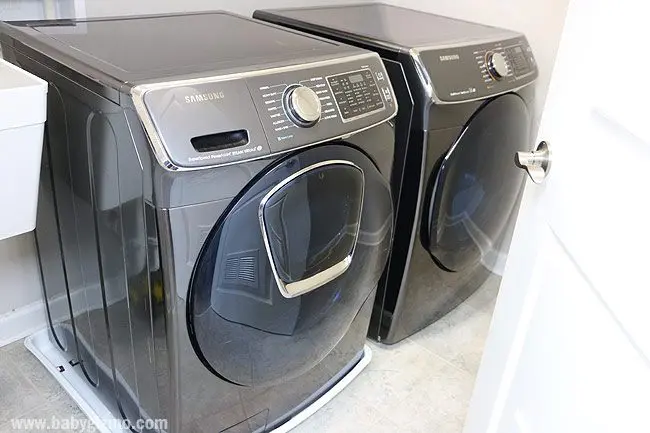 So, when Samsung came to me and asked me to try out their new 14-Cycle Addwash Front-Loading Washer and Steam Dryer, how could I say no? A washer with a cool door within the main door to throw in last-minute or forgotten items? One that is quiet and saves water and energy? A washer with 14 different wash cycles and 5 different temperature settings so that I can pick the perfect setting for each load? Sign me up!
My first impressions of my Samsung washer and dryer was how pretty they are. Look at that black stainless! Yes, this is a good looking pair.
Let's start with the washer! We have a fun Baby Gizmo video for you!
Addwash™ technology
I couldn't help but get excited about the Addwash technology which is a unique door within the larger washer door that allows you to easily add laundry items after the wash cycle has already begun. It's as easy as pausing the washer, opening the add-in door, throwing in the item, starting the wash and you're good to go.
I know what you are thinking. How is that different than any other front-loading washer? Well, glad you asked. If you had forgotten an item with a normal front-loader, you would have to pause the washer and WAIT for the washer to empty the water before opening the big door. Why? Because if you open the big door when the tub is full of water, it would flood your laundry room. No bueno.
You see why I'm excited about the Addwash feature? There are just so many times that I have dropped a sock or forgotten a uniform and wish that I could just add it in. Now I can.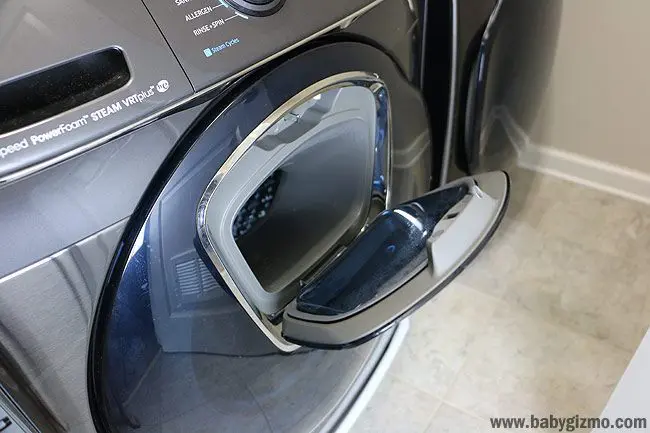 Samsung Washer Large Capacity
I don't have time for a teeny-tiny washer that only does 1/2 loads at a time so I love that this has a 5 cu. ft. capacity so that it can easily accommodate large loads.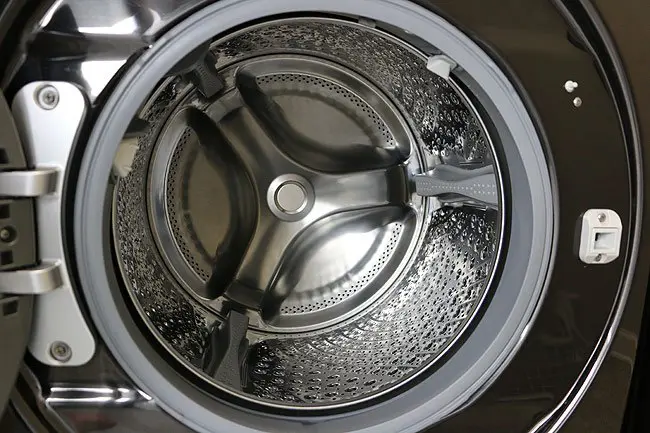 It's Quiet
Yes, there is nothing more annoying that a washer that sounds like a freight train charging through the house during the spin cycle, am I right? Not to worry, Samsung knows that! I love that the VRT Plus (vibration reduction technology) has special sensors that balance your load even at high speeds, therefore keeping it quieter than other brands. Yes, it won't wake the baby. It won't interfere with hearing your favorite TV episode. Considering my laundry room is right next to my bedroom and down the hall from the kids' rooms, we like quiet appliances in my house.
Not all loads are created equally. Sometimes the washer needs to be easy on the delicates and other times it really needs to get the job done when we are talking about filthy, dirty uniforms. So many different types of fabrics and items that go in the washer, that I'm glad that the Samsung has 14 wash cycles and 5 temperature settings to choose from.
A few of my favorite cycles are the "Allergen" cycle which removes pet dander, dust mites and both allergy causing substances from the fabric and "Deep Steam" which uses steam and a high water temperature to effectively remove stains from heavily soiled, colorfast items. Also, "Sanitize" heats the water to 150 degree F to eliminate bacteria for heavily soiled, colorfast items.
Samsung's PowerFoam technology
Now, let's talk about the main job of a washer – to CLEAN THE CLOTHES. How does the Samsung washer fair compared to other washers I have used? Well, it gets the job done every time. This is a cleaning machine and it comes through on that promise. Plus, with Samsung's PowerFoam technology, it uses a mixture of water, air and detergent to penetrate deep into fabric to make sure everything gets really clean.
Self-cleaning technology
I wish everything was self-cleaning. My kids rooms. My kitchen. The cars. Think of how great that would be?! Well, our new Samsung washer does have self-cleaning technology that removes dirt and bacteria from the washer tub and sanitizes the gasket without the use of hard chemicals. What?!?! Yep, that's right! Plus, it reminds you to run the Self Clean+ cycle every 40 washes. Why? Because moms get busy!!
Now, I haven't tried out this feature but I WILL! Yes, this is a smart washer if you purchase the Smart Home Adapter. I haven't gotten one yet but I'm excited to get one soon so that I can try it out. The Smart Home Adapter connects the washer to your home network so that you can control it remotely with the Samsung smart app. Or let's say you are in the middle of an episode of Game of Thrones and you just want to know how much time is left on the washer – you can see that from the app too!
So, that is my new washer but what about the matching dryer? I can't leave that out!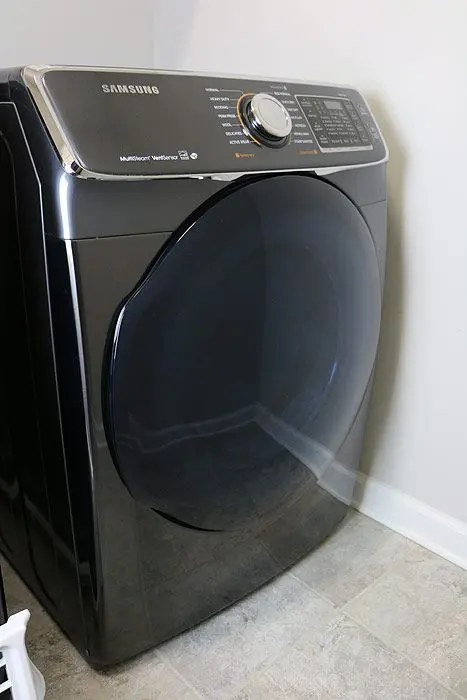 The Samsung 14-Cycle Electric Dryer with Steam (Model DV50K7500E) is just as great! It has 14 different cycles and 5 temperature settings that you can choose from with the electronic tap-touch controls and LED screen. With a 7.5 cu ft capacity, this dryer can hold all the things. Okay, it can hold a family-size load of laundry. That's pretty much all the things, right?!
As the name suggests, it has a steam option that sanitizes clothes deep down with steam. There is also Sensor Dry technology that detects moisture levels and automatically adjusts drying time to accommodate each load and save energy as not to over dry the clothes for no reason.
It has an end-of cycle signal so that you know when the dryer is finished BUT this is also a smart dryer too. If you get the Smart Home Adapter, you'll be able to see when the dryer ends remotely (or from your couch!) right on your Samsung app.
There are also times that you need to dry something that doesn't necessarily need to be tumbled or thrown around in the dryer (think stuffed animals and shoes). That is what the included drying rack is for. Samsung thought of everything!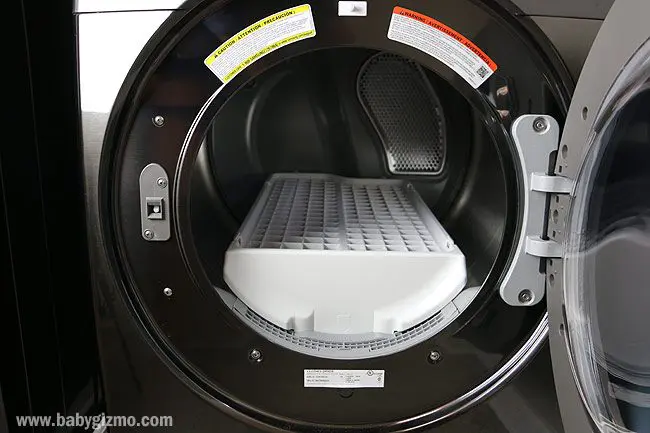 If you are looking for a new Samsung washer and dryer laundry set, this one is Energy-Star rated and, as you can tell, we love the great features! You can find out more information on this dryer here at Samsung Dryer Best Buy or on the washer at Samsung Washer Best Buy.
Don't forget to watch our Baby Gizmo Samsung Washer Video above!
*Disclosure: We received a washer and dryer to facilitate our review. As always, all thoughts, opinions and statements are our own.