One thing that D.C. does really well is Fourth of July fireworks. (Duh.) We have great displays in the surrounding area, but the show to go to is the one on the National Mall. No matter where you watch from—what amazing little-known viewing spot you have—you've gotta get there early and claim your spot. Bonus: that means a picnic dinner!
I'm usually a pretty lazy picnic planner, with sandwiches, store-bought munchies, cheese, and fresh fruits and veggies as my go-tos. However, this is our last Fourth in the D.C. area and we're going to go big! Here are some delicious picnic ideas that I tracked down to make sure our meal is (almost) as memorable as the show.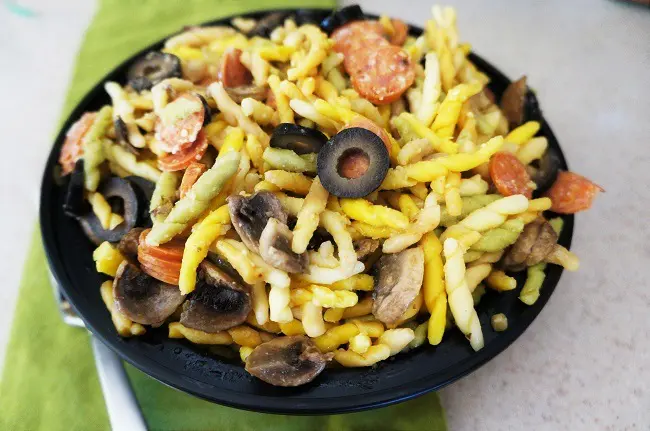 Italian Pasta Salad: I love this recipe for a couple reasons. One is there is no recipe. Second is it tastes good hot, room temperature, and cold, so you can't go wrong. All you have to do is boil up as much pasta as you need in whatever shape (or shapes!) make you happy. I like a tri-color pasta or mix of veggie pastas for color. Toss with your favorite Italian dressing. Mix in tiny pepperoni, sliced fresh mushrooms, and olive slices (and/or anything else that sounds yummy, like diced pepper or even cucumber) until the ratio looks good. Sprinkle in some grated Parmesan and enjoy!
Deviled Egg Potato Salad: I'm not usually a fan of egg or potato salad, but every now and then a recipe comes along that sounds amazing. Like this one, that is both egg and potato! Could be because of the pimentos. For some reason that screams "Southern," which also screams "picnic." Or, more accurately, "barbecue," but whatever—it's still outside food.
Skewers: Let's talk portable food. Your basic sandwich is easy, but up your sandwich game to crusty bread, and it's hard to eat neatly. A wrap is a possibility, but still has a pretty good mess potential. You know what's easy? Food on a stick, people. Food on a stick. You could go with your basic tomato/basil/mozzarella skewer, an antipasto skewer, a melon/prosciutto skewer… Or you could bring on the seafood with Lemon-Garlic Shrimp Skewers (make-ahead directions are at the bottom of the recipe, past the wine pairings) or Tuna and Avocado Skewers. And if you insist on sandwiches—or there's a tiny voice or two in your vicinity insisting on them—stick your sandwich on a skewer. Mini Sandwiches on a Stick are one idea, or you could make hot dogs on a stick by alternating hot dog pieces with a bun pieces until your skewer is full (that was a big hit with the preschool crowd).
Fried Chicken: Can I tell you a secret? I'm thirty-mumble-mumble years old, and I can't handle eating meat on the bone. When we go out for fancy dinners that insist on serving me half- or quarter-chickens, I have to sneak my plate to my husband so he can pick the meat off the bones for me. I'm setting a great example for the kid. Anyway, I also find fried chicken to be a weird picnic choice, because all those bones (and the skin, ugh—although I hear that's the best part?) have to be hauled back home unless you're picnicking somewhere there's a trash can. Enter Fried Chicken Bites from Southern Living! And for a healthier option, or one with easier post-cooking clean-up, try out Skinnytaste's Pickle-Brined Baked Chicken Tenders (personally, I'd make extra breading, adjust the cook time as needed, and cut the tenders down to bite-sized bits for a picnic).
Popcorn: We can't forget the munchies! I love popcorn as a snack because I can pretend it's healthy. Like dark chocolate, which is totally good for you. For your next picnic, try BBQ-Ranch Popcorn, Mexican Street Corn Popcorn, or one of 50 other flavored popcorn recipes—including Veggie! Because popcorn + veggies = extra good for you.
Mojito Watermelon: So I mentioned that I like fresh fruit on a picnic, right? For July 4th, why not go fancy with that fresh fruit and dress it up a bit! This Mojito Watermelon recipe is alcohol-free, so you can serve it to the whole family. No tipsy Grammys on your watch. By the by, I bet strawberries would be amazing this way, too.
Apple Hand Pies: Finally, what's more American than apple pie, amirite? But that's definitely not portable. So try apple pie in hand pie form! Bring a can whipped cream for spritzing—or a tub of it for dipping. You can also fill these pies with whatever fillings you like: blueberry, cherry, peach…Excuse me…I have to go now…to make pie…
What are your favorite picnic recipes, packing tips, or hacks? Share them in the comments!