Have you ever wanted to combine a functional kid décor item with a sophisticated piece of art that you can keep long after your kid has grown? Now you can, with an Ages & Stages mobile from Wind Walker Gallery!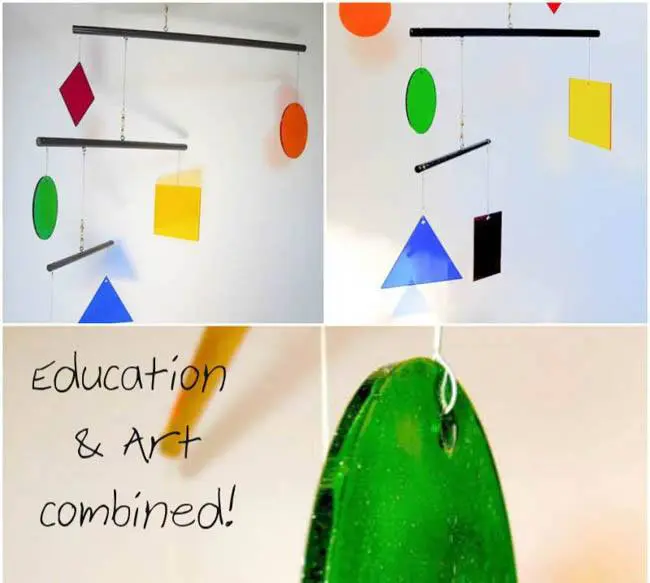 In then entire 5 years that I've been a parent, I've always wanted a mobile for my kid's room. But I never liked the adolescent, cartoony ones meant to hang over a baby's crib. I love how mobiles move and gently turn but I never found one that I felt would be appropriate once my kid was older than her first year. Then I found the Ages & Stages mobile from artist Chris Moran, found in her Etsy shop Wind Walker Gallery. And parents let me tell you: I'm in love!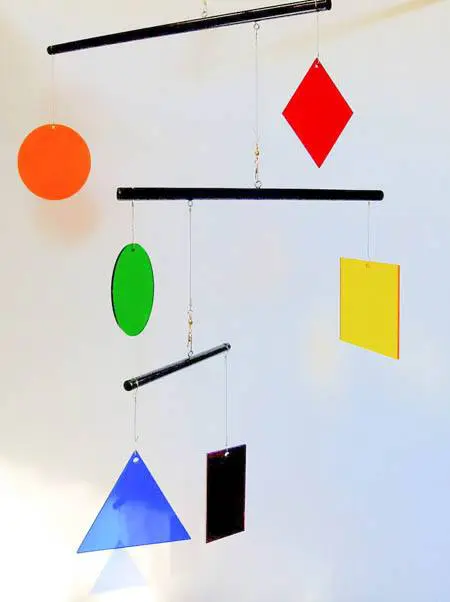 This mobile, which the artist created with the help of an Early Childhood Education teacher, is truly beautiful. It's perfect from a child's first day and grows with her all the way up to age 99 and beyond. It is simple enough to hang in a nursery but beautiful enough that you'll want to keep it long after your children have left home. Just watch as the acrylic shapes catch the light and reflect onto your walls, giving the illusion of a second mobile!
And it's not just a piece of art; this Ages & Stages mobile is educational, too. Featuring three levels that move independently a full 360-degree rotation, this mobile hangs 6 differently colored shapes from it, helping your child learn their shapes and colors and reach this developmental milestone quicker. The bright colors of red, orange, yellow, green, blue and purple catch your child's attention as they can clearly see the differences between the acrylic rectangle, circle, square, triangle, oval and rhombus. And they all float through the air unassisted as kinetic art, meaning their movements are not battery powered.
My favorite thing about this mobile is how memorizing it is to watch. It's perfect to catch my baby's attention, but also my attention as I breastfeed. There's something so calming about its smooth movement, helping me to relax, thus making my milk let down easier for my baby. And this calming effect has been known to help children and adults create a safe space, which is ideal for those who live with Autism or some Sensory Processing Disorders. In the words of one happy customer, "[Her] mobile helped me sort out my mind!"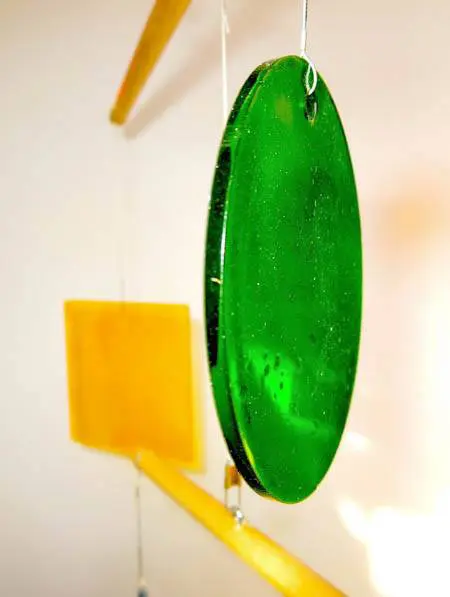 I was lucky enough to have the opportunity to chat with the artist, Chris Moran, and I was impressed with her attitude and devotion to this product. She created this mobile with kids in mind, while understanding how it would still benefit in other environments and for other customers, as well. Along with kid's rooms, her mobiles now hang in dentist and doctor offices, giving them a focal point that helps to calm patients. They also hang in classrooms and grandparent's houses, blending art and function and making stagnant areas come to life!
So if you're in the market for a mobile for your nursery, or a piece of art to decorate your home/office/classroom, head to Chris' Etsy shop and check out this Ages & Stages mobile or her other options! She is very flexible and willing to work with you if you want to customize your piece. And since she is not a mass producer, buying one of these mobiles gives you the chance to support a local artist in her passion. "I like the personal level of working with the customer. And I know each mobile will be appreciated. "
Check out the mobiles at Wind Walker Gallery and let us know where you'd hang one of these beautiful and functional pieces of art!