I'm a total cookie monster.
In fact, when I make cookies for my kids (wink, wink)… I'm usually making them for myself. I tend to be pretty basic, I like chocolate chip the best. On occasion, I'll try a snickerdoodle or something with peanut butter, but my default is definitely chocolate chip. They're just so classic and fabulous!
But here's the deal. The dough isn't trouble to whip up. For me, it's the oven babysitting and pausing whatever other task I've moved on to when I need to scoop up a new baking sheet. Most recipes take 2-3 rounds of that and some days I can't handle the extra effort.
That's why these cookies bars are perfection! You make the dough, spread it in a 9×13 pan, and bake just once! When they've cooled, cut into squares and enjoy the taste of cookies with much less effort than normal!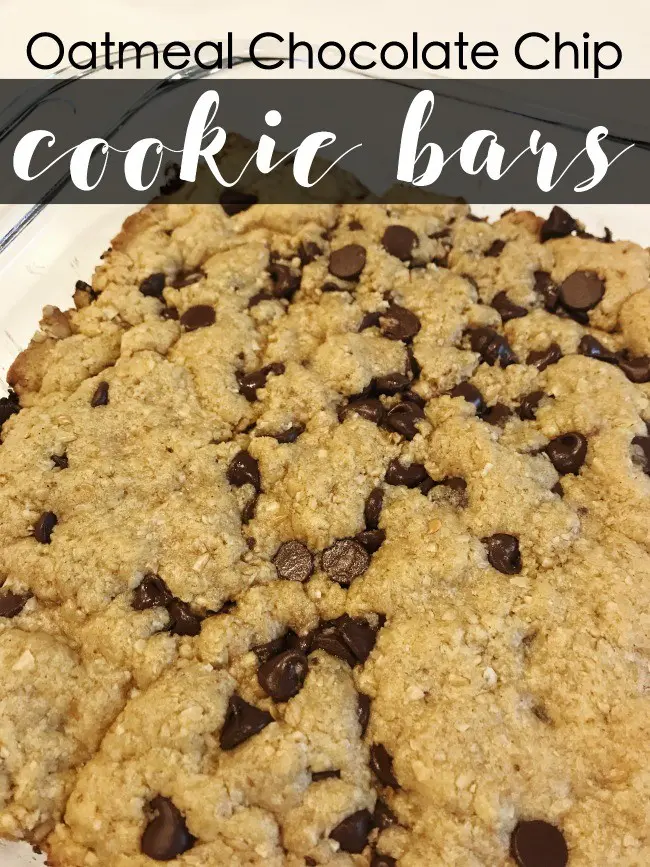 Ingredients
2 cups flour
1 teaspoon baking soda
1 teaspoon baking powder
1 teaspoon salt
1/2 teaspoon cinnamon
2 1/2 cups oats
1 1/2 cups brown sugar
1 cup butter, melted
2 eggs
1 tablespoon vanilla
2 cups chocolate chips
Directions
Combine all dry ingredients in a large mixing bowl or KitchenAid mixer. Slowly drizzle in melted butter and stir well. Next, add eggs and vanilla. With a spatula, fold in chocolate chips.
Spread into a well buttered or greased 9×13 pan. Bake at 350 degrees for 20 minutes. Once cooled, cut into squares, and enjoy!