One would think that packing a mommy bag would be as universal as not wearing black with navy blue. However, for a New York parent it tends to be a little more difficult than just putting diapers and bottles in a bag. There are so many other factors that go into it; such as where are you going? How many subway transfers? Do you have to take the dreadful cross -town bus? Are you walking for a decent amount of time (a typical walk is 30 blocks or more)? Do you have to carry your child too? What is the weather report? Not that it matters because on any given day it will rain, snow and be hot in a 24- hour period. So the question remains how do you pack a mommy bag for an average day in New York without it being too heavy or bulky?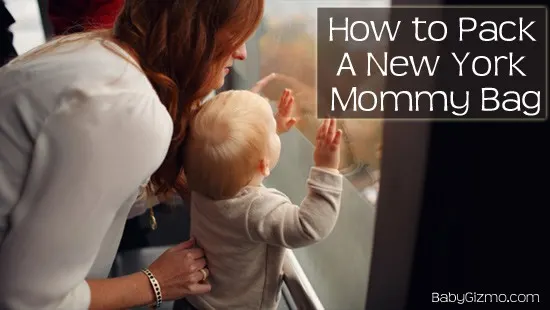 Choosing the right bag for you is a lot like opening a restaurant. 9 out of 10 fail. It takes a lot to find one that works for you. The mommy bag I have fits my specific needs. It is just an oversized black leather purse with deep pockets divided so I can keep everything separate. Being a fashionista I needed something that would match the majority of my outfits and wouldn't look like your typically mommy bag.
It has a shoulder strap for days when I am walking long distances and need an across the shoulder strap. It also has good old fashioned handles for when I have my youngest in the baby carrier and can't have the bag dangle to my mid thigh or have the strap in my daughter's way.
Personally, I would highly suggest finding a bag that has a tiny front pocket that is easy to access. This will save you the very uncomfortable metro card search. You know the one – that gem rolling her eyes at you and mumbling something about being an inexperienced tourist when you have probably lived in Manhattan longer than they she been alive. Instead you will be quick, slick and ready to swipe that card through the turnstile as if it were a black Amex card at Barneys.
The VIP invitation to the bag goes to diapers and his entourage of wipes. The trick to this is only take what you think you will use. Carrying 6 diapers and only using one is not only taking up space but will add weight. I typically only throw two diapers in. There is a Duane Reade on every corner in case of an emergency.
Trying to decide what toys to take is like packing for a vacation; you just want to bring it all as a precaution. Paper. Pen. Done. I have two toddlers so there of course are two notepads and two pens but there aren't a million pieces to keep track of and possibly lose causing a temper tantrum. It is light, productive and has been around forever with no intention of ever leaving, like a classic Chanel suit. Other options we throw in are the mini Dr. Seuss books- perfect for traveling when you actually get to sit in a seat next to your kids and not have a pedestrian's arm pit or other uncomfortable body parts shoved in your face.
Almost done with the kids list. Opt for kid sport size water bottles like Poland Spring. They won't be as bulky, are the prefect size for kids, and the very best part – they don't leak. For a snack I tend to go for things that do not make a mess and don't require my assistance. I don't know how many times my son has decided he needs a snack while we are six stops from home and I am breastfeeding. With hands trying to keep the nursing cover over my daughter, digging for snacks opening them, getting him set up is worse than being backstage of fashion week. I choose an easy-to-grab, open and distinguish Tupperware. I throw some veggie sticks or grapes depending on how long we will be out. This way my son can grab it or I know exactly what it feels like without having to look. Moms really do have eyes on the back of their heads and in their hands when searching the bottom of a diaper bag black hole.
Go with a travel size sunscreen, sanitizer and first aid kit. I realize buying larger quantities is cheaper and more worthwhile but you are paying for convenience, which is what New Yorkers do with everything. Throw in a Burts Bees color stick, an small umbrella and a pair of folding flats. This way you are set leaving room for anything you may purchase along the way.
With all of the chaos of the city, the last thing any parent wants is an organized diaper bag weighing them down as they try to walk, grocery shop, fill out paperwork, entertain other children and not have it in other's way. Keep it simple and remember to find the right one for you.
What else do you add to your Mommy Bag?