I come from a huge Disney loving family. I don't remember my very first trip to Disneyland because I was a newborn baby. I've had annual passes my entire life. Now that I have my own child, we go weekly. We travel to Disneyworld in Florida every other year. It's just our thing. Disney, we are obsessed with you! Because I feel like I'm a Disneyland expert, and because Summer is here, today I wanted to share some insider tips with you on how to brave the Disneyland heat and crowds that come along with summer each year.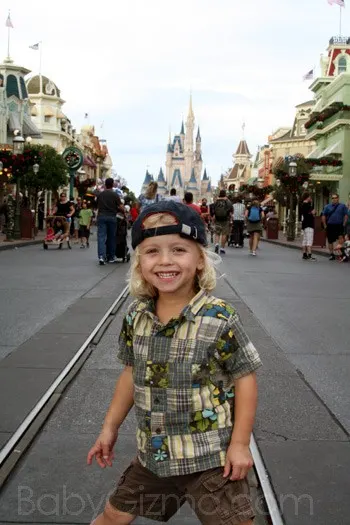 -Have a plan.
You need a plan. Any plan. Summer means everyone is out for school, and when you get to Disneyland, it seems like the whole world is there. Have some kind of plan written down for your visit. The plan can be as short or as lengthy as you'd like but I highly recommend writing down a list of your MUST-ride rides for the day so you can be sure to check those off your list.
-Hit one "land" at a time.
So that you're not running all over Disneyland back and forth, once you've made your list of must-ride rides, figure out where each ride is and check off one land at a time. It saves so much time if you aren't running around the entire park like a chicken with its head cut off.
-Make time for your kids to see the characters and figure out where they are.
If your kids are anything like my son, they LOVE the characters! Characters come with long lines so be sure to add enough time in your day to see characters! Head to Toon Town to see several characters in one place or Big Thunder Ranch which always has characters roaming around. If you have kids who want to see Anna & Elsa, make sure you are there when they open in the morning or say hello to a 2-4 hour wait!
-See the shows and get there early.
If you and your family want to see any of the shows or parades at Disneyland, get there early to guarantee you get a good seat and can see everything!
-Pack snacks.
While there are several places to eat at Disneyland, it's always nice to bring a bag of your own snacks so you can take them in line with you during the rides and don't have to stop for all of those things. Make sure to bring things that will do well in the heat. (Leave the chocolate bars at home)
-Bring plenty of water.
Stock the stroller or your bag with lots of water bottles. When you're out in the heat, you need to drink extra water to stay hydrated. You can always go up to any food station at Disneyland and ask for a cup of ice that you can fill up with water at a drinking fountain, too.
-Invest in a spray fan.
You know those amazing fans that are connected to a water bottle and spritz out water? You need one for Disneyland and kids love them! You will save TONS of money if you bring your own. Disneyland charges $17.99 each.
-Check out restaurants ahead of time.
Especially if you have picky eaters. You can search all of the Disneyland restaurants and food stands on their website for menu details. If anyone in your group is a vegetarian, has food allergies, or is an especially picky eater, you can plan out where you're going ahead of time so you're guaranteed there is something for everyone there.
-Download Disney Apps.
Disneyland has apps that tell you the current wait times for rides which is great for planning when to do certain rides. There is also a stand at the end of Main Street that tells current wait times and is continuously updated.
-Use FastPasses!
Fast Passes are there for your convenience, and boy are they convenient! They let you skip the line and basically do the waiting for you. Remember that you can only use one Fast Pass at a time so use them for rides that have especially long waits!
-Use Baby Swap if you've got little ones.
The baby swap is for families who have little ones who aren't tall enough to ride the big rides. Half of your party rides a ride while the other half waits off with the baby. Then they switch and the second half can go to the front of the line to ride. It saves you from having to wait in line twice and it is very helpful! Just ask a cast member at the front of the line for a Baby Swap pass.
-Know where to cool off.
If it gets brutally hot, know locations where you can cool off and get out of the sun. There is a cinema on Main Street where old cartoons are constantly playing. It's air conditioned and a great place to escape the heat. The Tiki Room is another indoor great one. If you're in California Adventure be sure to go into the Animation Studio or the Disney Jr Live Show both in Hollywood Studios for a chance to cool off!
-Get to the parks early.
During the Summer months, the park gets busier as the day goes on. Get to the parks before they open so you are already inside the gates when the park opens. Hit the big rides that get long lines fast so you don't have to wait for them later in the day.
-Make reservations for a character buffet.
Eating at Goofy's Kitchen is one of our favorite things to do. It's nice and cool inside, your kids can meet the characters while they eat without having to wait in any lines, and the food is fabulous. Make sure to make reservations ahead of time because space is always limited. There is also a character buffet inside Disneyland Park with Minnie Mouse and another with Chip and Dale inside the Grand Californian Hotel.
-Bring hats and glasses.
These will keep you cooler while you're out in the heat. Just remember to take them off on the rides.
-Bring sunscreen.
The sun in California in the summer can be unforgiving. Make sure you later up everyone in the family before you hit the park and bring extra to re-apply.
-Take frequent breaks.
Sit down for lunch or go back to your hotel in the peak of the heat for a little rest!
-Splash zones!
Ride Splash Mountain or take your kids to the splash zone in Bugs Land in California Adventure. If you don't want them soaking their clothes, pack a bathing suit or an extra pair of clothes so they can change into dry clothes when they're done.
Have you ever been to Disneyland during the Summer? What were some of the things you did to cool off and beat the crowds? If you have any great suggestions to add to this list, leave us a comment and share them!