Around the holidays my husband enters the kitchen for one task. It is a very important project … the creation of his family's secret pineapple glaze. Ever since I've been around I've jokingly called it "ham sauce" which doesn't sit well my my husband. Apparently "pineapple glaze" is the more refined term for the sweet and smooth addition to every holiday ham we serve.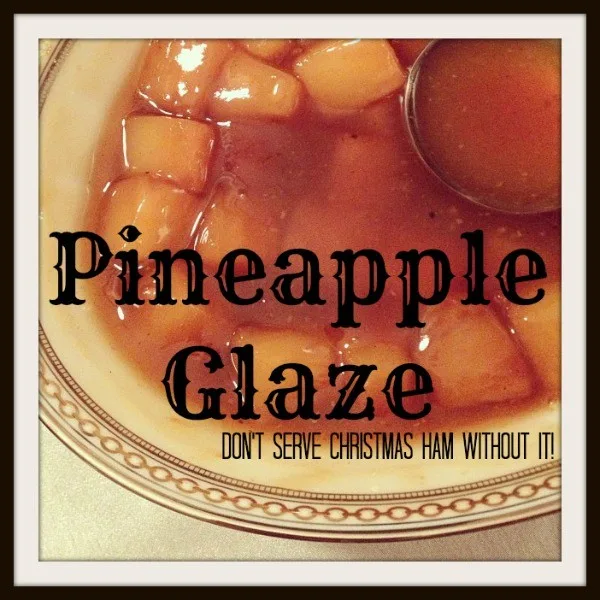 When I first mentioned to him that I'd be sharing this recipe he was a bit alarmed. "But it's our secret recipe!". To which I replied, "What blogger keeps secrets? Especially the secrets that have to do with yummy recipes?"
So, my dear friends, today I'm breaking family ties and pouring out the details of our must-have ham sauce, er, pineapple glaze recipe …
Ingredients

2 – 8 ounce cans of pineapple chunks in juice (slices work too, crushed does not)
1 cup brown sugar
1 teaspoon mustard
1 tablespoon lemon juice
Dash of salt
1/4 cup cold water
1 tablespoon corn starch
Directions
Over low heat, pour pineapples (including juice), brown sugar, mustard, lemon juice, and salt in saucepan.
In separate bowl mix cold water and cornstarch together. Add to pineapple mixture and bring to a boil for 1-2 minutes. Stirring constantly.
Reduce heat and taste test. Add a dash more of mustard or lemon juice if needed
If you prefer your sauce thicker, repeat cold water and cornstarch mixture in smaller quantities, adding and stirring, until desired consistency is achieved.
Remove from heat, pour into serving dish, and serve alongside ham.
Does your husband help out in the kitchen around the holidays? What is his specialty?