Welcome to The Rose City … Portland, Oregon!
Portland is a beautiful and unique city tucked in the Northwest corner of the United States. It's a bit out of the way if you're the driving sort, but absolutely worth a flight and at least a week's stay. Take a peek at the all that Portland has to offer!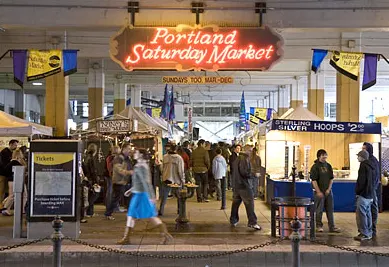 Portland Saturday Market
With amazing food, fabulous events and interesting vendors, the Saturday Market can't be beat! Tucked beneath Portland's famous bridges and along the waterfront you'll be happy to hear that they're open all weekend – not just Saturdays 🙂 AND, there are great components of the market tailored just for kids!
While on a break from school why not dine in a school bus? It's fun environment and you'll quickly become addicted to the delicious menu.
In case you encounter rain – hop indoors and enjoy the Portland Children's Museum. It's full of learning opportunities and if you have a membership at your local children's museum you just may be able to get a discount at the Portland one. Take a peek at the details here.
Within walking distance of the children's museum is the Oregon Zoo, a wonderful and spacious zoo that you don't want to miss! Plus, if you're in town on the second Tuesday of the month admission is only $4 per person.
OMSI – Oregon Museum of Science & Industry
If you're looking for an extra special museum, OMSI is it! Your kids will love all the hands on activities and parents will learn quite a bit too! OMSI always has special features and exhibits going on so take a peek at their events calendar.
The birth place of fancy doughnuts. Do not miss this stop – the line is worth it! And, if you really want to make a sweets tour, visit Cupcake Jones and Salt & Straw too!
If you find yourself in Portland during the summer months, spend a day perusing downtown – you can walk everywhere (don't miss Powell's Books and the shopping at NW 23rd and The Pearl District!). You can even take the MAX line when you're feet get tired. Speaking of feet, if it's warm enough, pop by the Jamison Square Fountain for a little dip!
See the city from the sky! A round trip ride is only $6 per person and children 6 and under are free!
For those that have visited or live in Portland … what other sights would you add?
If you're spending some time in Portland, why not make the 3ish hour drive north and explore The Emerald City too! Here's what you shouldn't miss in Seattle.