It's time for the best Pumpkin Crunch Cake you've ever tasted! While visiting family out of town for the holiday this past weekend, I baked so many yummy goodies that it's truly hard for me not to share them with you all at once. Not to overwhelm you, I'm sharing the recipes one by one over the next couple weeks.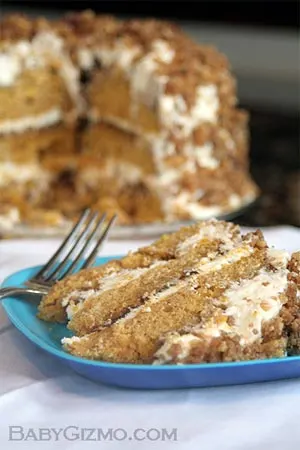 This holiday I really knocked it out of the park with the desserts I chose to make. I'm not one to make the same thing over and over, so I chose to make new-to-my-family-recipes that included a cake, bars, bread, dessert balls and more.
Today I'm starting out with one of the best. This cake ties for the first place dessert that my family loved the most on Christmas Eve. My family couldn't decide if the Pecan Pie Truffles that I shared with you on Monday or this Pumpkin Crunch Cake was the best so we called them both the best. The Pecan Pie Truffles were the "Best. Dessert Balls. Ever." and the this cake is the "Best. Cake. Ever."
Seriously, I wouldn't lie to you, this cake is delicious! I ran into a problem in the middle of making the cake when I was taking the cakes out of the pans that almost made it a complete Pinterest Fail but I was able to pull it all together and make it look perfect. It just took a little tender loving care and piecing some of the cake back together but you'd never know it by the finished product.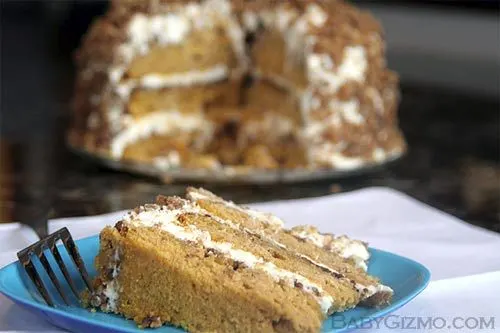 IMPORTANT NOTES:
DO NOT LET THE CAKES COOL IN THE PANS. This is important because the crunch mixture will stick to the pans and you'll be scraping it out. I made this mistake and ended up scraping much of the crumb mixture off the pans and piecing it back together on top of the cake layers. This was almost a Pinterest FAIL! Luckily I fixed it all in the frosting stage of the cake.
*Store cake in refrigerator. Serves 16-20.
Once you are finished frosting your cake, refrigerate it for a few hours before serving. Chilling the cake will help hold every thing together and firm the cake up. Since the frosting has cream cheese in it, keep it stored in the refrigerator. This is a very rich, heavy cake and will feed loads of people. You can feed AT LEAST 12-16 people! It's a great cake for a party or a holiday. Every one in my family LOVED it! For your next party or holiday, you have to whip this one up. It's A-M-A-Z-I-N-G!!
Don't forget to check out our new FOOD BLOG –

SKINNY NOT SKINNY

– dedicated 100% to food!