Are you a renter? Do you know what you're responsible for and what things your landlord is supposed to do for you? It can be a little confusing to figure out, and if your landlord is not interested in the property, you may end up in some sticky situations. But thankfully, we're here to help with apartment tips!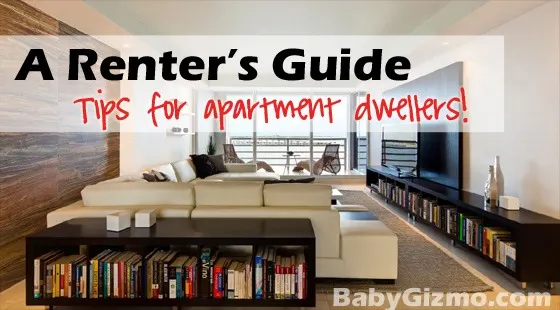 – Many renters think they have a grace period of 5 days to pay their rent after it is due but this actually is not true. Rent is due on the date stated in your signed contract. Of course, many times the contract says you can pay a late fee up until the 3rd or 5th day.
– If the 1st of the month falls on a holiday or Sunday, rent is legally due the next business day.
– Landlords must fix major problems. This includes having running cold and hot water, heating, plumbing systems, etc.
– Landlords must fix most small problems. For example, if you have roaches all over your house and you are clean, never leave food out, and it is to no fault of your own, your landlord must call an exterminator and fix the problem for you.
– Landlords can enter the rented premises only in the following circumstances- to make needed repairs when they have your permission, in case of an emergency, or to show the property to prospective new tenants (again, with your permission). They must provide at least 24 hours notice to you before entering, unless it's an emergency like a flood or fire.
– If you've got bedbugs, it's your landlord's responsibility. Tenants can actually stop paying rent until they fix the problem and even break their lease.
– Each state differs but landlords usually have up to 3 weeks after you move out before they must mail you an itemized list of everything they withheld from your deposit and mail you back the rest.
– If you are on a month-to-month lease, your landlord can raise your rent each month. If you are on a fixed term lease, the landlord can not raise the rent until that lease is up.
– Be very wary of signing a lease with the following provisions- Shared Utility Meters, Automatic Rent Increases or Future Rules of Landlord. These can all spell trouble, so try to read your contract as thoroughly as possible.
– In regards to changing the property, more often than not, your lease will specifically say what you can and cannot do to the property. Generally you are not allowed to do things like paint, but if you are, you will be responsible for painting the property back to the colors it was when you moved in.
– Inspect the property before you move in. Take note of any holes, marks, or problems you can find before you move in. Do a complete walk-through with your landlord and point out he issues and have them noted in writing. Make sure you give have him/her sign off on them as proof. Otherwise you may be charged for the repairs when you move out.
If you ever have a question, the best thing to do is to email your landlord, put it in writing, and ask. If that doesn't solve the problem, there are a countless amount of answers and information online for you!