My 5 year old was one of those kids that woke up around 6am every single day. Went to bed at 8pm? Up at 6am. Went to bed at almost midnight? Hello 6.04am!
This wouldn't have been such a problem, but he shares a room with his 7 year old sister and would wake her up, or come into our room and wake up my 1 year old. I just wanted all of the kids to wake up together at around 7am. What's a mom to do? We don't give up on a dream, that's for sure!
After trying to talk to him about waiting, staying in bed quietly etc, I decided to purchase this Stay in Bed Light Clock for $19.99.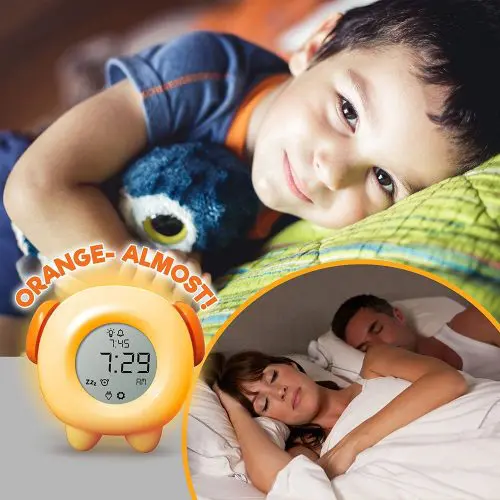 This particular clock takes 3 AAA batteries or can be connected to a USB port. As soon as it arrived, I threw the batteries in and programmed it. (Can you sense my desperation?) It has an ringing alarm and a light, so you can choose to have both or just one to go off. You can also schedule it to work for both the morning wake up and for nap time.
Since my kids are older, I just needed the morning light option. It was easy to program, and in my excitement, I set the red light to start at 6am (meaning: you must stay in bed) and for it to turn green at 7.30am (now you can go).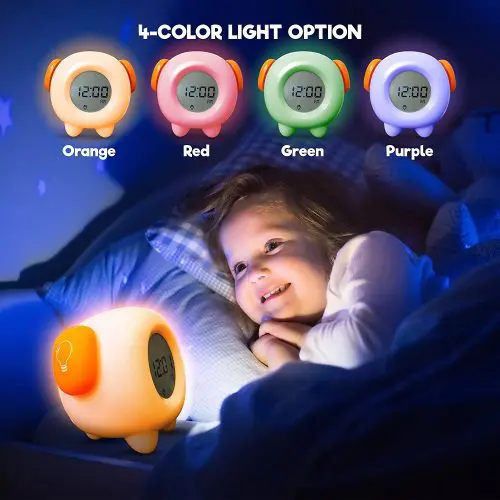 I was obviously dreaming. At 7am I heard, "Mama, can I PLEASE get out of bed now? It's been agessss!" I hoped it would work, I left it at 7.30am for over a week, but it was pointless.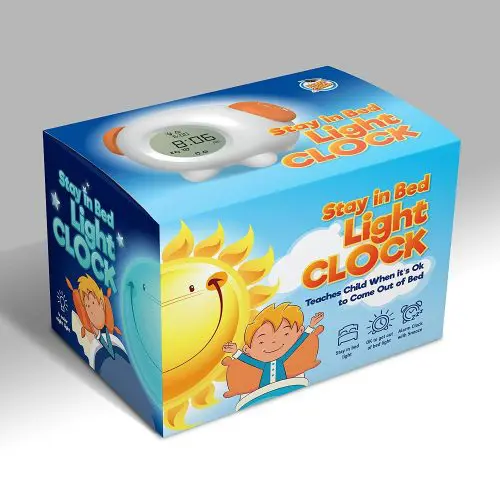 So I decided to move the green light back to 7am. This decision was a game changer. My son didn't complain because he felt like he had to wait less. "That was quick!" he said the first day. As the days went by, he continued to wake up around 6am, but he quietly stayed in bed and waited for the light on the clock to turn green. I can always hear him moving in his bed, but I was happy that he wasn't getting out so that his older sister and the little one could sleep longer.
But as the days went by, I noticed he was sleeping longer and longer. And now? I kid you not, he actually sleeps until 7am! It's a miracle! I don't know what happened, but his body adjusted to it, and it's been the best thing for our family. His older sister no longer complains that he's waking her up every morning.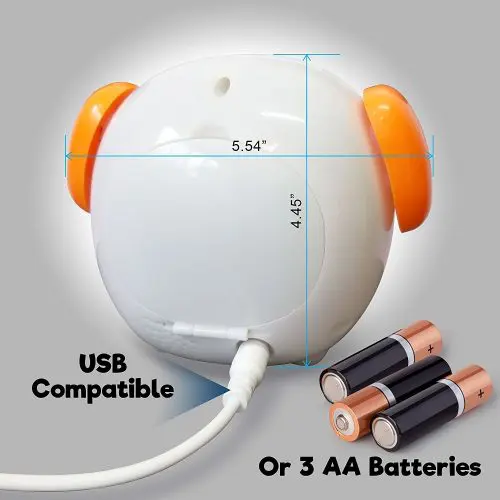 So now I am one of those people who recommends this miracle machine. It won't work for every child, but it sure does work for a lot of them! There are plenty of positive reviews online for these types of clocks. If you need a little more sleep, and you think your little one will understand that the red light means stay in bed, then why not try this out?