If you have a newborn and you're anything like me, you just might be drowning in blankets. Swaddles and quilts and little lovies abound around here; is it that way at your home too?
But, ever since I wrapped my little one in a Tula baby blanket, I've decided all the others must go. Tula baby blankets are just that divine! Well, technically, I'll keep various others as back-ups because I'm resourceful like that, but there is no doubt I always reach for my Tula blankets first. They are perfect for everything … swaddling, tummy time, photo backgrounds, car seat cozies, and more. It was love at first touch when it comes to Tula baby blankets and today, I'm sharing why …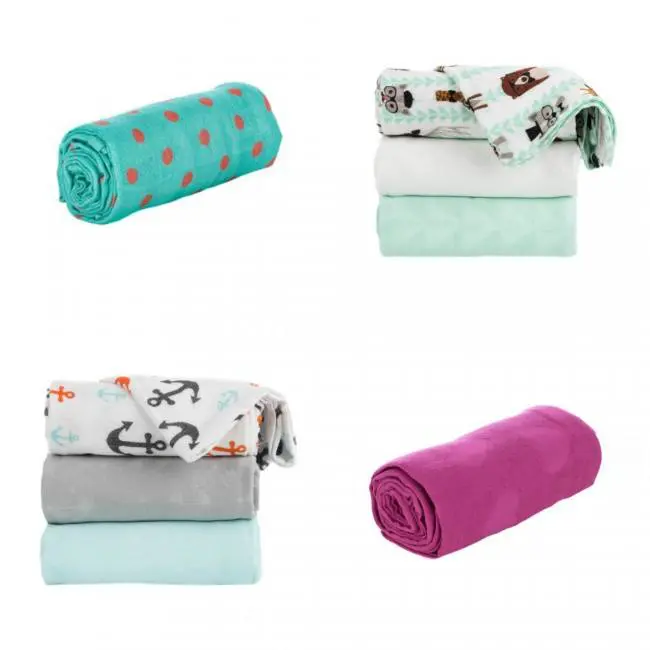 Tula blankets are huge! At 47″x47″ these swaddle blankets are some of the largest out there. This size always for secure swaddling, lap snuggling, and, for my big kids, the perfect living room picnic blanket.
Tula blankets are soft! They're made up of 100% viscose from bamboo. That equates to the smoothness of butter mixed with the luxury of silk if you need a visual.
Tula blankets are special! Retail, they sell for $25 each or $65 for a set of 3; but, as with many Tula products they're highly sought after so if you see them in stock, don't delay in placing your order.
You can buy Tula Baby Blankets direct from the Tula site or another Tula retailer like Abby's Lane or Sugar Babies. Take a peek and let me know which print is your favorite! My first Tula blanket was the grey Quiver print, a gift from a dear friend, and I just snagged Clever which is just too cute for words! Now I'm dreaming of Love Noir! I can't wait for new prints to be released, word is they'll be coming soon!