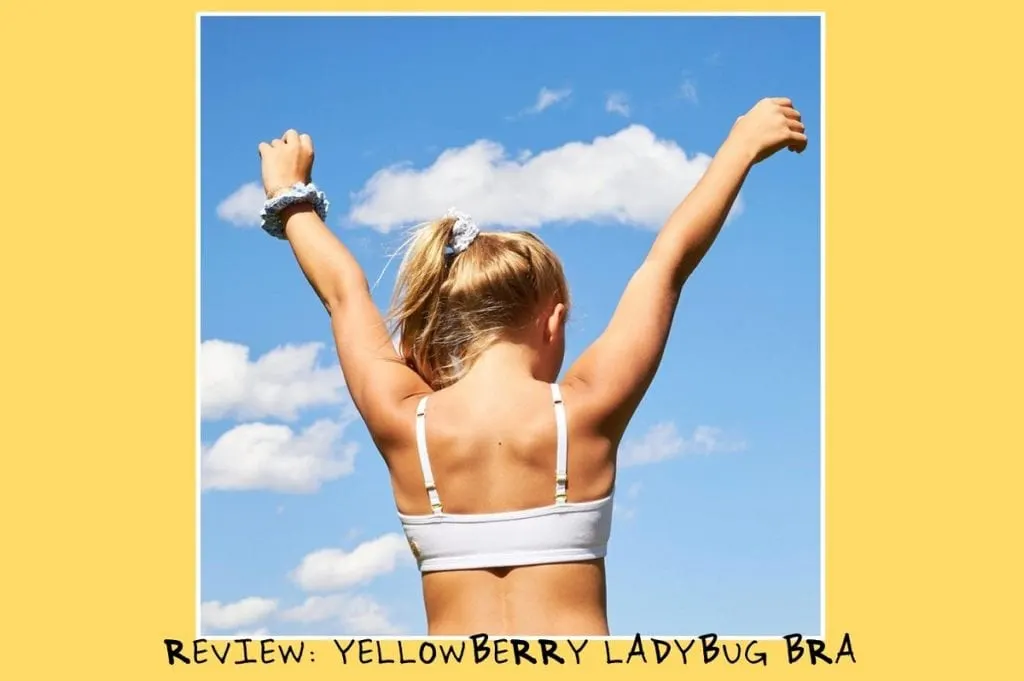 My daughter recently brought it to our attention that it was time for her to start wearing a bra. Actually, she just started out with camisoles, but after a few weeks, my husband and I realized they weren't quite cutting it anymore: it was time to move up to a training bra. We thought our daughter might be embarrassed if we pointed out that she might be more comfortable with a bra, so we just tossed the offer to check out one out into a list of some regular summer clothes shopping we were doing. To our surprise she was really excited!
I have experience fitting and selling bras, but training bras were a whole new world for me. I found that, unless I wanted to go with dark colored or brightly patterned sports bras, the training bras I could find at our local stores looked and felt like I just cropped off my daughter's camisoles: single layers of cotton with no coverage or support. I did some research and decided to try out a company called Yellowberry. The company was founded by a 17-year-old after she went bra shopping with her little sister and they couldn't find bras designed specifically for young girls—not women.
I love the company for its focus on girls. The products are available in both neutrals and fun colors, and they have a collection of "first bras," as well as bras for more developed girls and a collection of sports bras. Because my daughter's biggest complaint was sensitivity, we chose the thicker of the two basic first bras: the Ladybug. Being new to the style and company, I went by the size chart, ordering the size I got by measuring her around the rib cage, below the breast base, as instructed. My one concern was that the bra is designed to fit sizes starting at an A cup. However, I read a lot of the reviews, which indicated that people were ordering this bra as a training bra for children my daughter's age.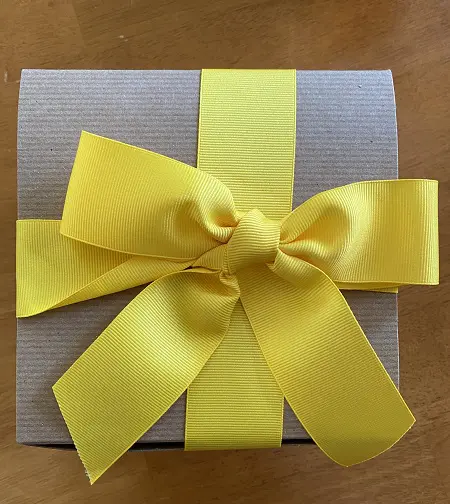 I ordered three bras because you should always have one to wear, one in the wash, and one in the drawer. (SPOILER ALERT: I may order more, because stinky kids go through bras faster than adult women, and I hate doing laundry.) When the bras arrived, they were beautifully packaged in a giftbox with a bow. It was fun that the company was making this milestone as big of a deal for my daughter as it was in her mind. Inside the box were the bras and a card with a pre-printed notecard containing a message from the founder.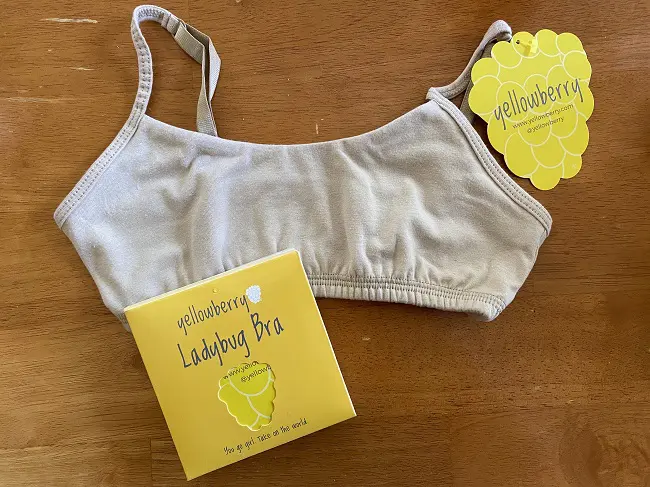 I'm pleased to report that the Ladybug bra was exactly what I was expecting based on the pictures. The material is two layers of a soft, thick, heavy cotton/spandex knit. The straps are adjustable in the back and they can be changed from standard straps to criss-cross straps. With the exception of the white one, the bras are one color on the outside and lined with another color on the interior, which is a fun detail, especially if your mom makes you get neutral colors.
They are machine washable (cold, gentle cycle—but so are my kid's dresses from Target, so no big deal), and tumble dry low, so caring for the bras is easy. I've washed my daughter's several times now, and they've retained their shape and their softness. (We don't use fabric softeners in the wash, and I use wool dryer balls in the dryer.) My only concern is that the washing instructions are printed on the fabric and I can see that cracking and peeling off over time.
The fit was pretty good. My daughter was in the middle of the measurements for the size I ordered, making the band a good fit. The underarms were a bit loose, meaning she may not have been quite ready for this style yet; perhaps Yellowberry's Pipit, which is designed for the same sizes, but lighter weight and therefore maybe less structured, might be a better training bra option for smaller sizes. However, my daughter feels comfortable in the bra and it fits well under clothes, which means it's doing the jobs I bought it to do. And bonus: she feels so proud and grown-up right now. It's a really fun "growing-up" moment to see.
Overall, I'm a fan! Shipping was fast, the quality is great, and my daughter is happy. A win all the way around! If you sign up for Yellowberry's mailing list, you'll get a code for 20% off your first order. (Head's up: be sure the code actually applies before you submit your payment because they can't do anything about it after the fact if the code does not apply. Although customer service is responsive and friendly!) If you're in the market for a first bra or a bra for a young girl, Yellowberry is definitely worth checking out.