It's well known that keeping your child rear-facing in a vehicle for as long as possible is the safest option, but did you know that children under 2 years old are 75% less likely to die or be severely injured in a crash if they are rear-facing? The stats are shocking, but when we know better, we do better. This is why the American Association of Pediatrics recommends that children ride rear-facing until AT LEAST age two.
As part of a public awareness campaign called TurnAfter2* designed to educate parents and caregivers on the importance of keeping children rear-facing in their car seats for as long as possible, our friends at Chicco have launched their new, innovative Fit2 rear-facing infant and toddler car seat.
The Chicco Fit2 features a two-stage base, offering two positions to comfortably accommodate both infants and toddlers. The Fit2 looks like a normal infant car seat but with the stage 2 toddler position, it comfortably fits a growing toddler up to 24 months, making it easier to keep your child rear-facing for the first two years with the same seat.
The Fit2 accommodates babies from 4-35 lbs and up to 35" (whichever comes first!) and features a 7-position headrest, padded, 5-point, no-rethread harness with one-pull tightener, and an innovative chest clip designed for infants AND toddlers.
It's packed with convenient features such as a handle adjustment that can be done using one-hand, compatibility with Chicco strollers to create a travel system, and one-hand removal from stroller and base.
The Fit2 is also super easy to install with the one-hand ReclineSure Leveling Foot that helps achieve proper base angle, the two RideRight bubble levels, and the SuperCinch LATCH Tightener that assists in achieving a tight and secure fit with very little effort.
Most of those features are found on the uber popular Chicco KeyFit, but the two-stage base is what sets this one apart and makes it great for keeping your toddler rear-facing until age 2 in the infant seat.
Let's explore those two stages.
STAGE 1 (Infant Position 0-12 months)
The first stage of the Fit2 is designed for babies 0-12 months (4-35 lbs and up to 35"). It features a more reclined seat due to the base of the car seat and comes with removable head and body support for newborns and infants. This is the stage that we are used to seeing on all infant car seats.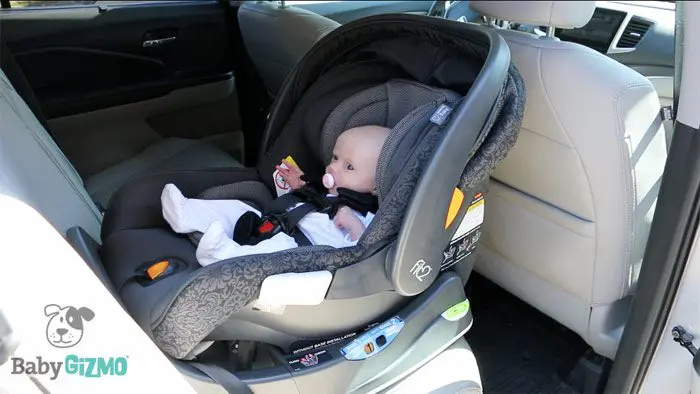 STAGE 2 (Toddler Position 9-24 months)
This is the new, innovative stage in the world of infant car seats. It has more upright, spacious seating, extended leg room and adjustability to accommodate growing toddlers from 15-35 lbs. It's very simple to change the base to Stage 2 with the stage-position lever that lifts easily to convert the base with one motion. Plus, a unique feature of the Fit2 car seat is that it fits properly in a wider range of vehicles, as the footprint of the car seat does not expand when going from infant to toddler mode.
You will always know what stage the base is in by the orange indicator on the side of the base.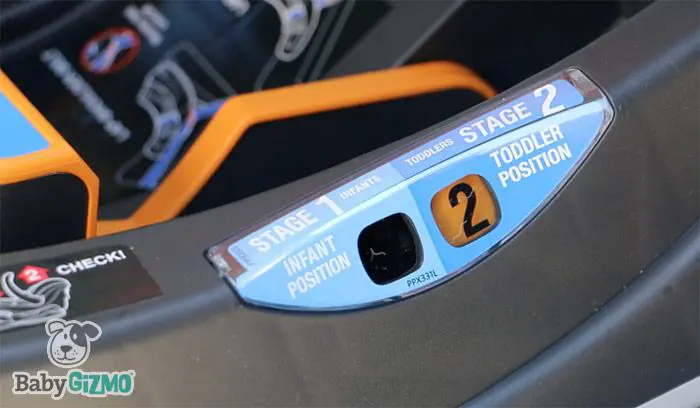 We all know that a small baby will fit comfortably in the infant car seat but what about a toddler? Parents are always concerned that their little, toddler legs will be too cramped rear-facing and so they turn the child around to forward-facing way too early. The Fit2 puts a parent's mind at ease by keeping their toddler comfy.
We put a 24 month old in the Fit2 who was just about to outgrow the height of the car seat and he still fit rear-facing easily without his legs being cramped.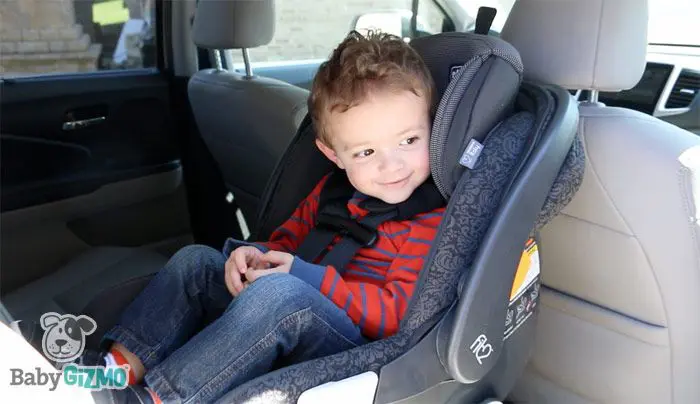 The Fit2 is available now and retails for $279.99. If you are looking for a fantastic infant car seat that will keep your baby/toddler rear-facing for the first two years, we highly recommend you check out the Chicco Fit2. To get a more up close and personal look at the Fit2, be sure to watch our Baby Gizmo video at the top of this article.
You can purchase the new Chicco Fit2 at BabiesRUs.
*About TurnAfter2
Children under age 2 are 75 percent less likely to die or to be severely injured in a crash if they are rear-facing. That's why Chicco is launching TurnAfter2, a public awareness campaign designed to educate parents and caregivers on the importance of keeping children rear-facing in their car seats as long as possible. The idea behind TurnAfter2 is that it's a rule of thumb – keep your kids rear-facing until at least 2 years old. And with that, Chicco hopes to encourage the best kind of social sharing – the kind that educates and inspires parents everywhere to keep their children riding rear-facing for as long as possible. Chicco is inviting parents to share photos of their kids rear-facing using #TurnAfter2 on social media, with the hope that if parents do this, they'll spark positive conversations between parents on the topic (sans parent-shaming).
Disclosure: This article is part of a partnership with Chicco. As always, all thoughts, opinions and statements are our own.