A couple weeks ago I was invited down to Puerto Vallarta, Mexico to explore all the fun thing there is to do with kids and families there. It was a whirlwind trip of fun and activities and we discovered more than we even expected to find for families. For example, a Taco Tour would have never been on my to-do list before but now it is at the top of my list of things to do with the kids. Who knew, right?!?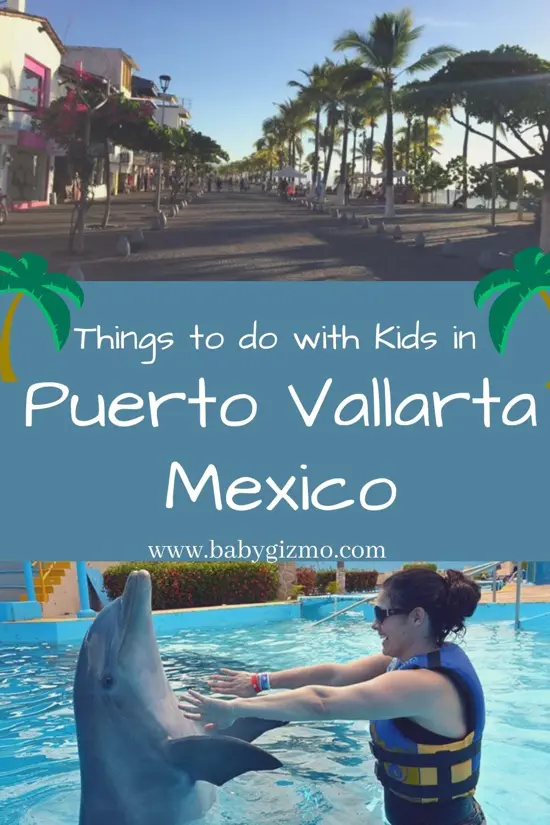 Puerto Vallarta Video
We put together a fantastic video that shows you all kinds of ideas that we highly recommend you watch but you can also keep reading for our top 7 things to do with kids in Puerto Vallarta, Mexico.
MALECON BOARDWALK
Kids will enjoy walking on the Malecon overlooking the vast ocean. This is a great place to people watch, browse a huge open-air gallery, grab a bite to eat at one of the many restaurants and cafes, check out the sand sculptures and take a peek at the people stacking rocks on the beach.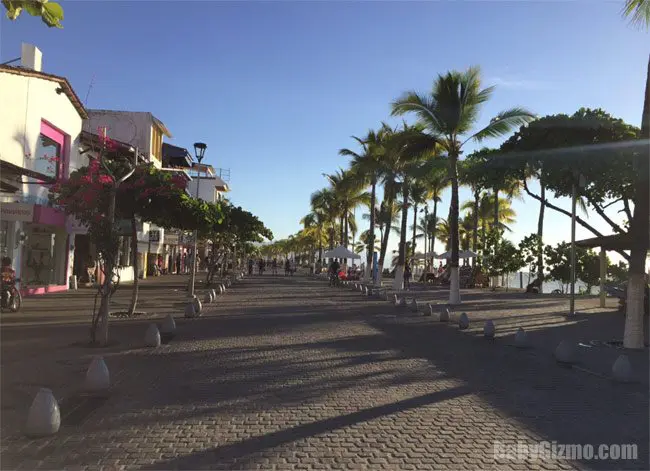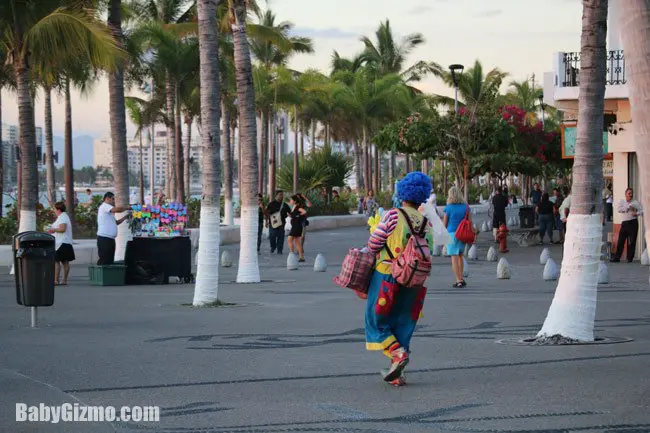 VISIT OUR LADY OF GUADALUPE
Just a short walk from the Malecon is the beautiful Our Lady of Guadalupe Church. This gorgeous church with its iconic crown of angels symbolizes Puerto Vallarta around the world.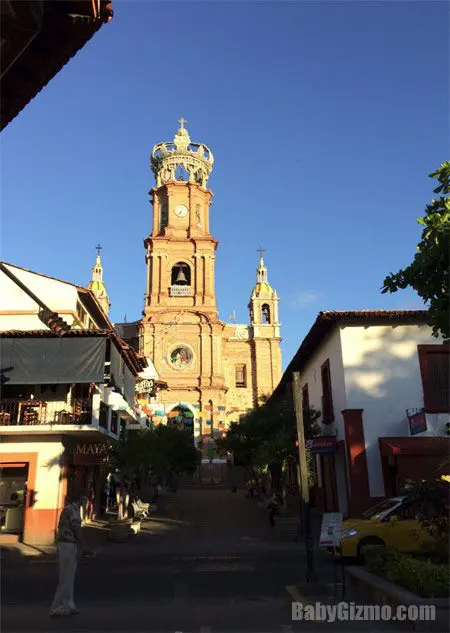 TAKE THE TACO TOUR
One of our favorite things to do in Puerto Vallarta is to take a Taco Tour. Our tour with Vallarta Food Tours was simply amazing.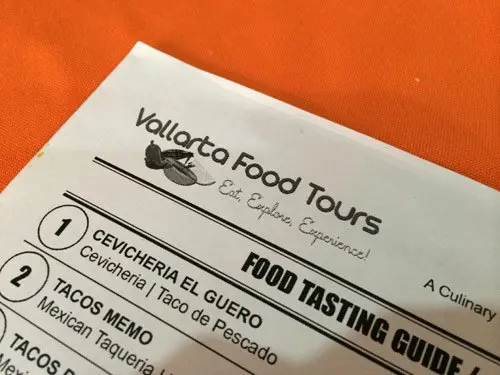 Not only did we get to visit some of the best taco stands in the city and taste their amazing creations but our tour guide was exceptionally knowledgeable about the area and we learned a lot. We took the evening tour but we recommend the morning tour if you are bringing the kids and they aren't night owls. The tour is about 4 hours but with the variety of stops along the way, it didn't seem long at all. We definitely recommend wearing your walking shoes and dress comfortably.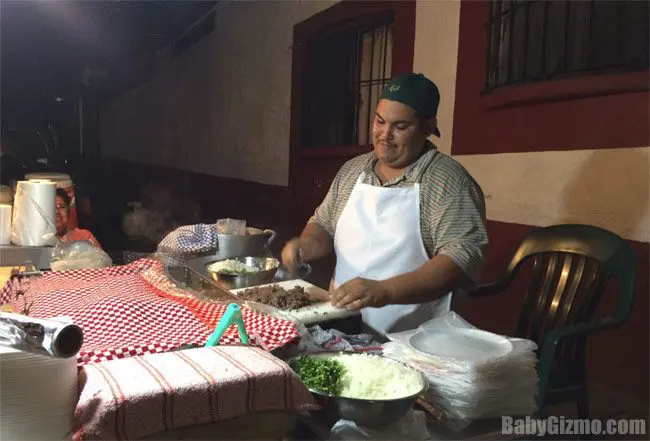 HERE ARE JUST SOME OF THE DELICIOUS TACOS WE HAD: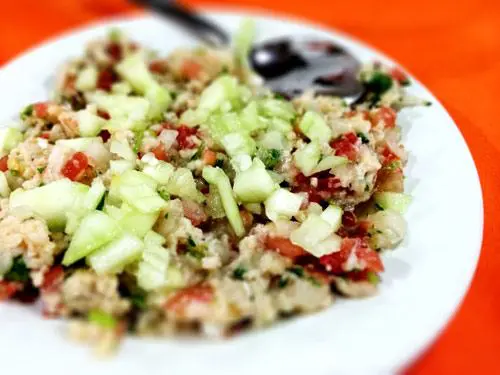 SWIM WITH DOLPHINS
Dolphin Discovery is a great place to swim with dolphins. This facility is located in the Aquaventuras Park which is a large waterpark located just a short taxi ride away from downtown and the cruise port terminal. There are three options at Dolphin Discovery ranging from a dolphin encounter to actually swimming with the dolphins and being able to do tricks with them.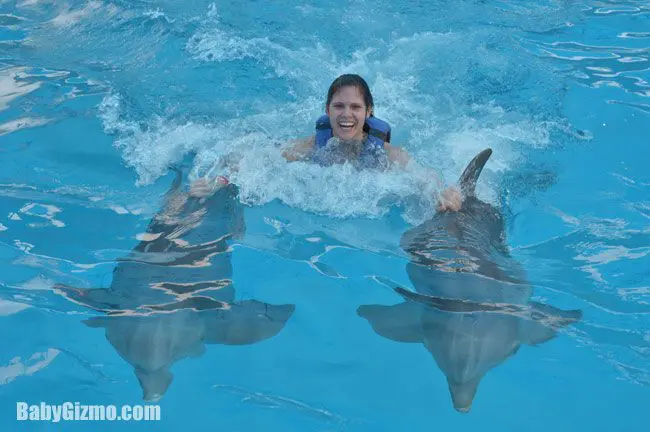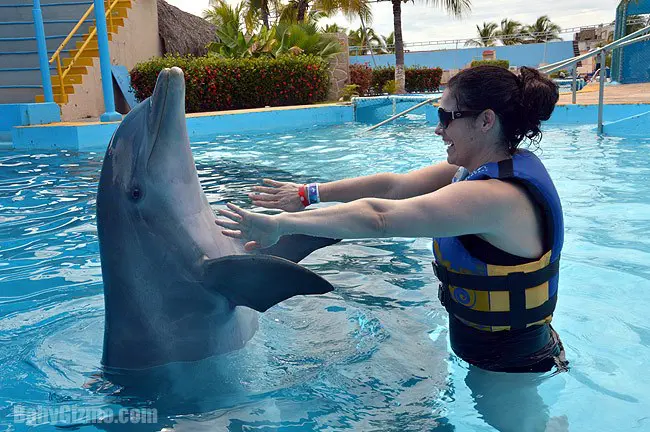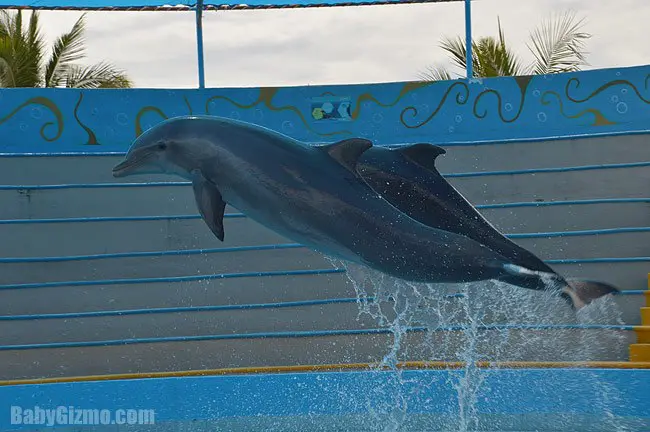 DAY TRIP BY BOAT TO YELAPA
When you book this full day boat tour, you jump on a catamaran that takes you snorkeling to visit the fish and kayaking. Then it sails to the small fishing town of Yelapa where you have the option to have a couple hour "beach break" or to take a walking tour to explore the town and see a beautiful waterfall. We highly recommend the walking tour. This walking tour wasn't overly strenuous so we definitely think it's good for kids.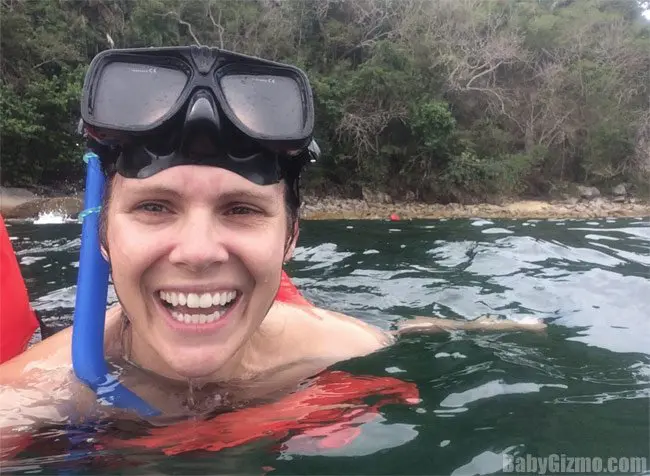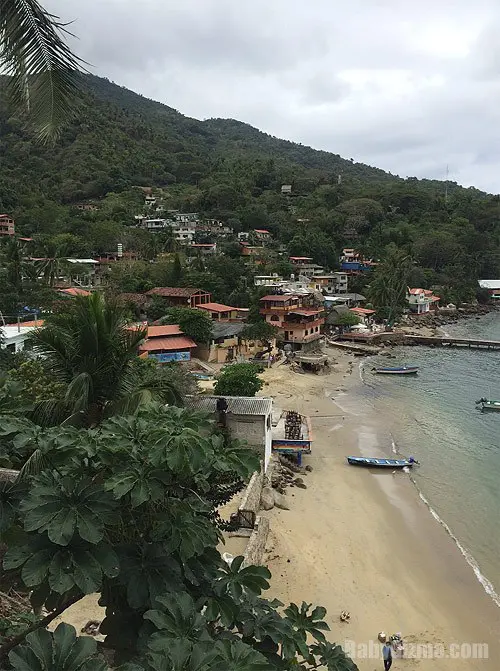 VISIT A FARMER'S MARKET
Local vendors sell everything from delicious eats to jewelry and other souvenirs. This is a great place to pick up a memento from your trip or a gift for someone at home.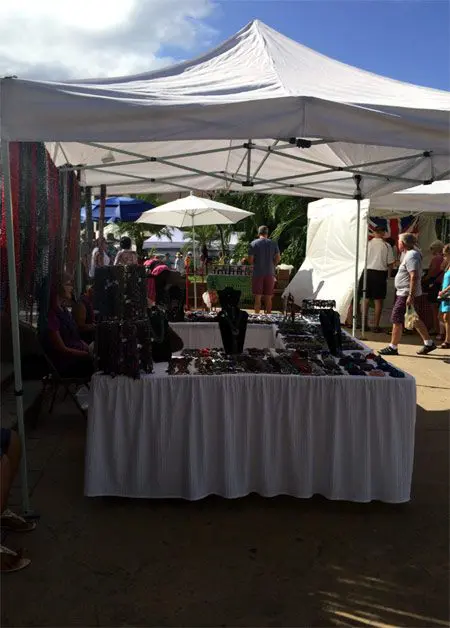 TAKE A PIRATE CRUISE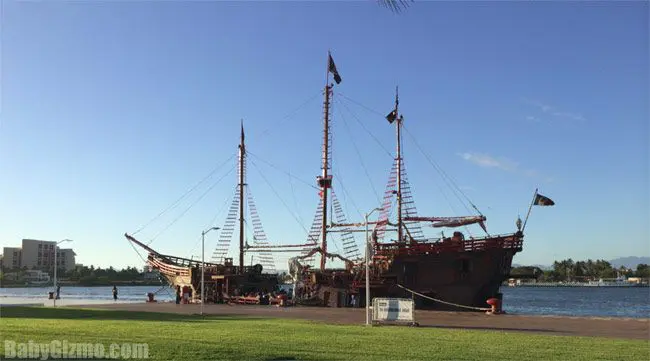 A pirate cruise will sure to be a hit with all kids. We took a Pirates of the Bay cruise that was amazing! There are two cruises each day Monday – Saturday. The day cruise is better suited for kids with pirate performances, lunch, a trip to an island to snorkel, banana boat, treasure hunts and swim on the beach all while hanging out with pirates while they paint the kids faces and make them into mini pirates.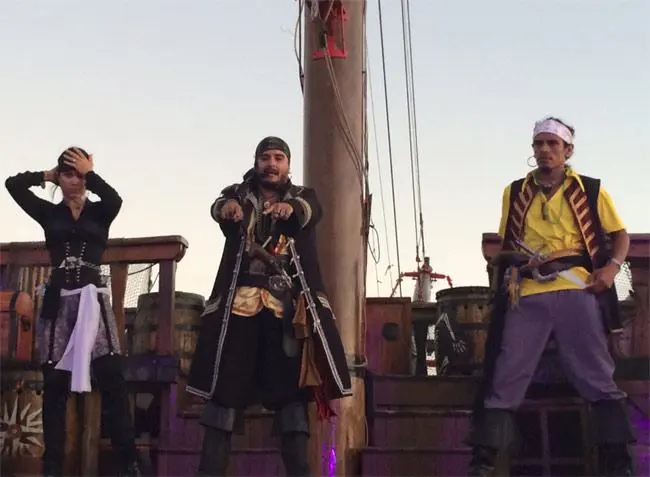 We took the evening cruise which is better for adults and we have to say that they did a tremendous job. The service was great and the performances were super entertaining. I was even brought on stage to be part of the show.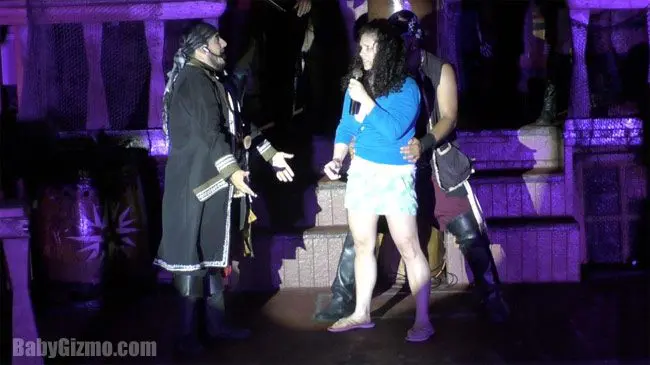 There you go – that is 7 different, fun and engaging things to do with kids in Puerto Vallarta. With its charm, mountain style architecture, river stoned streets, activities and ocean, this is a fun place to visit with the family. If you haven't thought about visiting Puerto Vallarta with the family for vacation, we really think you should. These are just some of the many things to do with kids that will have them begging to come back for more year after year.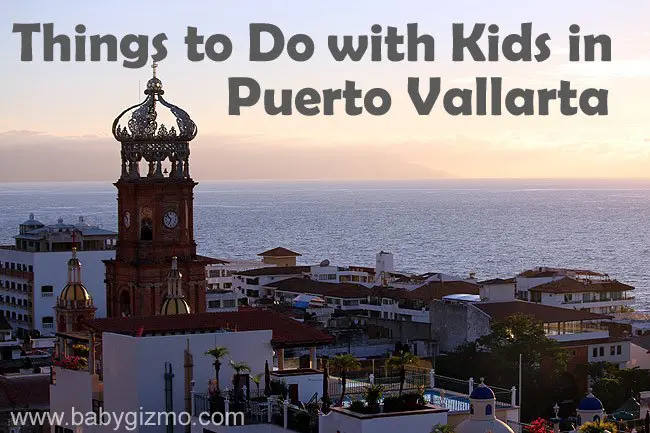 FAQs
Do you need a passport to go to Puerto Vallarta from the US?
Yes, you need a passport.
Is Puerto Vallarta good for kids?
Yes, Puerto Vallarta has a variety of fun things to do for families making it a great place to take kids on vacation. Puerto Vallarta has many things such as pirate tours, beaches, adventures parks and more that kids would enjoy.
Can you swim in the water in Puerto Vallarta?
Puerto Vallarta is located on Banderas Bay where the waters are calmer than the Pacific Ocean. The bay and beaches are perfect for swimming, scuba diving, snorkeling, and kayaking.
*Disclosure: Puerto Vallarta Tourism Board provided my transportation and accommodations for the trip.