Who out there meal plans?
I do! And I promise it not only saves me money, but time too! This recipe is one of my favorite catch all meals. It's kind of like a kitchen sink soup, but in my opinion, much yummier. Plus it tends to be a winner with the kids because it's like a rice-y pasta.
So – squash ricotta risotto. First off, I'm going to share the basic risotto recipe and then from there the fridge is your oyster! You can add and modify as your tastebuds, or your family's favorites, see fit.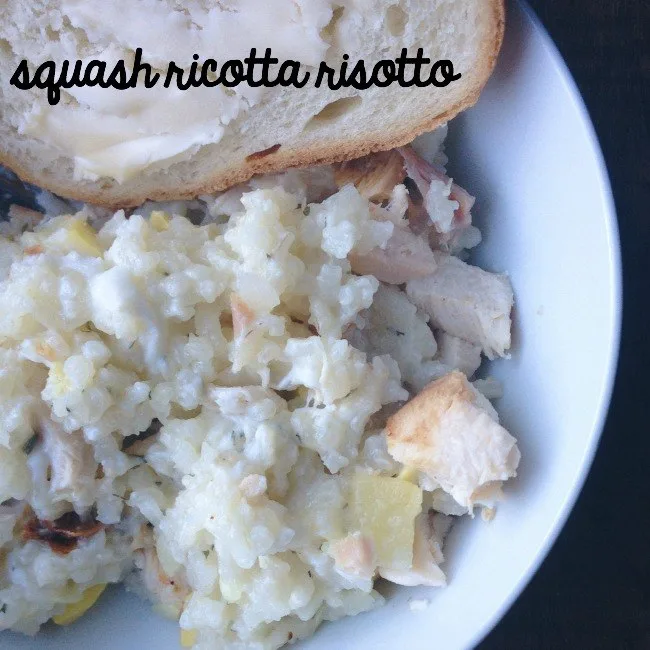 SQUASH RICOTTA RISOTTO
Ingredients
2 tablespoons olive oil
1 tablespoon butter
1/2 large onion, diced
2 cloves garlic, minced
1 1/2 cups arborio rice (risotto) – I currently have the Rice Select brand in my cupboard, but have also used the one found at World Market
1/2 cup red or white wine, merlot or pinot grigio
4 cups chicken stock
1 cup Parmesan
Dash of salt and pepper
1 tablespoon parsley or Italian blend seasoning
Optional – chicken, veggies and more!
Directions
Preheat your oven to 400 degrees.
Heat butter and olive oil in a medium dutch oven (or other oven safe, lidded pot). Saute onions in butter/oil for 5-10 minutes. Add garlic and blend.
Add uncooked rice and stir to toast for a few minutes. Watch for the edges to get slightly golden. Stir in the win and cook until liquid is absorbed.
Pour in chicken stock, cover with your pot's lid and place in the oven for 20-30 minutes or until the liquid is gone and the rice is tender.
Remove from the oven and stir in Parmesan, parsley or Italian blend and in this recipe's case roasted squash, 1/2 cup ricotta and 2 cups or so of chopped rotisserie chicken.
Back in the oven it goes for another 10 minutes to heat and enjoy with buttered bread! YUM!
Cross my heart this is my most favorite fall and winter recipe. It's just cozy and perfect. Plus, I love that I can toss in random add-ins like shredded meat, leftover zucchini, pine nuts, carrots or well, anything!