These Strawberry and Mascarpone Mousse Cups are irresistible. The strawberry mousse is made with fresh strawberries reduced down into a puree and then folded into whipped cream to give it a pure and intense strawberry flavor. The mascarpone cream is rich and decadent. The two mousses combined in one bite is just heavenly. Layer the mousses in mini martini glasses for a fun presentation and you'll have a dessert that your guests will never forget.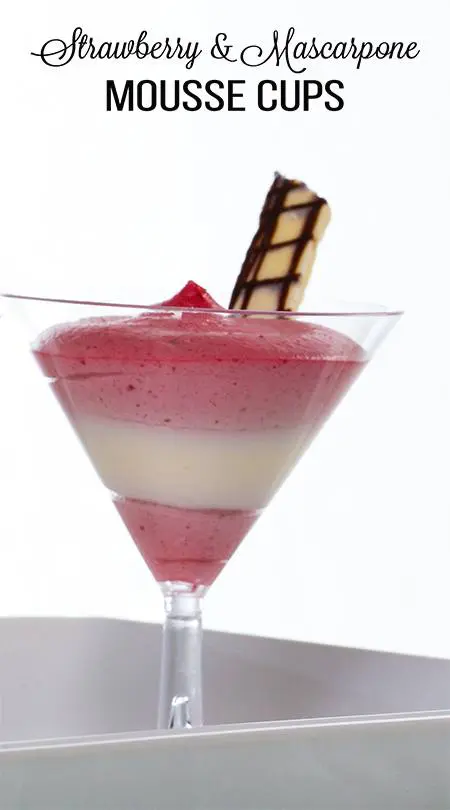 Strawberry and Mascarpone Mousse Cups
Instructions:
Prepare half the Mascarpone Cream recipe found in my Triple Berry Mascarpone Trifle.
Prepare the Strawberry Mousse recipe below.
Layer the strawberry mousse and the mascarpone cream in small parfait bowls or martini glasses for a beautiful presentation.
Makes about 4 servings. Enjoy within 3 days of preparing.
Strawberry Mousse
Ingredients:
12 oz frozen (thawed) or fresh strawberries
2 tbsp sugar or maple syrup (adjust to taste)
1 cup heavy cream
1 tablespoon powdered gelatin or agar agar for a vegetarian version
Directions:
Blend the strawberries in a high-powered blender until all the seeds are broken down.
Pour the blended strawberries into a small saucepan and stir in the sweetener of your choice.
Boil until it reduces down to about ¾ of the original quantity. It should be a thicker puree that coats the back of the spoon.
Let the puree cool.
Pour the heavy cream and gelatin (or Agar Agar) into a mixing bowl. Let the mixture sit for 5 minutes.
Whip the heavy cream until soft peaks form.
Pour in the cooled strawberry puree.
Whip the strawberry puree and heavy cream together until stiff peaks form.
Refrigerate until ready to serve. Makes about 2.5 cups.
About the author: Rubina Umarji is the owner and executive cake artist of Rubina's Cake Shoppe. After the birth of her son in 2009, she left her career in engineering to focus on her two passions: her family and her edible art. Since then, she's had the opportunity to showcase cakes and gourmet confections to thousands of dessert loving clients as well as over 100 of Hollywood's hottest stars and has had her cakes featured on television. Now her days are focused on teaching cake decorating classes to all ages. Her favorite students are her two children, ages 3 and 5. She frequently writes cake decorating tutorials and recipes on the Rubina's Cake Shoppe Blog (www.rubinascakeshoppe.com/blog).