My daughter and I just returned from a mother daughter Disneyland getaway and I have some fun Disney posts planned for you all! First up, why I chose to travel to California during the month of October.
Almost every month of the year has perks at Disneyland. Summer dates allow for school accommodations and Christmas is gorgeous there. But October… I think it's a winner for a few major reasons, so take these into consideration when planning your trip.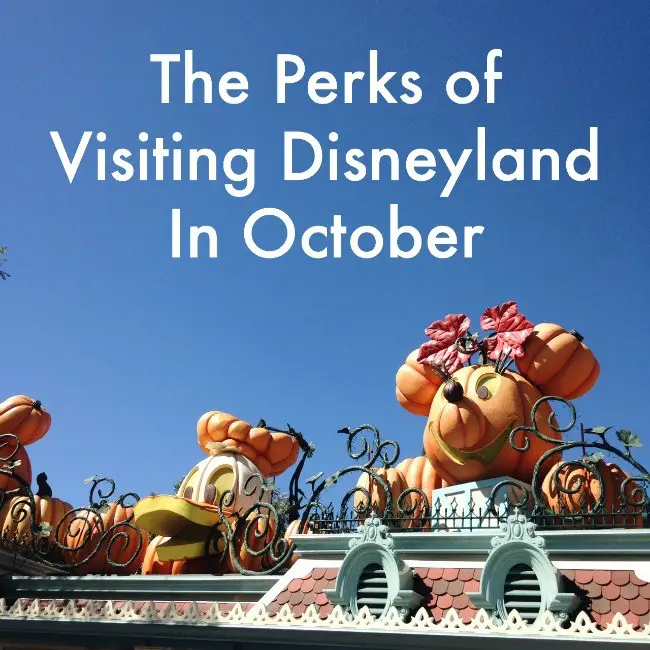 Fall Decor
Disneyland transforms into a Halloween inspired wonderland! Giant pumpkin Mickey Mouse's are all around the park and for those ready for a scare, The Haunted Mansion is in full glory. Even if you're not into the Halloween scene, it's still quite fun to see Disneyland decorated in a special theme.
Disneyland in October Cooler Weather
My goal for our Disney trip was for it to be comfortably warm. Like an Indian Summer. This October was absolutely perfect – high 70s, lows 80s with a breeze during the day and cooler evenings to rejuvenate us for a round of Disney in the dark.
Less Crowds
I studied DLR Prep before embarking on our fall trip. There, Casey, has a great chart on deciding when to catch less crowds and many days in October prove to be winners.
The Option of Mickey's Halloween Party
Mickey's Halloween Party is an extra expense ($69+), but a pretty awesome one for Disneyland in October! Does a trick or treating experience get any better than one at Disneyland? This event is scheduled for specific days and times and includes rides and many specialized activities while in the park. Best of all is the array of costumes, they're practically as good as the real Disney characters!
Disneyland in October Pumpkin Treats
When the holidays arrive, Disneyland goes all out; even in the food department. The Mint Julep Bar in New Orlean Square offers Mickey shaped pumpkin beignets that shouldn't be missed! My daughter and I bought a bag and nibbled on them while riding the train around the park. A great way to rest our feet and fill our bellies.
October is practically around the corner when it comes to planning a Disneyland trip. Start your research now and anticipate an awesome fall at Disneyland next year!