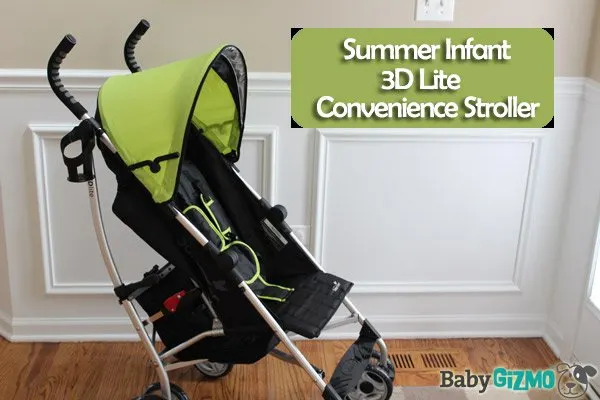 Summer Infant recently launched a new line of strollers. The 3D Lite Convenience Stroller is their lightest, most budget-friendly option that offers the little rider a roomy seat and large canopy while the parent benefits from the tall handles and compact fold.
SEAT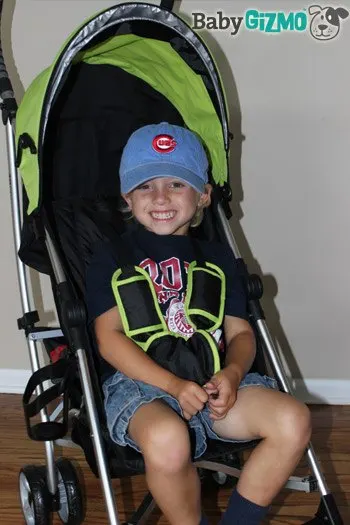 The 3D Lite has a 50 lb weight capacity with a seat that measures 12 1/2″ wide, with an 18″ seat back and a measurement of 28″ from back of seat to top of canopy. Even a 4-year-old can fit in the seat with plenty of room to spare! The 5-point, adjustable, padded harness adjusted easily but has a super easy to undo buckle. Your mischievous toddlers will be out of the seat in a jiffy. Luckily, Summer Infant included a belly pad sewn to the seat (so it doesn't continuously fall off!) that covers the buckle probably in hopes of keeping your toddlers from playing with the buckle. Out of sight out of mind, right?!?
The seat doesn't have an adjustable leg rest or baby bumper bar but it does have a three position recline. The recline is a two-handed device that isn't hard to do but not as smooth as a one-handed bar recline or even a strap recline.
STORAGE
The stroller basket is rather large for an umbrella stroller but like most lightweight buggies, it is blocked when the seat is fully reclined.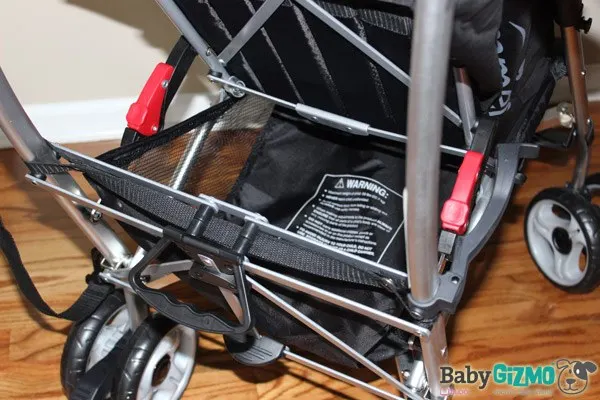 We love that a cup holder is included that can attached up at the handlebar for the parent or down by the seat for the little rider.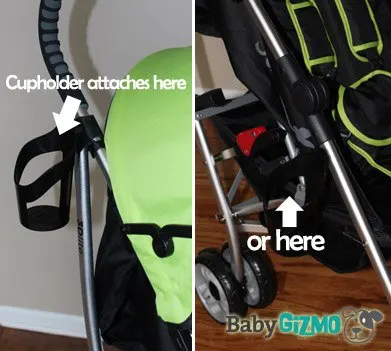 CANOPY
The canopy is a decent size and we appreciate that it sports a pop out sun visor for additional coverage. We wish it had a peek-a-boo window though.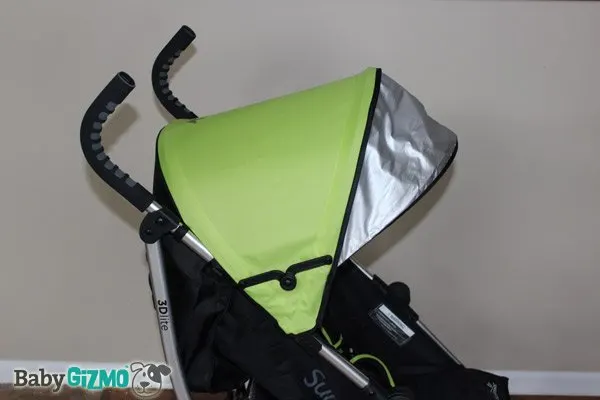 HANDLE
Tall parents will celebrate the handle of the 3D Lite. It is not adjustable but at 42" from ground to handle, even the supermodel parents won't have the dreaded stroller hunch.
WHEELS
The stroller rolls on 6" wheels with front wheel suspension. The front wheels are swivel wheels with the ability to lock straight for a bit of mommy terrain such as grass and playground mulch. The rear wheels have individual parking locks.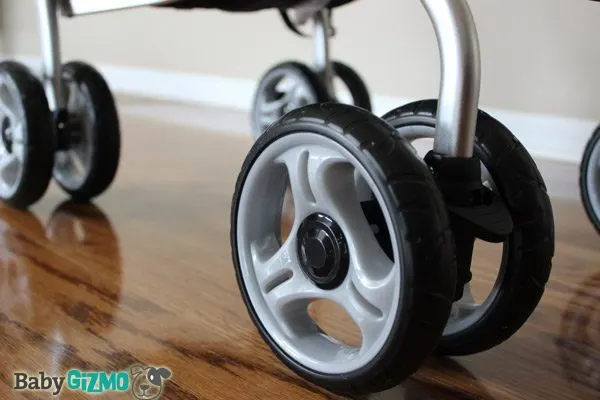 FOLD/UNFOLD
It takes a little balance to fold the 3D Lite because you need to use a hand and a foot at the same time. You will need to step on a little lever at the same time as lifting a handle on the back of the stroller. It certainly isn't hard but just different than other lightweight strollers we've seen. You can also just use two hands and push down the lever with one hand while pulling up the handle with the other. No balance is needed when folding the stroller that way.
With its typical umbrella fold, lightweight package of only 11 lbs and the carry strap, this is a great stroller for travel.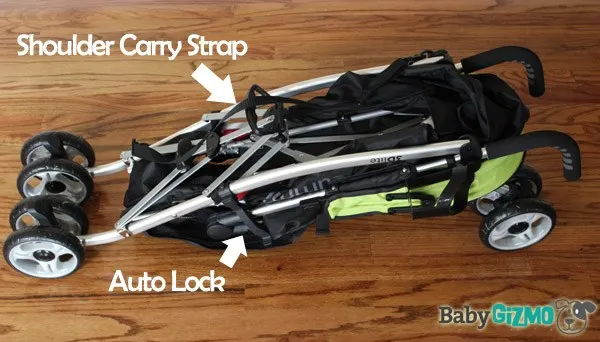 WRAP-UP
The Summer Infant 3D Lite Convenience Stroller is a great travel stroller if you are looking for a large seat and high weight capacity, a compact fold and not spend a fortune.
SHOP the Summer Infant 3D Lite Convenience Stroller HERE
Now that you have read all about the stroller, why not watch it up close and personal in our Baby Gizmo Video review?
*Disclosure: Thanks to Summer Infant for sending us a stroller for review. As always, all thoughts, opinions, statements and photos are our own.
This post continues affiliate links.