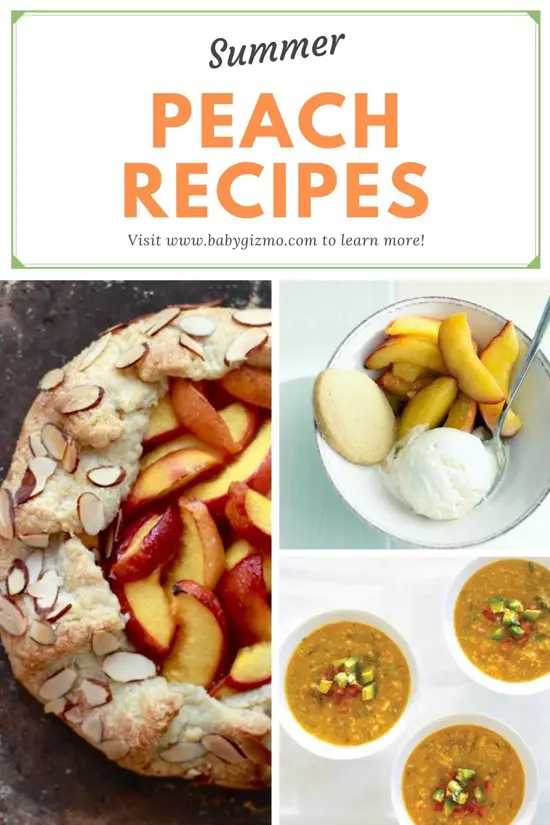 While it's possible to find lots of fruits year-round now, everybody knows that the best fruit is found when the fruit is in locally in season. We love hitting up the pick-your-own farms around here. A day spent outside picking food we're going to eat, with a picnic, and maybe even a play area thrown in—win! But once you get the fruit home, you realize how much is actually in a bushel and it can be a bit overwhelming. I run into the same problem when I go to the farmers' market. Everything looks so good that I have to buy all the things, which I cannot possibly eat before they spoil. We're at the beginning of peach season, so I'm going to share some recipes you can use to cook up all those peaches you bring home when your eyes are bigger than your stomach. Quite frankly, though, there are so many amazing recipes for peaches that I'm going to have to buy them often and in large quantities. Warning to my family: This month, nothing but peaches for breakfast, lunch, and dinner!
Sautéed Peaches: I have to tell you something. I am a terrible pie-crust-maker. Mine either come from a tube or from the hands of my husband, who makes excellent pie crust. What's a pie-loving girl to do? Well, thanks to Martha Stewart, I have an answer: just make the insides! Sautéed peaches are like peach pie minus the crust. Serve with vanilla ice cream, whipped cream, and/or a simple sugar or shortbread cookie.
Peach Galette: My big problem with pie crust is getting it to look pretty. Galettes are fabulous because they're "rustic," which is code for "don't need to be perfect." Like shabby-chic, but for food. Anyway, a nice summer peach galette is a stress-free way to have sweet, baked peaches in a yummy crust.
Peach Fruit Leather: Fresh fruit makes a great snack! I'm lazy, though, and if I have to go through the trouble of actually cutting the fruit up to serve it when I'm hungry, I'll never eat it. Enter homemade peach fruit leather. With some peaches (super-ripe ones, at that) and some honey, you can make your own fruit leather for an easy grab-and-go snack that's almost as healthy as the plain fruit.
Peach Gazpacho: There's more to peaches than desserts and sweet snacks! How about a savory soup? I'm not a huge fan of gazpacho, but I love fruit soup, so this is definitely a recipe to try. I like the idea of experimenting with the peaches and using them in something that is traditionally unsweet. Plus the recipe incorporates other seasonal ingredients like red bell peppers and cucumbers. The farmers' market is your one-stop shop for this soup!
Grilled Peaches: Grilling peaches is ridiculously popular. I'm not sure if it's because of the way that the peaches caramelize when grilled (so yum!), or if it's simply that peaches are in season during prime outdoor-cooking time. What caught my attention in this recipe was the addition of blackberry-basil butter to the simple grilled peaches.
Grilled Pork and Peaches: Speaking of grilled peaches, how about grilling those puppies up with some brown butter and savory pork flavored with rosemary and garlic? The recipe does require some careful timing and your attention, but the juicy meat and soft, warm peaches are worth the effort.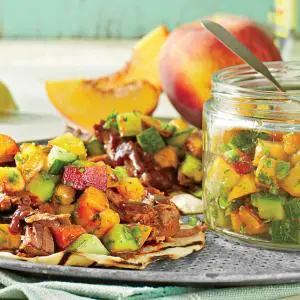 Summer Salsa: When I do eat gazpacho at home, I like to dip things in it—like tortilla chips, which I'm sure is some kind of sacrilege either against soup or against salsa. Regardless, this got me wondering whether, if peaches make for a good gazpacho, they would make for a good salsa, too. Lo and behold, there's a recipe for brisket tacos with summer salsa made using—you guessed it!—peaches. The brisket is made in a slow-cooker, making this a perfect recipe for days when it's too hot to warm up the house by cooking.
Pickled Peaches: I have discovered that making quick-pickles is ridiculously easy. And delicious. I have never pickled anything other than cucumbers, though. When I came across recipes for pickled peaches, I decided that I have to try them. I can't decide if they'll be savory or sweet; the anticipation is killing me. If you're into canning, the first recipe I found was for pickling the peaches for later use. I'm pretty convinced that I'd kill my family with all kinds of crazy bacteria if I tried canning (and I'm impatient), so I also tracked down a recipe for quick-pickling peaches.
If you try any of these recipes, let us all know what you think in the comments!