I love nothing more than diving into exciting novels come summertime.
There's something about the heat and vacations (or staycations!) that lead me to grab a good book and fly through the pages. It probably helps quite a bit that there are more hours of daylight too! No doubt, reading is the perfect way to enjoy summer! Plus, when my kids see me reading, they naturally gravitate to their own books and reading practice during the summer is a huge perk when they transition back into the school session.
In case you're on the look out for a few good reads, here's a few I've loved so far and a handful that I can't wait to dig in to!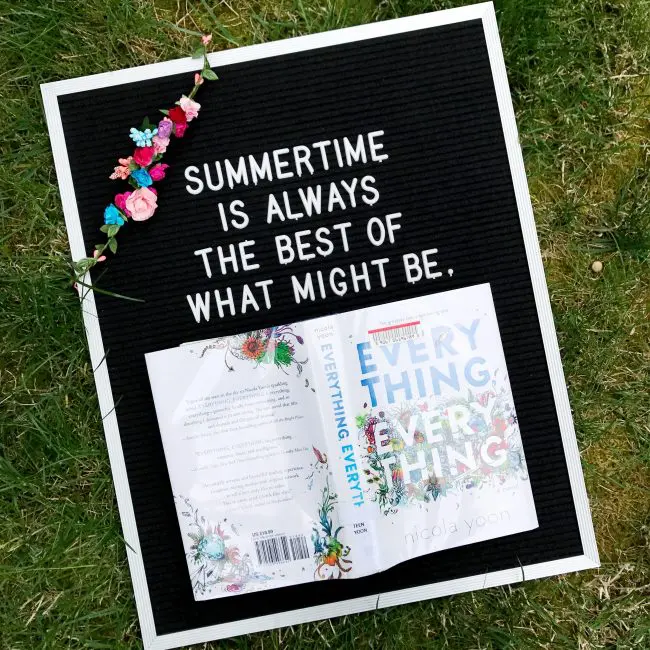 One True Loves by Taylor Jenkins Reid
Taylor Jenkins Reid is my new favorite author. Her stories are engaging and unlikely enough that they don't induce mom worry. In this story, main character, Emma Blair, is torn between two possible true loves … her husband, who she thought was lost at sea, and her new fiancé. Prepare to have your world rocked with emotion!
Everything, Everything by Nicola Yoon
A teen novel that will grip you from both the child and the parent's perspective. Everything, Everything follows Maddy, a girl who is allergic to the world, and her journey of self-discovery, young love, and the possibility of what could be.
The Handmaid's Tale by Margaret Atwood
If you haven't caught the mini series on Hulu yet … wait! Read the book first! Atwood is a brilliant writer who provides such vivid depth when describing the new world where women are cherished (and abused) for their fertility.
The Couple Next Door by Shari Lapena
You'll most likely read this book in one day – I did! Mini spoiler that I feel is necessary for parents though … the baby is fine. So don't let that mystery haunt you. Rather, delve into the crazy people who would actually consider something like the couple next door.
The Girl You Left Behind by Jojo Moyes
Moyes is the one who wrote Me Before You, the gripping book/film that was popular last year. Whenever that happens I aim to find out the author's other winners and The Girl You Left Behind is one of them. A historical novel that toggles between World War 1 and present day, you'll cry for the sisters who fought on the French homefront during the German invasion.
It Ends With Us by Colleen Hoover
Call it a love triangle, but I promise, you'll be fully immersed in Lily, Ryle, and Atlas' lives before the end of this engaging novel. So many themes are explored and the ending happily surprised me. Not what I expected, but what I hoped for.
The Last Anniversary by Liane Moriarty
Moriarty is an exceptional author (I've read all her books!), but The Last Anniversary is my very favorite! Set in Australia, you'll follow Sophie, a single gal, as she encounters characters and mysteries that will leave you hanging on to the last page.
What novels are you reading and loving this summer? I'm about ready to put a new round of holds on at the library and would love your recommendations!