Have you been to the T-Rex Restaurant? Before we headed on our trip to Walt Disney World last month, we knew that we had to have dining reservations in places before we even left home. Sure, we could try to grab last minute reservations for the next day as they became available, but we knew that getting the restaurants we wanted at the times we wanted was never going to happen without some pre-planning.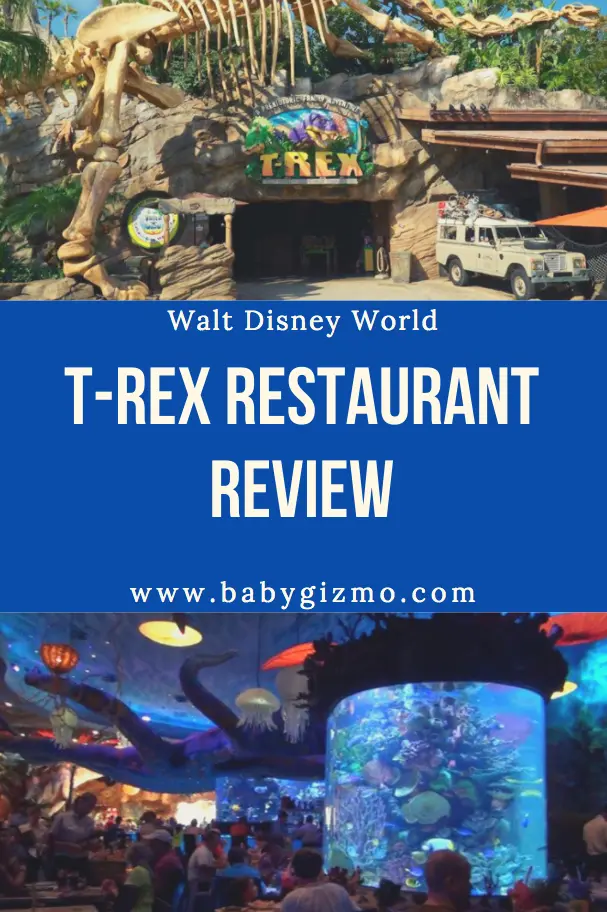 I'm not a big fan of the Disney counter-service restaurants because I feel that if I'm going to pay the expensive Disney food prices anyway, I want to sit down and enjoy the experience so it is not just a grab and go. For that reason, I made sure to do my homework and book the lunch and dinner reservations before we ever left Charlotte.
T-Rex Restaurant Video Tour
One of the restaurants we were excited to try was the new T-Rex Restaurant (at least new to us!) at Downtown Disney. This themed restaurant is very similar to my kids' favorite Rainforest Cafe. It has the exact same feel but T-Rex is all about the dinosaurs.
Restaurant Decor
As soon as we walked up and saw the ginormous dinosaur skeleton covering the stone roof, I knew my kids were going to love it. Since we had reservations, we were seated within 5 minutes of our arrival and my kids couldn't help but squeal from all the dinosaurs, dino hats and cool things to look at that were all around them. I was just happy that the restaurant was refreshingly cool since it was 97 degrees outside with what felt like 100% humidity. I was willing to sit in that restaurant all day and watch the dinos if it meant that I could stay in the air-conditioning. 🙂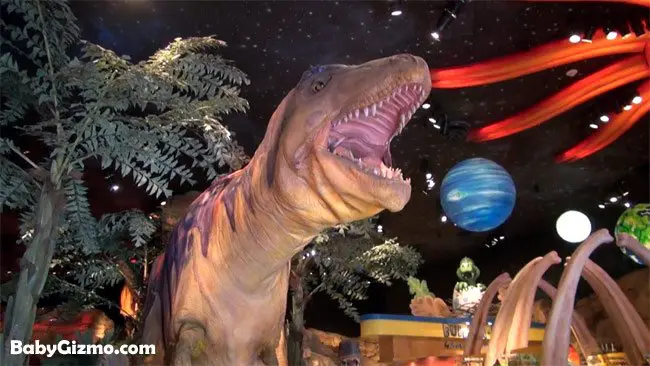 Menu and Service
The server greeted us at our table immediately and took our order. One word of advice: if you aren't into spending $14 for a flashy light-up cup for EACH child, make sure your children know that ahead of time. The menu and the waiter will most definitely suggest it as if it is the best cup in the world, and if your kids don't already know where you stand on that cup purchase, it tends to be a problem during ordering. Yep, I shut that down immediately and kind of wish that the server didn't even mention it!
The T-Rex Restaurant menu had plenty of kid-friendly and adult choices and I have to say that the prices weren't horrible (for a Disney restaurant that is!). When you go to Disney World, just know that the magic number for a kid's meal is $8-$9 at pretty much any sit-down restaurant. T-Rex was right on par with that! I did love that the portions were large so that if you have two small eaters, they could possibly share a meal. Also, you don't leave hungry at this restaurant!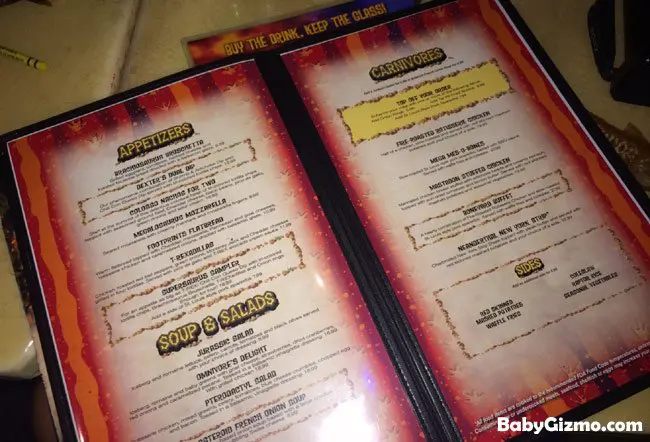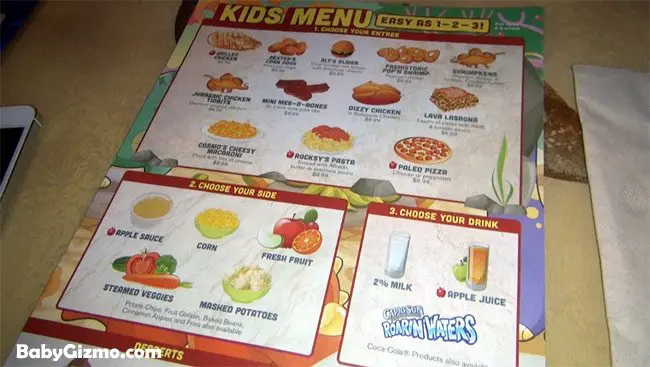 Restaurant "Entertainment"
The dinosaur decor around the restaurant was amazing and every 15 minutes the dinos come alive. It's quite loud and with the restaurant being so dark, little ones may be scared of this at first. My kids loved it though! It's perfect for ages 6, 8 and 10! Here is part of what happens when the restaurant comes alive.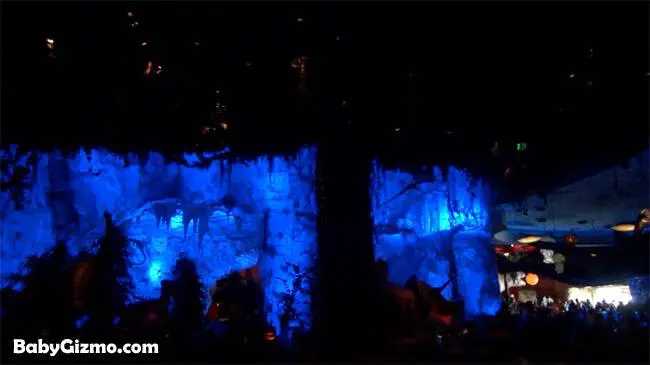 The dino hats were a hit!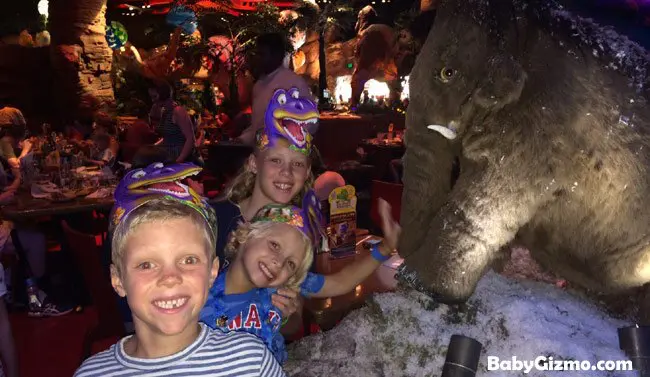 The giant fish tanks were an even bigger hit with my 6 year old!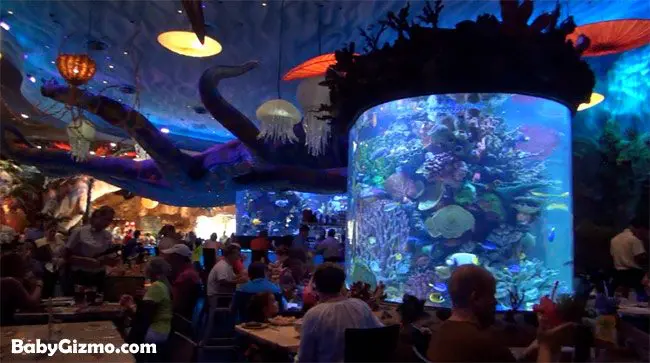 Overall, the T-Rex Restaurant was one of our favorite dining experiences during our trip. We would highly recommend it for families with dinosaur loving kids! Don't forget to watch our Junior Gizmo T-Rex video above!