I am not ashamed to admit that I love Ikea. Every living space I've been in since college has in some way been outfitted with plenty of Ikea furniture. Even now, in our "adult" house with our two kids, my husband and I have plenty of products from Ikea. While many may not agree with our purchasing strategies, it makes sense to us. Our two toddlers are rough on ~everything~ so it didn't make sense to invest in high quality, $$$ pieces. This goes for ikea toy storage products as well – most of ours are from Ikea! They are durable, inexpensive, and work well together including the Ikea storage bins. Below are a few of the best toy storage products from Ikea.
Kallax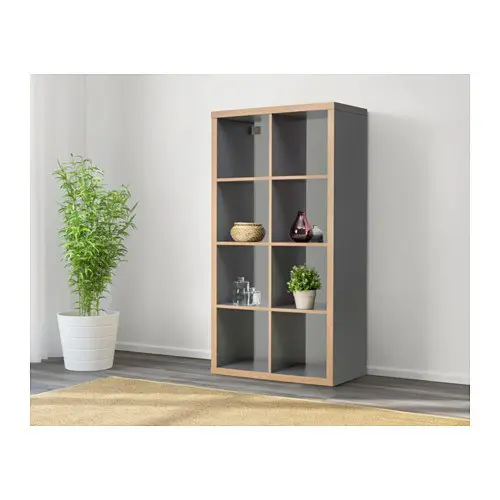 The Kallax is, in my humble opinion, THE best toy storage product family Ikea offers. These Ikea storage units range from 1×4 cubes, 2×2 cubes, as so on up to 5×5 cubes. Each individual cube is large – over 12 inches on each side. Ikea sells a wide variety of different baskets and bins that fit inside. The Branas basket looks really nice – and doesn't scream 'toy storage'! The Kallax system ranges from $35 to $199, depending on the size.
This particular Kallax belongs to a friend of mine, and it is amazing for toy storage in her living room!
Trofast – Ikea Toy Storage
The Trofast system is their direct answer to toy storage. Many parents swear by the pull out drawers in the system. These ikea toy storage bins are especially helpful for toys with small pieces, like Legos, K'Nex, Magformers, Barbie, and so on. They are customizable to your space and needs, and can expand quite easily. Everything is purchased a la carte, so the cost of these units is hard to determine. Individual bins start at $2, while the storage units themselves start at $30.
Raskog – Ikea Storage Bins
The Raskog utility cart is one of the most versatile Ikea products… ever. We use ours as a "Coffee station." I've seen them used as shoe storage, bathroom storage, and of course, toy storage. It also makes a great mobile bookshelf! Because it is on castors, it is easy to move around the playroom. The Raskog is a must have in all toy areas! The best part – it's only $30.
Hindo
The Hindo shelving unit and cabinet is great for an indoor/outdoor space. This is a great Ikea kids storage for the garage. Outdoor toys can get disorganized quickly, as garages and mudrooms are not typically an organization area of concern. The Hindo helps tackle these spaces!
There are obviously hundreds of storage products available at Ikea. And, at least to me, the beauty of Ikea is the versatility of its products. Search "Ikea storage hacks" and you will find thousands of ideas to work in your unique space!
What is your favorite Ikea toy storage product?