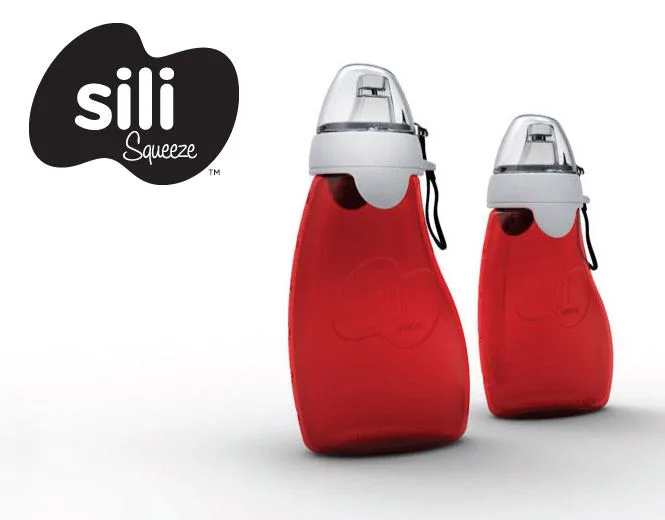 My husband was taking out our two year old yesterday, and this was part of our conversation before he went:
Me- "(blah blah blah) and I'm packing some food in case she gets hungry."

Him- "She just ate a whole peanut butter bagel, she's not going to get hungry again…. Is she?"

Me- "Have you even met our child?"

They return.

Me- "Did you have fun? (blah blah blah) So did she eat a snack?"

Him- "Maybe…."
I have your average toddler. Some days they survive on air, and other days they need to be fed Every. Darn. Minute. I'm a fan of smoothies or yogurt as a quick snack, but I don't dare take these with me on the go, because either one spells trouble. Trouble spelled M-E-S-S.
But thanks to the wonderful inventors of The Sili Squeeze, my worries have left me. Just like the one-use squeezable food pouches in stores, this is the same concept, but it's reusable and it's smarter. Here's why.
The Sili Company have made two different products- the Sili Squeeze and the Sili Squeeze with Eeeze. The Sili Squeeze has a spill proof system that even if you squeezed and squeezed the pouch, the contents would not burst out. You love that right? Believe me, so do I. I can give my daughter yogurt while we're out or in the car, without the worry that she will spill any on her clothes. This system means you need to squeeze AND suck in order to get food out. It's designed more for younger children who are used to sucking from breastfeeding or bottle feeding.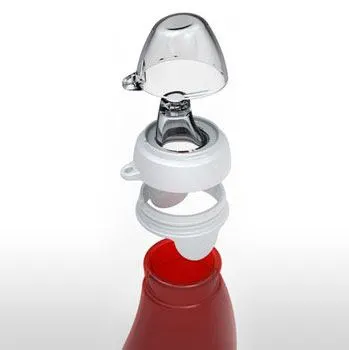 The Sili Squeeze with Eeeze has a free-flowing valve, so as long as you squeeze, the food with flow through, just like a store bought pouch. It is designed with older kids in mind, but if your child is used to the one-use pouches, you may want to choose this option. Just keep in mind that the Sili Squeeze with Eeze is not spill proof.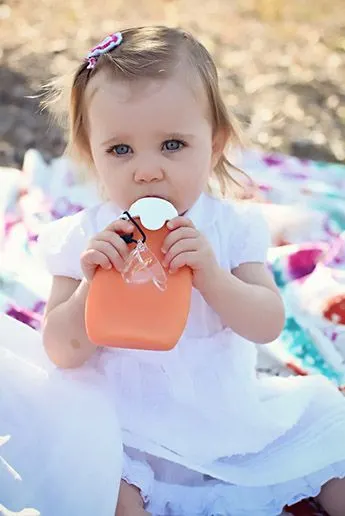 All Sili Squeeze products are made of certified food- and medical-grade safe materials that are BPA-, Phthlate-, PVC-, latex- and lead-free. All the parts are top rack dishwasher safe, or a little soap and water will do. It's nice and easy to take apart and put back together. They come in four fun colors and 4oz and 6 oz sizes.
We are currently using the spill proof version and we love it. Not only because it allows us to give our little one her favorite smoothies on the go while keeping her clean, but also because it keeps her quiet for a while. We have a talker. And those few seconds of silence are priceless.