My 7 month old just sprung his first two teeth and they did not come easily. In an effort to ease his pain I feel like I've become an expert in teething remedies. I've bought all the special toys and ointments and I've stocked up on medicine to make it through the uncomfortable nights. Out of everything I've researched and implemented I seem to have found one thing that stands above the rest. Baltic amber.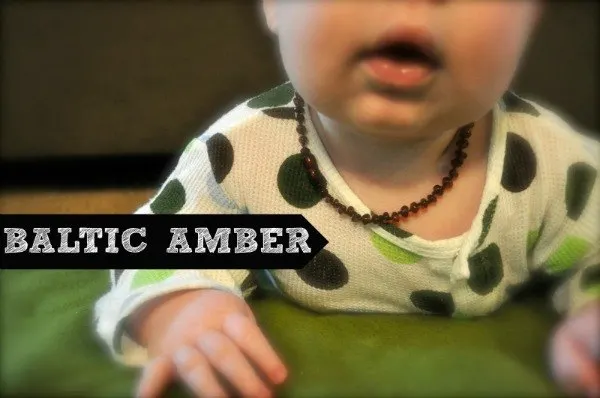 Baltic amber is an ancient remedy for taking the edge off of pain for children and adults – a natural analgesic if you will. The amber is petrified resin from European pine trees and in and of itself isn't helpful with teething. It's the succinic acid within the amber that acts as an anti-inflammatory. When gently warmed on the skin the succinic acid enters the body and does its' work – calming your child and making those teeth a more manageable event.
I've used Baltic amber teething necklaces on both of my children and am definitely a believer in their ability to ease teething pain. By no means is it a cure all, but it does help and that's all I need – a little extra help during the trying time of teething.
When wearing his necklace, I've run into a few questions from parents. So, I thought I'd compile a little list for your information too. Feel free to add your questions in the comments!
Q: Do babies chew on the necklace?
A: No! Baltic amber teething necklaces provide relief because of the succinic acid that is gently released from the amber when warmed on the skin not because your baby gnaws on the beads. If your baby can get the necklace into their mouth while wearing it, you need a shorter necklace.
Q: Are teething necklaces a choking hazard?
A: As with anything around a baby, it can be. My preference is to not allow my little ones to wear their necklaces when not supervised. Quality necklaces are made with break away clasps and each bead is knotted in between so if it does break, beads don't scatter everywhere. These precautions limit the hazard.
Q: Can my baby sleep in their necklace?
A: Yes and no. Again, take necessary precautions to keep your baby safe. I usually remove the necklace from their neck and double wrap it on their ankle at bedtime, securing it beneath their clothing. You can also purchase a Baltic amber anklet instead of a necklace if you prefer to keep it on their ankle at all times.
Q: Is this a hoax?
A: You know, good question. If it is, I've been fooled. I definitely have a calmer baby on my hands when he is wearing his Baltic amber and since it is natural I'm game to continue using it. Other than testimonials, I haven't found a ton of "real" research on the effects of Baltic amber, but centuries of people claiming its' healing power speaks volumes in my book.
Q: Where can I buy Baltic amber?
A: In my experience, it is best to purchase Baltic amber from the source – eastern Europe. One of my favorite Etsy shops, Gumstone, is based in Lithuania near the Baltic Sea. There are many other fabulous retailers for amber too, just be sure to assess the quality of the necklace (or anklets) construction and the source before finalizing your purchase.
Now it's your turn! Do you use Baltic amber with your little ones? Has it worked for you?