Has the B word been uttered in your house lately?
B-O-R-E-D. As in, "Mooooooooooom, I'm booooooooorrreeddddddddd."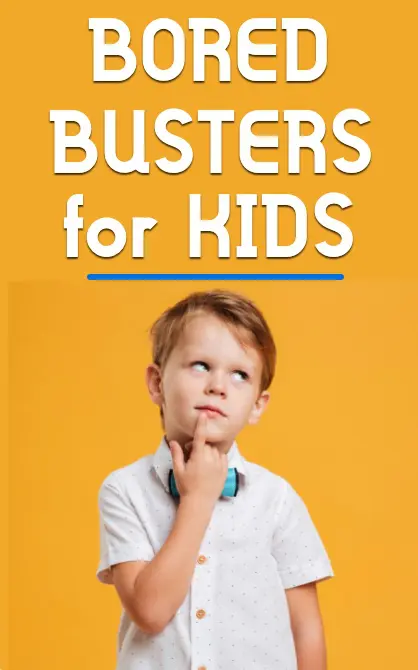 It's usually accompanied with an eye roll and a dramatic fall on the floor. Or a plea for screen time. Which, yes, I cave to sometimes, but honestly, there is so much to do in life … boredom should never be a concern!
With my big kids in mind (an almost 9 year old girl and an almost 7 year old boy) I've been compiling a list of ideas to cure their boredom. Many of these ideas they can do with their younger siblings too.
I'm pretty sure they'll never say, "I'm bored!" again! I know I wouldn't be!
Draw your favorite book character
Color code a bookshelf
Wash the sliding glass door
FaceTime a friend (with permission from both parents, of course)
Search Pinterest for a craft to do
Post it note mom's cookbooks for dinner, side dish, and dessert ideas
Help a younger sibling finish a puzzle that is technically too hard for them
Lay down and listen to music
Find something outside to look at under the microscope
Weed a flower bed
Sweep the garage floor
Run around the outside of the house
Put library books on hold through the library website
Make homemade play dough
Ask a neighbor if they need help with anything
Vacuum the car
Memorize a poem
Write a play with parts for each sibling and perform it after dinner
Write a story and illustrate it
Dust the baseboards
Do a math practice page
Or a math game
Bake cookies for a parent's coworker or a neighbor
Attach a homemade card to the cookies
Organize your closet – pick out things that don't fit or that you don't love
Find leaves outside for a leaf rubbing
Follow a watercolor tutorial (our favorites are from Let's Make Art)
Read aloud to a sibling
Plan your next summer adventure – include an itinerary and budget
Create a collage from old magazines
Set up the sprinkler for outside water fun
Turn on music for a dance party
Start your Christmas list
Build a tower with toothpicks and marshmallows
Create an ABC list … ABC animals, ABC of things you love, ABC of favorite foods
Go on a walk
Sort everything under your bed
Pick a bouquet
Read a book in a dark room with a flashlight
Set goals for the summer, next school year, in 5 years, etc.
Write a letter to an older relative
Take a bubble bath
Create a fairy village
Play a board game
Teach a younger sibling how to do something new – skip, tie their shoes, do a fancy hairstyle, jump rope, count to ten in a different language
Declutter a room
Fold laundry … or match socks
Plan a family outing
Watch a movie from your parent's childhood
Spend ten minutes being quiet and observing with your five senses
Make greeting cards
Find something to sell
Find something to give away
Change your bed sheets
Write an animal report (my kids love this free one)