Strollers can be one of the largest investments you make for your baby. Sadly, it's hard to save money on strollers unless the manufacturer is holding a sale when you happen to be looking because most store coupons exclude high end strollers (I'm looking at you Buy Buy Baby). That's why we are sharing six important tips for buying a used stroller or second hand stroller.
Many expecting moms get sticker shock after they ask themselves "how much does a stroller cost?" Well, one way to save money is by buying last year's model, just like cars! Perhaps the best way to save money on a stroller, though, is to look for a high-quality used stroller or second hand strollers.
I definitely wish I had done that! My first stroller purchase was a Bugaboo, and not only did my daughter hate it, we ended up baby wearing almost exclusively. So we used the bassinet on a stand in our room for baby's first few weeks and took the stroller out a few times, but that's about it. I wish very deeply that we'd been as smart as the people we sold it to and bought the a used Bugaboo stroller!
My best friend did the same with a brand new UppaBaby Vista stroller. She ultimately wished she had bought a used UppaBaby Vista and saved a bunch of money!
Take my advice and check out strollers on your local Facebook marketplace page or at a consignment shop before you head to the store. And to make sure you're getting the best bang for your buck, here are some tips for buying a used stroller.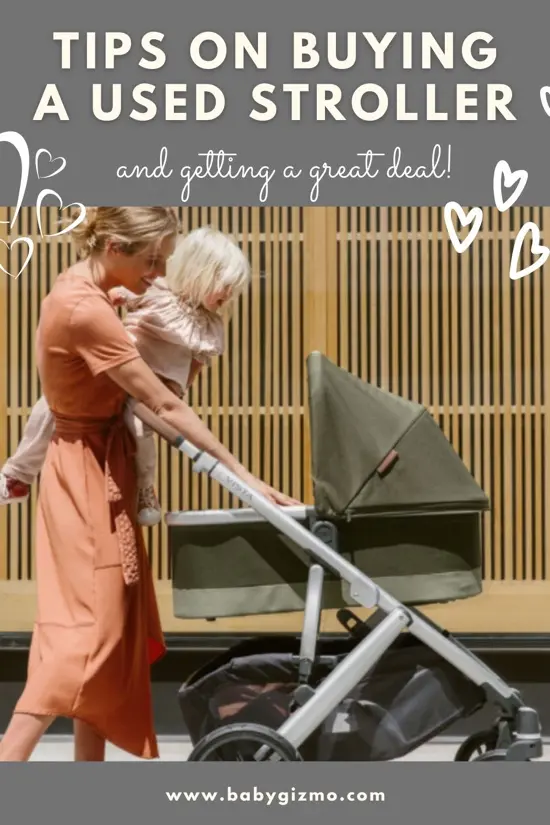 Do your research. Figure out what you're looking for (travel system, jogging stroller, lightweight or travel stroller, full-sized stroller) and what's important to you (easy fold, easy push, works with the car seat you have/want, large storage basket, additional seating or ride-on pieces available, available accessories). Don't just settle for the first used stroller you find. Used jogging strollers are usually easy to find because people have grand ideas of running with baby even though they were never a runner in the past.
Check out the new version first. Check out the new version of the stroller you're interested in (or as close to it as you can get, at least) before you go looking for a second hand stroller. Get a feel for how easy the push is, how easily the stroller folds, how the seat feels when it snaps on and off, etc. Make sure the used stroller you're looking at still feels just as easy to use. Check out reviews and see what current owners have to say about their strollers. In short, do all the same stuff you would do in preparation for investing in a new stroller.
Check for recalls. While we'd like to hope that our fellow parents wouldn't try to sell something that's dangerous, you should still check and see if the stroller has been recalled. If there is a recall and it was for a minor issue like a replaceable part, confirm that the repair was made. If it was for a major issue (or you're just not comfortable with an item that has had any kind of recall), don't make the purchase.
Know your prices. How much did it cost to purchase the stroller when it was new? Generally, used strollers are prices somewhere around 60% of the new price. Higher-end strollers or strollers in excellent or like-new condition may be sold for a higher percentage of the original sale price, with lower-end or well-loved strollers going for a lower percentage. Be aware of the accessories that came standard with the stroller; if they're missing or damaged, you should pay less.
Look over the stroller carefully. When you're ready to buy, give the used stroller or second hand stroller a very thorough examination. Is it generally clean? Are there any stains or marks that will drive you crazy every time you see them? (Be reasonable, though. You might luck into an almost-perfect used stroller, but most of them are going to show some wear-and-tear.) Is the stroller in good repair? If the tires are air-filled, are they full or flat? (Flat tires could mean there's a leak.) If the seat is removable, take it off and make sure that the attachment points are in good repair. Push it around. Does it make any weird noises, pull to one side or the other, tilt, or wobble? Remember to compare its functioning to the new version you (should have) already looked at.
Ask about returns. Ask about the seller's return policy. Given that you can buy a used stroller through consignment stores, thrift stores, eBay, and even Amazon, you may be dealing with a seller who will offer returns if you're unhappy with the purchase or change your mind. This is less likely to be applicable if you're buying from an individual, but may be worth asking anyway. When I sell baby clothes and gear to folks I know through my mom groups, I'll always follow up a couple days after the sale to make sure that they didn't find anything wrong with the item that I missed when I disclosed any flaws (hey, we're all human). If there's something wrong, I'll take the item back and refund the buyer's money.
The stroller was one of the final pieces my husband and I bought when I was pregnant with my daughter, and it was one of the "Oh wow. This is really happening!" purchases for us. Making the investment in a stroller can be intimidating, but the above tips should make it easy for you to enjoy shopping while saving you money and getting the most for your dollar by buying a used stroller. Enjoy!