In the last 3 and a half years, I have been through six different diaper bags. Six. Some fell apart, some simply disappointed me with their designs. Six different diaper bags, all different brands and price points, and they all fell short. Once my baby became mobile, I realized I needed a better diaper bag solution that left me with both arms free. Enter: the backpack. Find out why I now use a backpack as a diaper bag.
How I Started Using A Backpack
I borrowed my husband's commuter backpack (A Novara, now discontinued) for a weekend where we had lots of running around to do. I dumped out the contents of my current diaper bag, and switched everything over to the backpack. It left me with a lot of spare room, was comfortable to wear on my back, left my hands free, and my husband wore it most of the weekend! I was sold.
I briefly did research to find a "diaper bag backpack", as in an actual diaper bag that is specifically designed to be a backpack. I opted not to purchase one of these for a few different reasons.
The first is that I felt they lacked a lot of features I was looking for, specifically in organization.
Second, they were typically very expensive – but not made from 'expensive' materials. Vinyl, nylon, cotton… not exactly premium and not particularly durable.
And third, and perhaps the most important – my kids will not require me to carry a diaper bag for much longer (well, fingers crossed).
However, we will be traveling – airports, road trips, amusement parks, day trips to the beach… you get the idea. I feel it is very important that we had a quality backpack that was built to withstand years of use. None of my previous diaper bags had shown me that kind of durability and I didn't anticipate a "diaper bag backpack" to do so, either.
While everyone's needs will obviously differ, and there are many deciding factors in choosing a backpack, I thought I'd offer some pointers to select a great backpack. I have done far too many hours of research on the subject – and I've even purchased and returned more than a few – so here is what I've determined!
Choosing a Backpack as a Diaper Bag
First, and most importantly, determine what you'll use this backpack for. This will help you see what kind of features are key, and which aren't necessarily needed. My kids are 3.5 and 1.5, to give you perspective.
I needed a large cargo area to hold diapers, wipes, clothes, snacks, and a few small toys. I wanted a separate area designed for a laptop. I know this seems silly in a diaper bag, but as I mentioned before – this backpack is being purchased to get us to years beyond the diaper bag!
The laptop portion will hold the changing pad and an extra muslin blanket. When we use the backpack for travel later on, it will be great to have a separate laptop area for getting through airports.
In addition to the large zippered storage area, I also wanted at least one separate section with lots of small storage – extra points if it has zippers. I like to store hand sanitizer, wet naps, sippy straps, folding bibs, pens, and even a mini swiss army knife (you can never be too prepared). The small storage section up front is key to me.
I also spent a lot of time searching for a rugged, durable pack – it's important that this bag holds up for many years! A few brands have great guarantees – The North Face, Osprey, Timbuk2, TomBihn, Marmot, Hershel, and so on. I have considered more "high fashion" backpacks – HA! it's actually a thing – but I was worried they wouldn't hold up as long as I needed them to.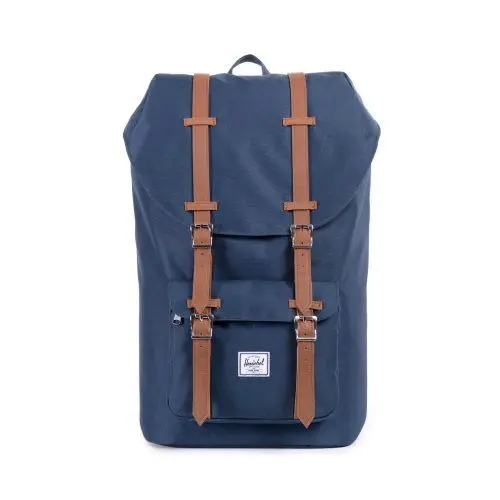 One thing I DON'T require at this time – a section for my gear. I highly recommend carrying one so you don't have to dig through a diaper bag for your keys, wallet, or lip gloss!
The last key feature I was looking for in a backpack is exterior cupholders. Both of my kids demand a sippy cup / water bottle at all times when we are out, so it was very important that the pack have two exterior pockets that can securely hold a water bottle.
While doing research online is very helpful, I think it's very important to be able to try on a backpack in person before purchasing. If it isn't possible to do this, be sure to order from a website that features free returns / exchanges. Each bag has its own feel to it, and while reading reviews is helpful, first hand experience is better.
The bag I opted to go with is The North Face Surge.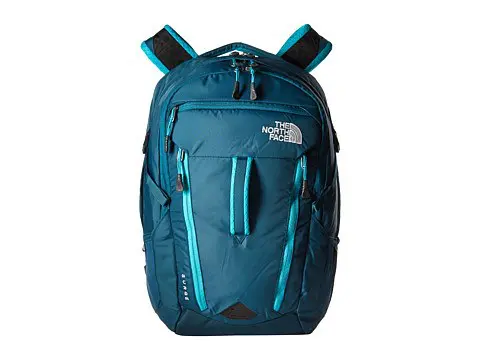 What features would you need to consider in purchasing a backpack?