Disneyland is probably one of my most favorite places in the world. The sights (that castle!), the smells (hello churros!), the adventure (take me home, Splash Mountain!)… I just can't get enough!
We've always traveled to Disneyland on a budget, especially when it comes to souvenirs. I have no doubt that without taming my little Disney heart I could easily blow a few hundred dollars a day on Disneyland treasures. From stuffed animals my kids love, to clothing, to trinkets, and classic mementos, the souvenir options are endless.
One souvenir available at Disneyland though, is timeless. In my opinion, it's the very best, most necessary, and most beautiful souvenir available. It's the hand cut silhouettes on Main Street!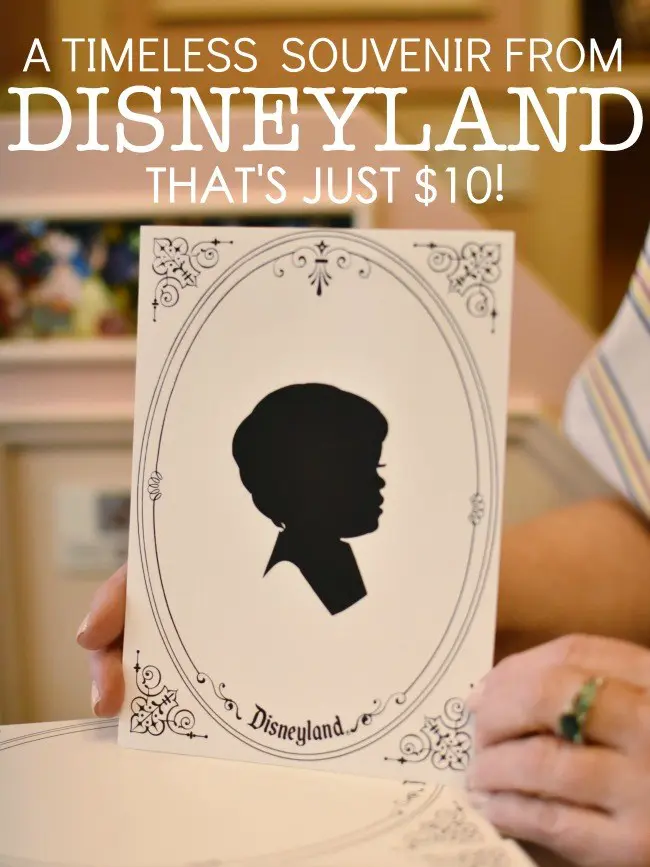 The Silhouette Studio is located on the right hand side of Main Street, about half way down as you walk towards Sleeping Beauty's Castle. In this tiny shop, skilled artisans cut silhouettes at record speed. From start to finish it takes just 60 seconds! I know, so amazing!
Many of the silhouette artists have been cutting at Disneyland for years. One we met has been there for over 40! She apprenticed under one of the original Disneyland artists and is the absolute sweetest! You can actually watch a short video of her in cutting action here.
For just $9.99 per profile you can have your child, pet, or entire family memorialized in silhouette. In fact, the $9.99 gets your 2 profiles (they cut on a folded paper) so you get a copy for yourself and one for grandma too 🙂
Of course, upgrades are available – frames and character profiles – but the basic silhouette and souvenir that you'll love for years to come is super cheap!
This past fall I had silhouettes of all 3 of my children cut at Disneyland. Even my 11 month old managed to sit still enough for the 60 seconds it took to capture his likeness! I know this trio of silhouettes will be something I'll cherish forever, hands down my favorite Disneyland souvenir yet!