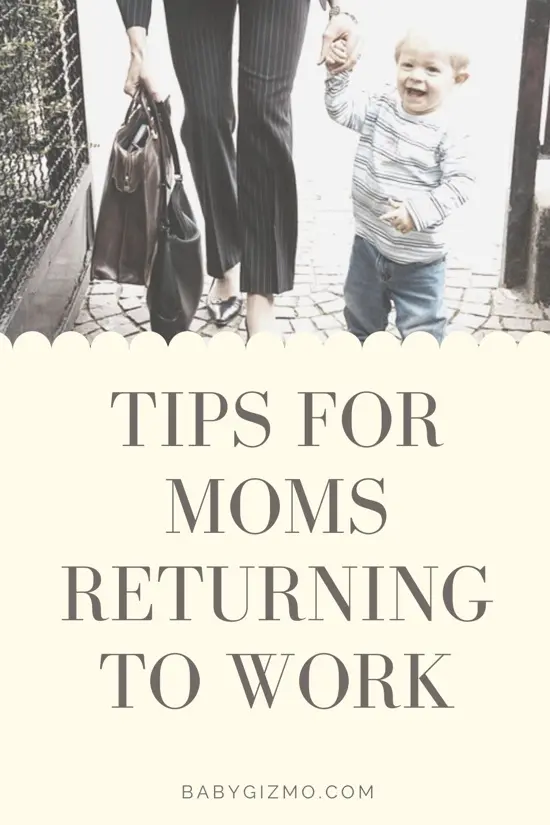 I am a stay at home mom to my three year old son so I won't even pretend to know what it's like to go back to work after having a baby and being on maternity leave. I can only imagine that it can be difficult at times. Good thing plenty of working moms have offered up their tips for returning back to work! Today we are sharing ten of our favorites.
1. Find dependable child care. Consider local child care providers, friends, or family members. Whatever you decide, make sure you have dependable child care for your children once you return back to work. If you don't know where to begin looking for childcare, ask your baby's doctor, friends, or neighbors for recommendations. Make sure you check references.
2. Don't be afraid to continue breastfeeding. Although this might prove to be more difficult while you return back to the work force, it is not impossible. Talk to your employer and ask about a clean and private room for pumping. Make sure you adjust your nursing schedule at home about two weeks before starting back at work.
3. Stay connected. Have a daily phone call to your baby's caregiver to find out how your little one is doing and stay in the know. Make sure your employer knows that there might be times you need to answer a phone call if your baby's caregiver needs to get hold of you.
4. Have back up plans. Be prepared in case your baby gets sick or your baby's caregiver is unable to watch them one day.
5. Let go of guilt. Some women must go back to work and that's fine! Plenty of women are both successful as mothers and at their business and that's a great thing.
6. Get as much rest as you can. Try to get as much sleep as possible and as much rest as you can. Being a working mother is no easy task and you need to make sure you are rested so you can tackle each day!
7. Transition back to work gradually. It might be hard to go from maternity leave, to working full time. If this is true in your case, and if you're able, ask your employer about transitioning back to work gradually. Start back at part time and ease into working more.
8. Make the most of your time at home. Have fun things planned on your days off with your child, your family, and your mommy friends. Having something to look forward to will make a big difference.
9. Focus on the positive. Focus on the positive things about being a working mom like coffee breaks, adult conversation, and providing for your little one!
10. Don't be afraid to ask for help. You might need extra help, and that's okay. If family members or friends want to help you while you ease back into your job, let them!
Are you a working mother? What tips would you give new moms returning to the work force? Leave us a comment and add to our list.