In the past four years I have moved six times. Yes, you read that right. SIX whole times. Moving is not fun, but when you know what you're doing, it's not that bad. Since I consider myself an expert in this field, I wanted to share some moving tips with you today.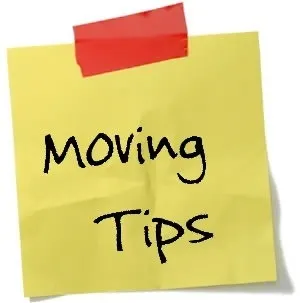 -Pack the items you will need FIRST in clear plastic bins so you can see what you need.
-Wrap up your breakables in clothing to save money on bubble wrap.
-Label ALL boxes with specifically what is in each box. Don't just put "kitchen" on the outside.
-On top of labeling, label each box with what room they will go in.
-Pack your plates vertically so there is less chance they will break.
-Take a photo of how your electronics are connected so you can remember how and where the wires will all go.
-Vacuum seal all of your clothing if you need more space in your moving car or truck.
-Have a garage sale before your move to get rid of any unwanted items.
-Turn to Craigslist and Ebay to sell any valuable items you don't want to make the move with you.
-If it's possible, go to your new place and clean everything really well before you move all the boxes over.
-If you don't have a lot of time or have a lot of fragile stuff, hire movers.
-Enlist the help of all family and friends who are willing to help you.
-If you were renting your previous place, take photos of everything so you have proof of how you left it.
-The same goes for your new place. Make sure you take photos of everything before you go in. Specifically, any blemishes or marks in your new home so you don't get charged for them when you move out.
-Change your address at least two weeks prior to moving.
-Don't go grocery shopping right before moving. The less food you have to move with you, the better.
-Defrost your fridge at least a day before moving.
-Stack your boxes with the heaviest boxes on the bottom.
-Get babysitters to watch your children while you pack.
-Stay calm. Easier said than done, right?
What are your best tips for moving? What would you add to this list? Leave us a comment and let us know.