It is Day 3 of our Carnival Freedom Southern Caribbean cruise and we had a bit of a slow start this morning. One word of advice when traveling with kids, especially on a cruise, it to try to keep as close to their normal sleep schedule as possible.
Sure, there are people like my brother and sister-in-law who have kids that can stay up until midnight and then sleep in until 10am. Not my kids. My kids get up at the same time each morning right around 7:30am. It doesn't matter if they go to bed at 8:30pm or 11:30pm, they will still be up at 7:30am. Problem is, the later I keep them up, the crabbier (or crazier – read: naughty) they are the next day because they are tired. I beg them to sleep in but it just falls on deaf ears. So, this morning, my kids were a little more on edge than normal because we had a late night last night and didn't get to bed until 10:30pm.
This was our first port day and the Freedom sailed into Grand Turk while we were sleeping. That is one of the best things about a cruise – they do all the "driving" while you are comfortably sleeping in your room!
With plenty of things to do right off the ship, we decided to forgo any organized excursion. Instead, we hit the beach and pool at Margaritaville. When I was told that the beach and pools were "right there", I didn't believe it until I walked off the ship. Sure enough, the beach stocked with plenty of chairs was less than a 5 minute walk.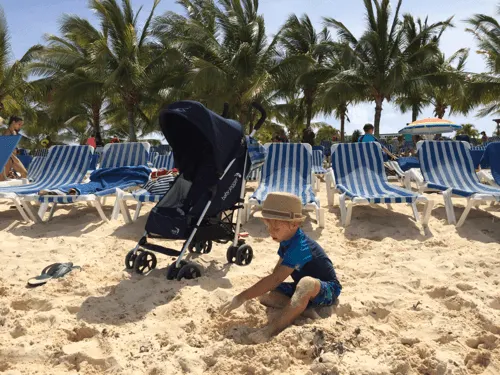 The water was beautiful and the sand was great but the actual beach into the water was very rocky. As in hurt-my-feet-to-walk-into-the-water rocky. I stayed on shore but the rocky bottom didn't seem to bother the kids. They had water shoes on so that probably had a big part of it. If you visit Grand Turk on a cruise ship, I would highly recommend bringing sturdy water shoes for the entire family.Adjacent to the beach was Margaritaville that was THE place to be. A HUGE pool (open to all people – no fee!) with swim up bars and a Flowrider were the big attractions. With the rocky waters at the beach, we spent much of our time in the refreshing pool.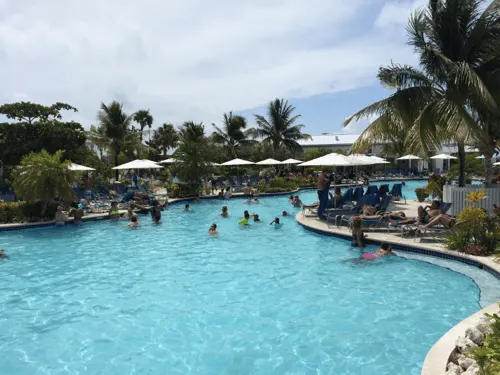 The kids spent a great deal of time watching the "surfers" at the Flowrider wipe out again and again wishing it was them. You have to be 52" tall and pay $39 for 90 minutes to participate. I only had one child over 52" and I wasn't about to pay $40 for her to wipe out again and again with the teens.
After a couple hours, we had enough of the shore and went back to the ship. It was the best decision we made because when the ship is at port, the ship isn't busy. That means that the kids could go down the water slide as many times as they wanted without waiting in line. Plus, the pools were empty and Guy's Burger Joint had absolutely no line. We had about 2 hours with a semi-empty ship and it was glorious.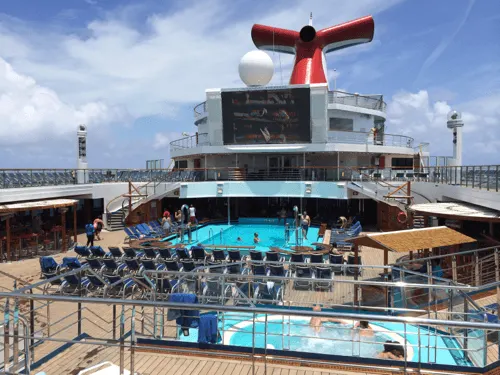 Our decision was also validated when we saw the line outside of the ship right before the boarding deadline that had people waiting in the hot sun for about 30 minutes to board.
In the afternoon, the kids wanted to go back to Camp Ocean, which was a-okay with me because that meant that I got a chance to hang out in the adult-only section of the boat that sports a pool, hot tubs and plenty of chairs tucked away in a quiet space at the front of the boat. We spent about 90 minutes sleeping in the sun in our swimsuits without any child whining interruptions. Heaven.
Dinner was back in the dining room and the banana splits were again a hit! After that, we laughed during a family-friendly comedy show and then walked into the second half of the nightly stage show that included a hilarious juggler that was actually pretty darn good.Even though we meant to make it an early night, we again ended up in our room with the kids getting ready for bed at 10pm. Damn. It's going to be another crabby morning tomorrow. Or not? Here's to hoping…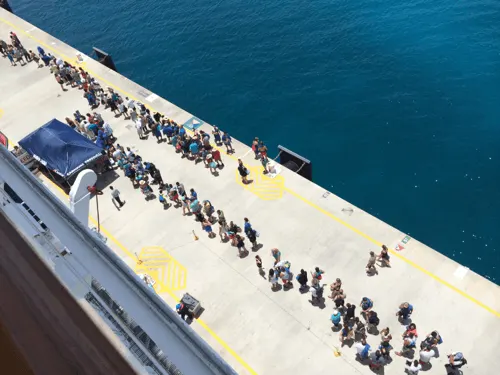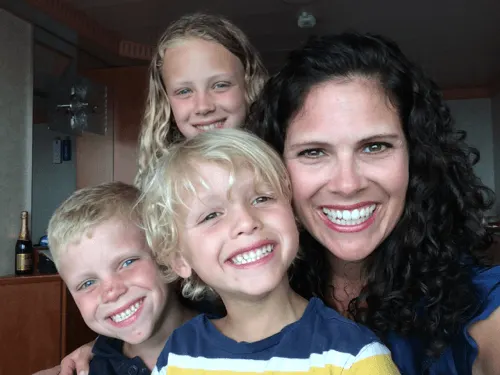 CARNIVAL CRUISE WITH KIDS TIPS:
Return to the ship early on port days to enjoy non-crowded pools and restaurants.
Try to keep your kids on schedule or you'll pay dearly with a little crabbiness in the morning.
Bring water shoes for the entire family to Grand Turk for the beach.
When all else fails and you aren't totally thrilled with your dinner choice, just order the kids' banana split.
Disclosure: This trip is part of a Carnival media press trip. As always, all our thoughts, opinions and statements are our own.