During Spring Break a couple of weeks ago, we decided to hit the road and visit another East Coast city to not only get to know our new side of the country but also to get the kids out of the house. Working from home doesn't work so easy when you have three crazy kids running around and demanding attention. I figured if I wasn't going to get much work done anyway, why get any done at all? Let's head to Sonesta Hilton Head Island Resort!
I decided it was a perfect time for a road trip to spend extra time with the kids. So, we planned a trip to Hilton Head Island. It was only a four hour drive from our home in Charlotte and since I haven't been there in years (and never with kids!), we thought it was the perfect place for a 3-day getaway.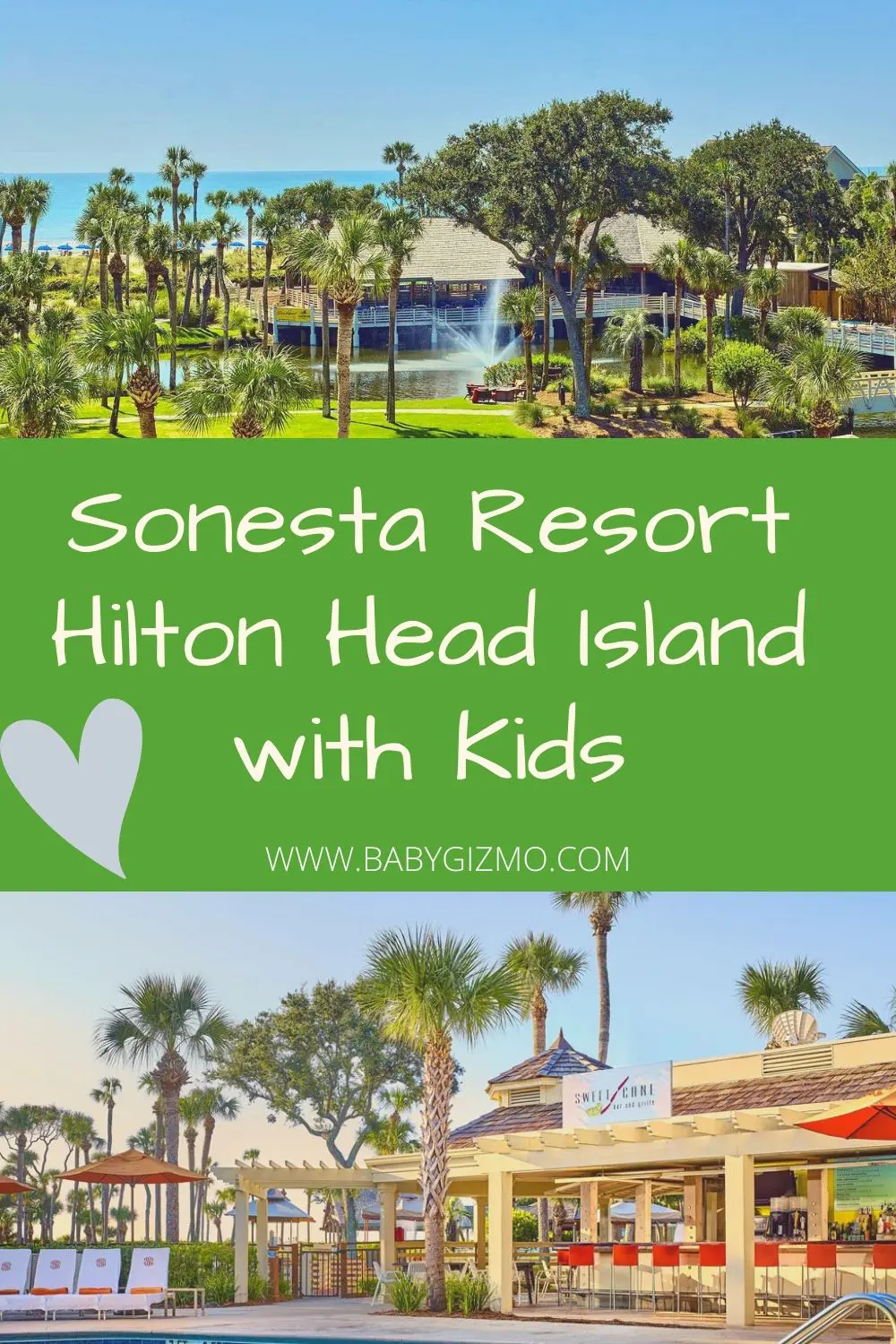 Hilton Head Sonesta Resort Video
We stayed at the Sonesta Hilton Head Island Resort and it turned out to be a perfect choice because of all the family-friendly things that they offer. This beachfront resort has two pools, four restaurants, bike rentals, dive-in movies at night and a major tennis club next door that offers clinics and drop-in sessions for vacationers. We decided to take advantage of it all!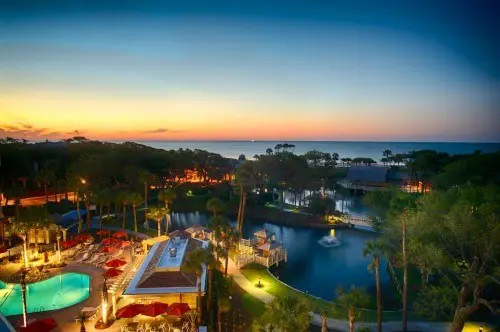 If you'd like to take a peek inside our standard room with a pool view- make sure to watch the video above. Our room had a king-size bed, a couch that pulled out to a bed, desk, TV, mini-fridge and a great view of the pool.
SONESTA HILTON HEAD ACTIVITIES
Pools
Since we arrived at the resort late at night, our fun began early the next morning! We started with my kids' favorite activity – swimming! There are two pools on property and a hot tub. Since it was Spring Break week, the resort was busy, but we never had a problem finding chairs at the pool. I really liked that the pool had a gradual entry that was perfect for toddlers and then gradually became deeper for the older kids.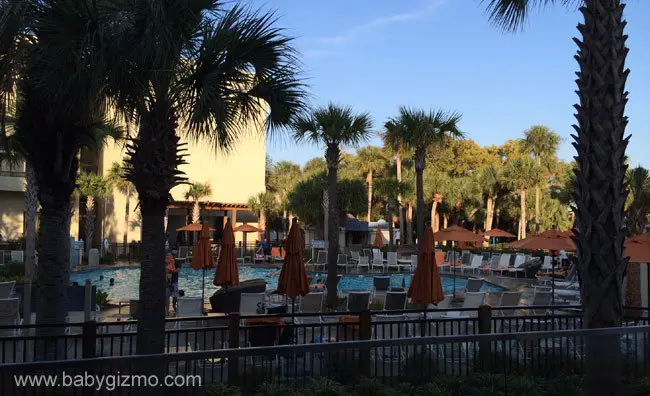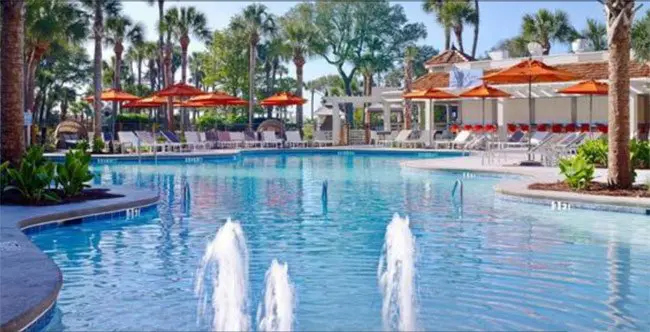 Tennis
My daughter is a tennis player so we took advantage of the Van Der Meer Tennis Academy next door. This elite tennis training facility has been teaching tennis players in Hilton Head since 1979 and we love that it offers clinics and lessons to vacationers (both adults and children!).
I was the first one to hit the courts in the "Stroke & Drill Clinic" for adults. Having never taken a tennis lesson in my life, I decided to jump right in and see if this tennis program could accommodate a newbie. I have to say I'm not completely new to the sport, as I have been watching my 10 year old daughter take lessons since she was four, so I had some idea about how the game works.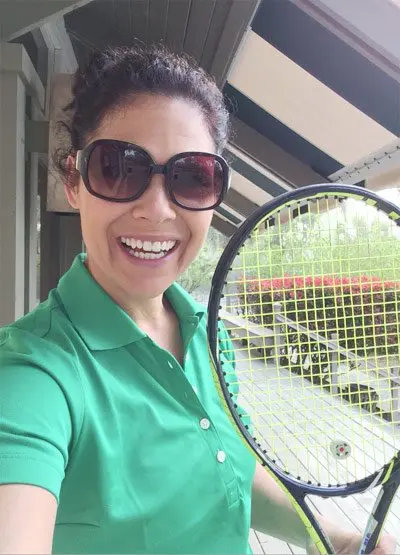 The tennis pro teaching the class was great! She was knowledgeable, understanding (especially when she asked which stroke of mine needed the most work and I replied "yes") and professional. After playing for 2 1/2 hours that morning, not only is my front stoke substantially better but I can confidently say that newbies and experienced tennis players alike will feel at home at Van Der Meer.
I walked in the class in my new tennis outfit self-conscious that everyone would pick out the tennis novice immediately and left feeling like one of the "team." Now, I'm not ready for matches or to even hang with the tennis ladies in my neighborhood yet, but I had a great morning improving my seriously lacking tennis skills. Now, if I ever get invited to a fancy-schmancy tennis lunch, I can go with confidence that I've at least had one lesson and know how to properly get the ball over the net with my new and improved front stroke.
My daughter on the other hand is a tennis pro! Like I said, she has been playing since she was 4 and felt at home on the tennis courts immediately. She jumped in the kids' clinic that afternoon and had a blast! Van Der Meer has scheduled sessions for locals but they also have a drop-in option for some of the clinics for vacationers like my daughter and me to take part in.
Whether you are a newbie like me or a pro like my daughter, if tennis is your game (or you just like to play occasionally!), the Van Der Meer Tennis Academy is a short walk from the hotel (as in right next door!) and we highly recommend you check it out.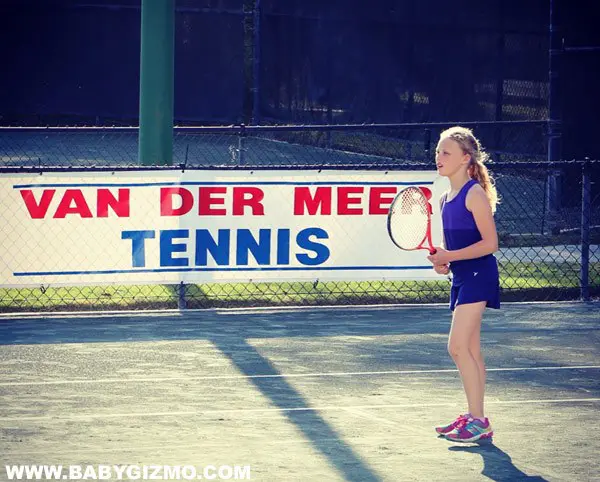 Hilton Head Beach
You can't talk about the Sonesta Hilton Head Island Resort without mentioning the beach. It's a very short walk at the back of the property to the beach. There are facilities to change, use the bathroom and spray the sand off right before walking on to the beach which is a great feature.
Since it was Spring Break, the beach was crowded. There are chairs to rent, lifeguards on duty and plenty of space for everyone. Sure, it was busy but we found space to build sand castles and throw the ball around. Since it was early April when we visited, the ocean water was much chillier than I expected.
The kids didn't mind (too much!) but it was definitely too cold for this gal! The kids had a great time building sandcastles and hitting the waves with their boogie boards but I was super nervous by the number of jellyfish that had washed up on the shore. We counted 34 HUGE jellyfish on the shore while we biked and walked around. Yikes! I'm guessing it is jellyfish season?!? Thankfully, no one was stung and the kids said they didn't see any in the water where they were swimming. I'm sure they were there and we were just lucky this time!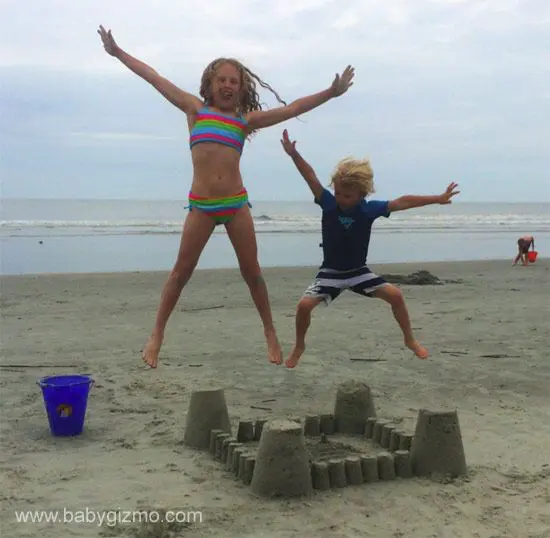 Bikes
All my kids were super excited about the bikes! In the center of the Sonesta property is a bike rental tent that rents out bikes for kids and adults, as well as bike trailers and double bikes. They have a ton of bikes to rent out BUT if you visit during a super busy time, they may run out if you don't get there early in the morning when they open at 8am. We didn't know that and arrived at the bike tent at 9am to find all the bikes had been rented out. The good thing is that since people can rent the bikes not only by the day but also by the hour, when we returned at 11am, there were four bikes available for us. Since two of the bikes were smaller kid bikes, it was perfect since my boys are only 5 and 8.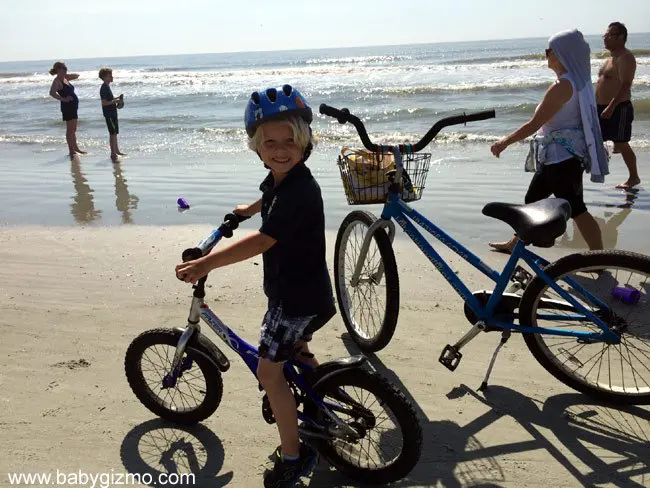 The only problem we ran into is that since there isn't a bike helmet law in South Carolina, they don't have as many helmets as they do bikes so we were two helmets short. That made me very nervous so we kept our biking to the bike path and our speeds at a minimum. Call me a Nervous Nelly but I really think they should get more helmets so that there are an equal number of helmets and bikes. If you plan on visiting and biking during a busy time, I would suggest bringing your own helmets (at least for the kids!) if you are a Nervous Nelly like me!
Another big hit was the movies by the pool at night. There is a kids movie shown nightly poolside so that they kids can swim and watch a movie after dark. The first night we watched Disney's Robin Hood and the second night was Puss in Boots.
RESTAURANTS
There are four restaurants and bars at the resort with indoor and outdoor option and we tried them all. These were our favorites:
Sweet Cane Bar and Grill
We started with the Sweet Cane Bar and Grill for lunch the first day. This poolside place offers drinks, a la carte lunch, a kid's menu and happy hour promotions. We enjoyed a variety of chicken fingers, chips and salsa, quesadillas and turkey burgers. I thought everything was good and the service to our pool chairs was fast.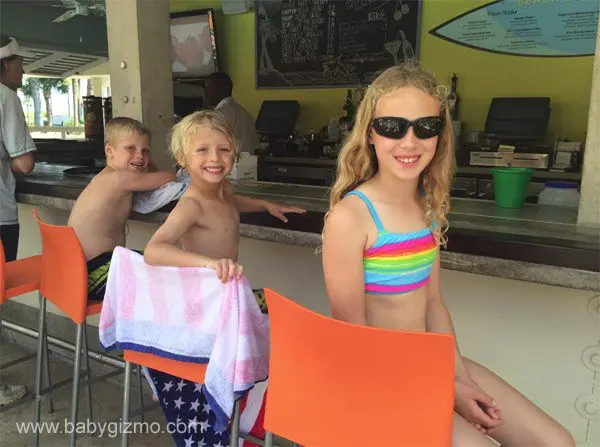 Heywards
For dinner, we ate at the "fine dining" restaurant that was still very accommodating to kids. The menu offered options such as steak, seafood and pasta but the kids were right at home with the mac and cheese and quesadillas on the kid's menu. Don't let the "fine dining" description fool you, this restaurant has no dress code, beautiful views of the pool and the lush resort landscape, a casual feel and even high chairs for the wee ones all while serving delicious fine dining food.
It's the best of both worlds. It's important to note that if you want to sit in a more stuffy restaurant (read: not the patio type area that we sat with the orange chairs), you can. Heywards has an entire inside section for those looking for a less casual dining experience.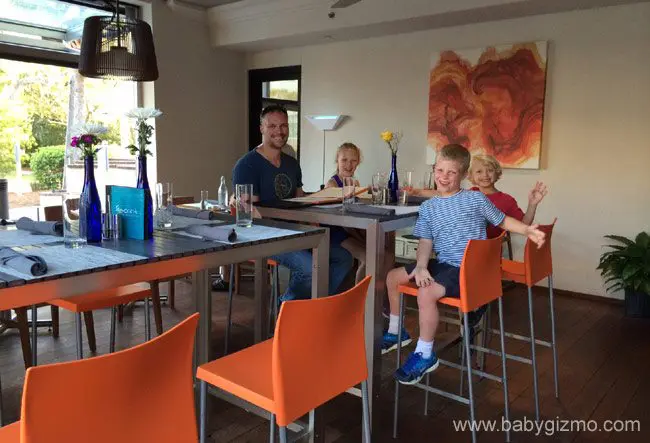 In the morning, Heywards serves breakfast. This is where we ate each morning but we did sit in the inside section of the restaurant. They have an amazing breakfast buffet with the entire works – pancakes, waffles, yogurt bar, eggs, potatoes, cereal and more but we chose to eat off the a la carte menu. My kids don't eat enough to justify a $12 buffet (price for kids) and I'm watching my weight so an unlimited breakfast option (adults are $21) wasn't a good idea for me either.
Not to worry though, the menu has plenty to choose from including Chocolate Hazelnut Pancakes, Create Your Own Omelet, Almond French Toast, Crispy Southern Waffle and more. Once my husband had the Almost French Toast the first day, he found his breakfast. The kids all ordered off the kids menu ($6) and enjoyed waffles, french toast and omelets. Me? I was more than content with my amazing yogurt parfait!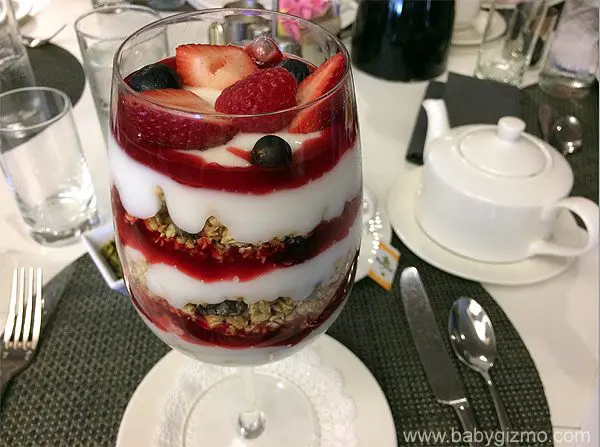 SONESTA HILTON HEAD WRAP-UP
Overall, we had a fantastic time at the Sonesta Hilton Head Island Resort. Our three-day visit was packed with good food, biking, swimming, sand castle building, tennis and movies by the pool. If you are planning to visit the Hilton Head area, we highly recommend checking out the Sonesta resort! Don't forget to watch our TRAVEL VIDEO at the top of this article to really get a feel for the resort!
For more information on Sonesta Hilton Head Island Resort, visit their website at www.sonesta.com/hiltonheadisland
*Disclosure: Accommodations were provided by the Sonesta Hilton Head Island Resort. As always, all thoughts, opinions and statements are own own.