Meet the Chicco Pocket Snack Portable Booster Seat! Have you ever taken your baby or toddler to a restaurant and was hopeful that there would be a safe, clean and working high chair there for you to use? Sure, sometimes it works out for you and everything is perfect but then there are the other days.
The days that you get to the restaurant only to find out that the high chairs are dirty, covered in germs, not in working order (the belts are broken etc) or they just don't have any for you to use. At this point, you have a few options:
you can leave the restaurant
you can feed your child and yourself while he is sitting on your lap the entire meal
you can use the gross high chair (if they have one) and hopefully clean it up with the wipes that you have in your diaper bag
or you could have avoided the whole situation and brought your own booster chair with you just in case.
When my kids were small, I always opted for #4. Bringing your own compact, lightweight booster seat is a great idea for eating out to give your baby a clean, germ-free seat. I always recommend getting one with a tray to give your baby their own space to eat too. The last thing you want your baby to do is lean forward and chew on the restaurant table. Trays are good! 🙂 These travel booster seats are also great for traveling to friend's and grandparent's homes. My dad actually keeps one at his house for all the grandchildren to use when they come to visit.
Portable Booster Seat Video
That's not all, you can even use a booster seat at home to bring your child up to the table with the family.
Today, I wanted to highlight a new portable booster seat that we recently tried from Chicco. The Chicco Pocket Snack Portable Booster seat is a great, compact option for a booster that straps to a dining chair. NOTE: This booster will not work in a restaurant booth because it does need to be strapped to a chair to work safely.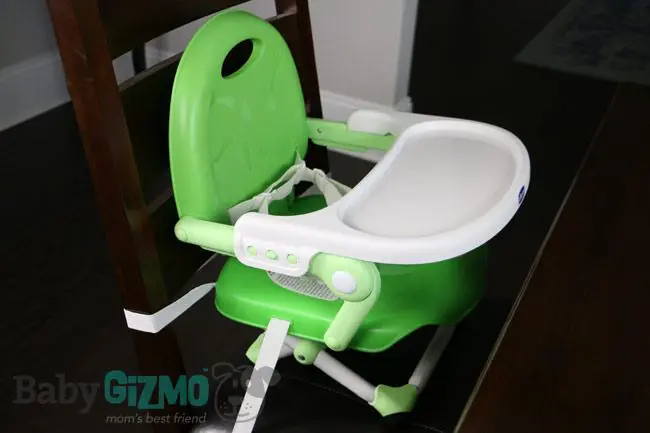 This booster seat accommodates up to 50 lbs (though you would never actually use it with a 50 lb child because that is usually a 5 or 6 year old!). It features a folding design with a carry handle (or you can use the straps as a shoulder strap) for on-the-go.
PORTABLE BOOSTER SEAT TRAY
It comes with a dishwasher-safe tray that has three positions to get up close to a smaller baby and pushed out to give bigger toddlers a bit more belly room. While we hear rumbles on the street that the tray was difficult to put on and take off, we have to respectfully disagree. If you line up the plastic knobs on the sides with the holes on the side of the tray and give it a little push down, the tray snaps on easily. Then if you lift one side of the tray while slightly pulling out, the tray removed even easier and I can even do it with one hand.
The tray also features a crotch bar (Chicco calls it a "Tray Horn") that prevents a small baby from sliding out from under the tray as a safety precaution.
HEIGHT ADJUSTABLE
To accommodate tables of different heights, the Pocket Snack Booster has metal legs (the rest of the booster is plastic) that adjust to give the seat two extra heights. We found that the legs pop out easily by pulling down and by pressing a large, white button on the bottom of the seat, they easily push back into place. The non-marking, skid-resistant feet are a nice touch too!
STRAPPING PORTABLE BOOSTER SEAT TO A CHAIR
This booster seat was designed to ONLY be used by strapping it to a dining room chair. This seat is not to be used free-standing on the floor or on any other elevated surface! Seriously, no elevated surfaces, please! If you use the chair improperly on the floor free-standing, you will see that it will easily tip over front to back or side to side because it was NOT meant to be used this way.
The booster easily straps to most dining room chairs with a strap that goes around the seat back and another strap that secures under the dining room chair bottom. NOTE: It will not work on a backless chair such as a stool.
CLEAN UP IS A BREEZE
The Chicco Pocket Snack Booster is easy to wipe down and doesn't have a lot of places for food to hide making clean up a breeze. When you are done using it at a restaurant, give the chair a once over with a baby wipe, fold it down (the tray even attaches to keep the folded package all one piece!) and you are on your way.
Overall, I really like the Chicco Pocket Snack Booster as an on-the-go option. I can't promise it will fit perfectly up against every table but we found it works great with many. If you are looking for a compact, clean, germ-free option for a seat for your baby in a restaurant or on-the-go, this is a good one to check out. Don't forget to watch our Baby Gizmo Video above to see all the features up close and personal.
SHOP CHICCO POCKET SNACK BOOSTER
OTHER HIGH CHAIR REVIEWS