I am so excited to tell you guys all about Typhoon Lagoon Water Park at Walt Disney World today! Walt Disney World has two water parks: Typhoon Lagoon and Blizzard Beach. We went to both twice on our recent vacation, and while both were fantastic, Typhoon Lagoon had the edge, so I'm sharing an inside look with you!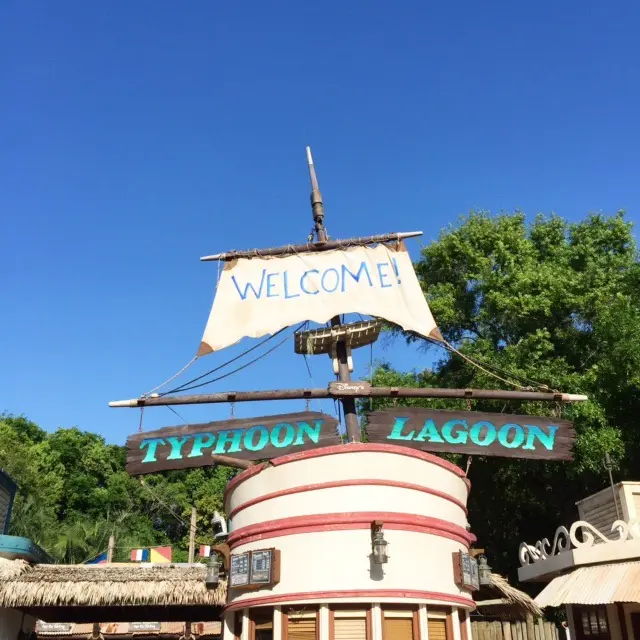 When we go to Disney World we choose to upgrade our tickets to Park Hoppers so that we can visit multiple parks a day. We also choose to have the "Water Parks and More" option: this means that we get 10 credits that can be used towards water parks, Disney Quest, or fun extras like mini golfing. We went into both water parks twice, using four credits in total. We hit Typhoon Lagoon when they opened at 10am both times we went, which meant we had the entire water park to ourselves for a good solid two hours. It was so nice not having to wait in line for anything!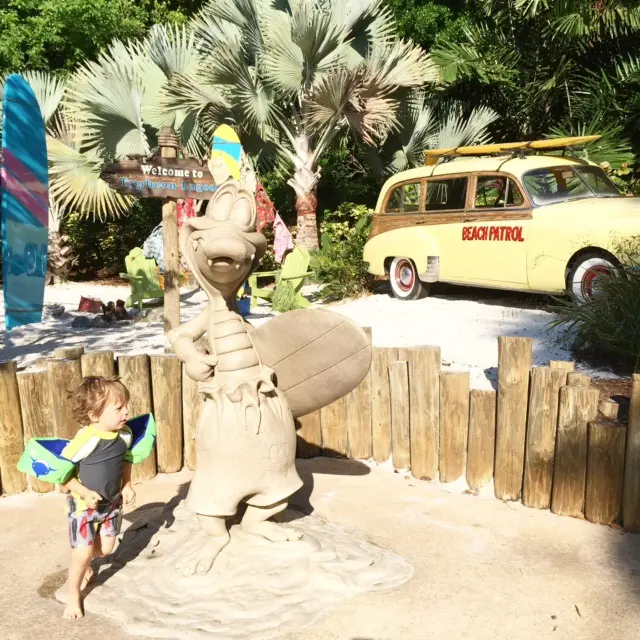 I hardly had time to snap this photo of my son because he was seriously on the move. He was so excited to be at the water park he didn't have time to pose.
Speaking of kids, Typhoon Lagoon has plenty for kids to do! My son is only 38 inches so he's not tall enough for all the big rides in the main theme parks, but he could go on almost everything here! They also have a kids area with tiny mini slides, Water Works complete with buttons and ropes to pull on, and more.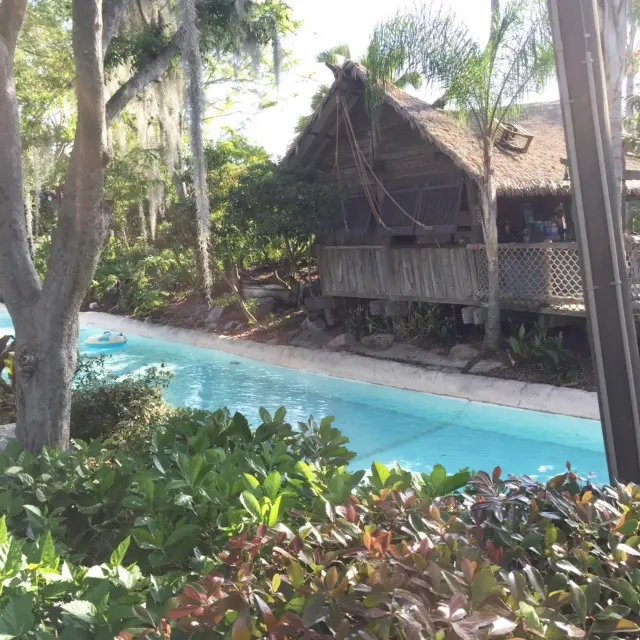 I actually couldn't go on much here myself because I'm pregnant and most of the slides were off limits for expectant mothers, but I did hit the lazy river for a good solid hour. Just grab a float (free of charge), lay back and let the lazy river drift you around and around the park as many times as you like.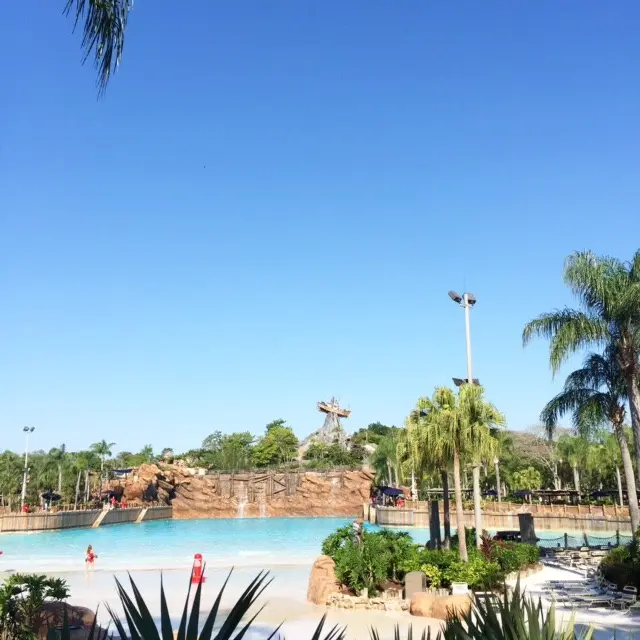 See! I told you it was empty! How gorgeous is that view? Typhoon Lagoon has amazing grounds. They are so clean and well kept, and the scenery is just beautiful here. You can see the wave pool in this photo, which my husband and son LOVED. It can get pretty intense in the deep end, so make sure little ones wear life vests and stay toward the shallow end. Older kids and adults will love getting rocked around the deep end of the wave pool. There are also lots of "adult" slides that are fast, steep, and adventurous. Dads will love these!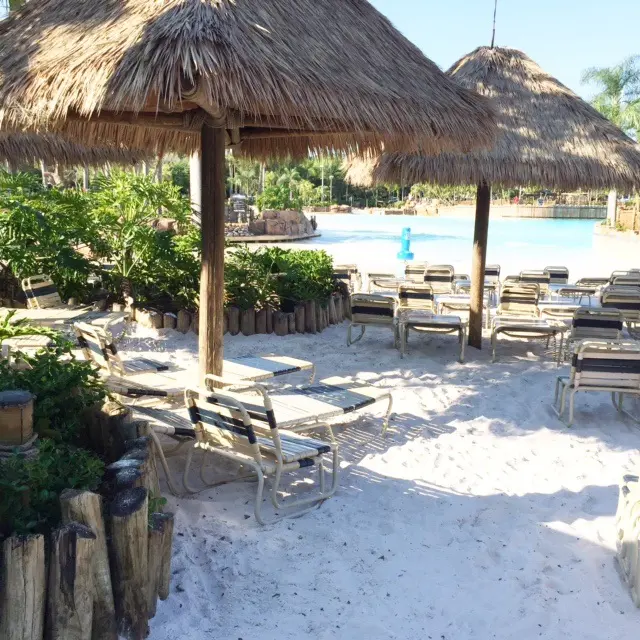 After my hour long float around the Lazy River, I spent a good chunk of the day on the comfortable lounge chairs with a magazine in hand, toes in the sand, and a spectacular view. There really is something for everyone here. Kids will be happy, those who want to relax can spend a whole day here doing just that, and the wild at heart can spend the day slamming down slides. Win-win-win!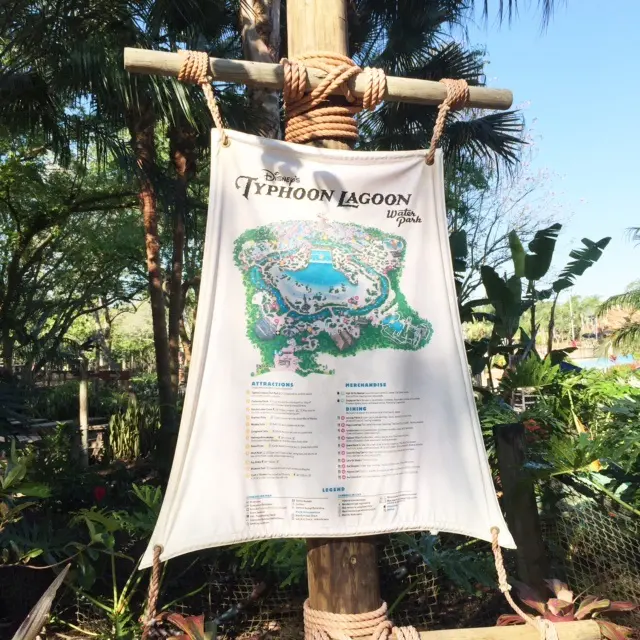 EXPERT TIPS
Here are a few tips I think everyone should know about when visiting Typhoon Lagoon:
– Rent a locker. The lockers are not very expensive and they are worth every penny. You probably want to take cell phones and car keys inside the park but don't want to leave them unattended on a chair. You also don't want to take them in the water with you!
– Pack a lunch if you have picky eaters. While they do have small burger type joints to eat at, the selection is slim. If you've got food allergies like I do, forget it. I packed small snacks like Lara Bars and almonds that easily fit in my locker so I had something to munch on!
– GET THE DONUTS. There is a small stand right across from the locker rentals that sells hot, fresh, mini cinnamon and sugar donuts that are to incredible. You'll think you're in heaven when you eat them. Don't get six. Get the dozen.
– Leave your magic bands in the locker. While magic bands are water proof and do stay on really well, if for some reason you lost your magic band here, you probably would not get it back. They don't float. Use them to get in the parks and then leave them in the locker.
– Bring a towel and sunscreen. Towel rentals are expensive and sunscreen is pricey if you buy it here. Come prepared.
All in all we had an amazing experience at Typhoon Lagoon. When you visit Walt Disney World, don't just do the theme parks, the water parks are a MUST!