After a terrible experience with a previous phone watch for kids, our hunt for a replacement that would keep me in touch with my children and have the durability to hold up in real world kid experiences was on. That brought us to the Verizon Gizmo Watch for kids and let me tell you how.
Our first question was, "Why not the Apple watch?" Yeah, a $300 delicate phone watch that was designed for adults wasn't going to happen. I could just imagine my 6 and 9 year old boys breaking that watch in 0.62 seconds. We had to find one that was designed with kids in mind so that it was durable and had kid-friendly features.
We settled on the Verizon GizmoPal2 which is a Verizon kids phone watch that is made by LG and we couldn't be happier. The LG gizmo watch is amazing! Okay, maybe we could be happier because there are still things we would change, but it's pretty good for now. We actually switched our cell phone service from AT&T over to Verizon just to get the gizmo watch for kids. Sorry, AT&T, but your Filip watch just isn't durable enough yet.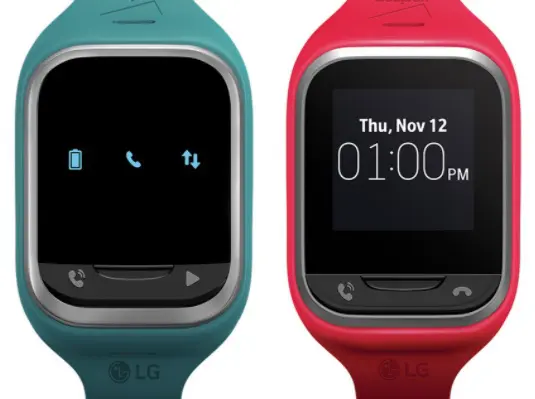 When signing up at Verizon, we decided to get the cheaper GizmoPal2 ($79) watches instead of the Gizmo Gadget ($149) which is like its big brother. While I liked the dark blue Gizmo Gadget watch better than the GizmoPal2 color options, color wasn't going to sway my decision on this one. Sure, the Gizmo Gadget has more features such as the ability to send short text messages, fitness goals and can call up to 10 pre-programmed numbers, but since my kids are younger (6, 9, and 11), we decided that the GizmoPal2 had all the features we were looking for.
We have been using the GizmoPal2 watches for 3 months and are really pleased. Are they perfect? Nope. But they are the closest thing we could find on the market so far.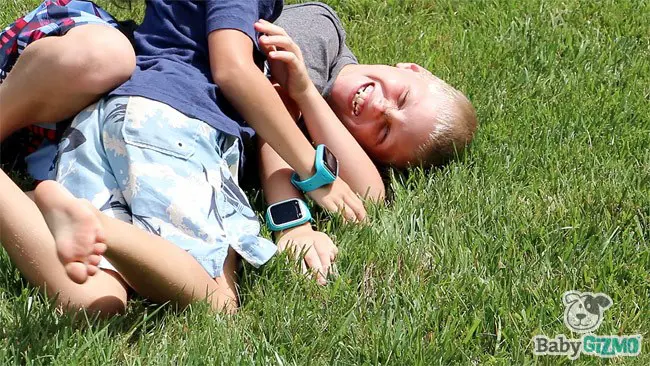 WHAT WE LIKE:
It's wearable. No more worrying that your child could lose the cellphone because they leave it behind when they are in a hurry or they drop it out of their bag. The GizmoPal2 stays safe and secure on their wrist. Plus, it's much easier to hear a phone ring when it is on your wrist and not buried in your bag.
Makes and receives calls from up to 4 pre-programmed numbers. No creepy telemarketers or unnecessary chatting. This watch features 2-way calling to and from the 4 contacts that you programme into the phone using the app.
Durable and waterproof. Since the GizmoPal2 was designed for kids, it is durable enough for the roughest of play. Plus, it's waterproof so hand washing, water balloon fights and day-to-day splashes are all good. They don't recommend swimming with the watch on though.
Control from the GizmoHub app. The GizmoHub app lets you program and change the 4 contacts, change the volume, check the battery life and locate the general vicinity of the location of the watch.
Battery life is good. The battery is good for up to 9 days just in standby (no usage) and works for about 2 1/2 hours of calls and use. It's super fast charge though. After plugging in the watch, it's fully charged within 30 minutes most of the time.
Sound is good. I find the sound on the watch to be perfectly acceptable. I can hear the kids when I call them on my smartphone and they can hear my voice through the watch. It sounds like a speakerphone.
Forced Auto-Answer. Have a child who may ignore a ringing phone and not answer when you call? No worries. The GizmoPal2 has an auto-answer feature that forces the phone to answer even when ignored. Once or twice having your mom just speak on your wrist as you try to play it cool that you weren't going to answer around your friends, will teach them to answer even quicker the next time. 🙂
Price. We paid $79 for TWO watches. Yep, they were have a buy one get one promotion and we scooped up two. The monthly charge added on our Verizon bill for the watches (for unlimited watch calling) is $5/watch each month. That's quite a deal considering other companies are charging up to $20-25 per watch for usage and limiting the numbers of calls.
WHAT COULD BE IMPROVED TO MAKE IT BETTER:
GPS Tracking Feature. Yes, it has a GPS tracking feature on the GizmoHub app but it certainly isn't like the GPS map tracking I'm used to. I want live tracking with a dot that shows when the watch is moving and where. (Like when I'm mapping something on my iPhone). It doesn't work that way. You push the watch locator button on the app… and then wait. Up to 3 minutes. Yeah, nothing "LIVE" about that. And when it does locate the watch, it gives me a general address or area. In today's technology, I expect it to let me zoom in and give me an exact location. If it could tell me which bag my kids stashed it in – even better! For now, I have to settle for a delayed general location.
TIP: We were having trouble with the location feature of the watch in which it would return a message that it couldn't be located. Not cool, Verizon. Luckily, a Baby Gizmo fan gave us the tip that if you call the watch briefly so that it can ping it, the locator will then find it. It may still take it up to 3 minutes though.
Shut off the watch but can't turn it back on. The GizmoHub has an option where you can turn off the watch BUT be careful because it can't be turned back on by your app. What?!? Once you turn it off, you can't locate the watch or anything. So, we'd love to see this feature updated with a turn back on option. For now, we just never turn the watch off with the app.
Size of watch. Since my kids are bigger, this is no big deal for us because it fits them perfectly, but if you have smaller kids (let's say 5 years old), the watch may seem very bulky on their tiny wrists. There are plenty of tightening holes so it will still fit them, but it will just be a little bulky. Since the screen on the watch isn't a touchscreen, there is really no reason to have it as big as it is. Sure, the Gizmo Gadget needs a big screen for texting and the fitness options, but the GizmoPal2 does not. Why is it so big, LG and Verizon???
Watch screen. While the screen on the GizmoPal2 is large, it doesn't really show anything. The only thing it shows are three tiny icons that light up with someone calls (or you want to call someone), battery life and an icon to scan through your contacts. That's it. If the screen is going to be this large, I'd love to see an actual clock show up. Yes, there is a time announcement that you can check but it can be confusing for young kids to remember how to get it to announce the time. But there is no physical clock to actually see! Nope, just a big black screen.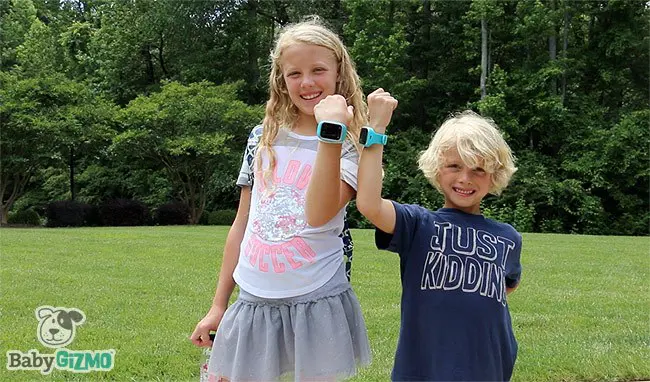 So, there you go. That is what we like and… well… what we think can be improved on the GizmoPal2 phone watch. After browsing the other options on the market, we still think we made a great choice for now. There is definitely room for improvement (ummm… fix the GPS, LG and Verizon!!). Maybe we'll try out the Gizmo Gadget one of these days to see how it compares? It might be a better fit for my 11 year old but we'll see.
Have you been looking for a phone watch for your kids? What are your must-have features?