UPDATE (June 7, 2021): The Walt Disney World Port Orleans French Quarter Resort was closed due to Covid-19 in 2020 and does not have a reopening date in 2021 yet.
I'm back from my two week vacation to Walt Disney World and I'm sharing everything there is to know about the fabulous Port Orleans French Quarter resort. I'm here to give you an inside look at the rooms, the pool, the property, everything!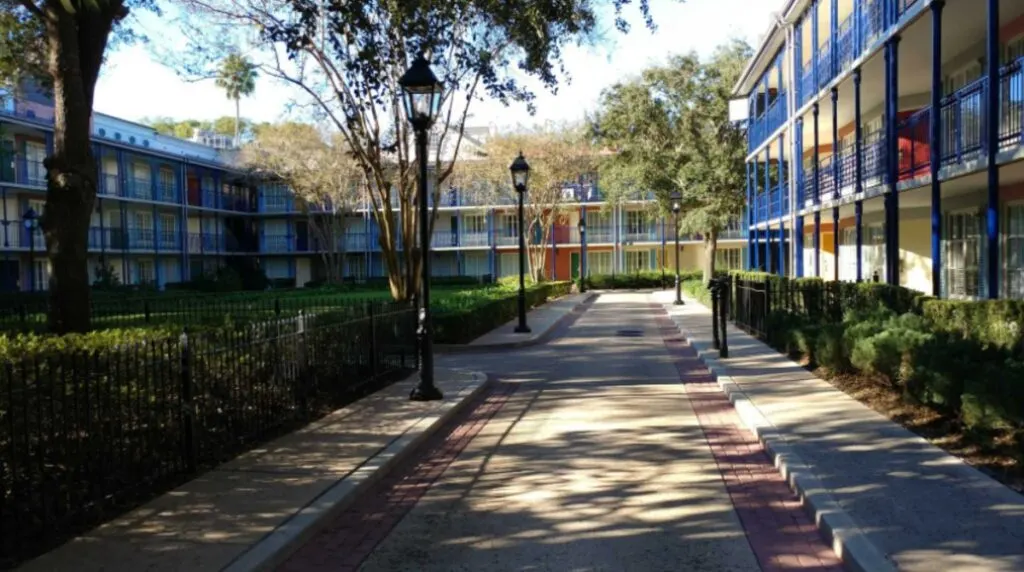 Walt Disney World has three tiers when labeling their resorts: value, moderate, and deluxe, and Port Orleans is a labelled moderate. It is a gorgeous, mardi gras themed area that will have you feeling like you just stepped into New Orleans.
The French Quarter hotel we stayed at has a sister resort right next door called Port Orleans Riverside, and guests staying at either resort have free access to use pools at both sites, as well as access to Downtown Disney by boat.
Disney Port Orleans Room Tour
Here is an inside look at the rooms at French Quarter. Each room has a small table with chairs, a mini fridge and coffee maker, two double beds (or a king size bed), a separated area with a double sink and mirrors, bathroom, and an area to hang up your clothes complete with an ironing board, hangers, and safe.
The room is, of course, also stocked up on soaps and shampoos, hair dryers, all that good stuff. The beds are comfortable and the rooms are very accommodating. If you have little ones you can request bed rails or pack and plays for no additional cost!
Housekeeping comes every day and does a fabulous job at tidying up the room. They even did fancy towel art for my son each day which he loved coming back to the room to find! Check out the rooms in the photos I took below: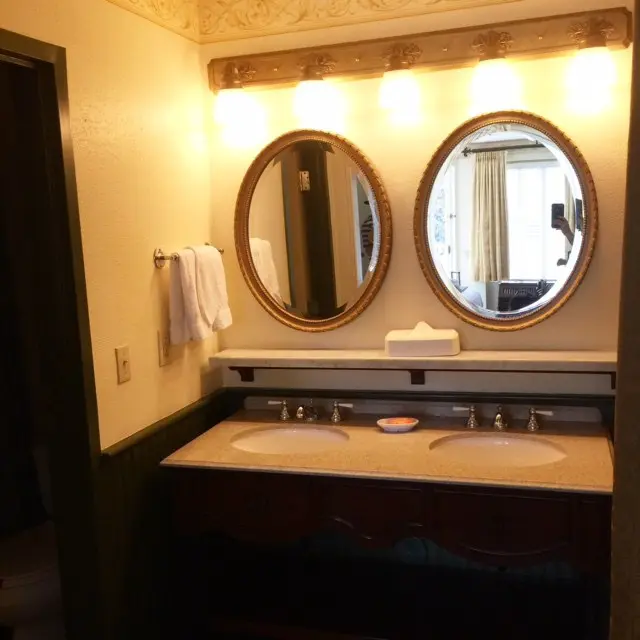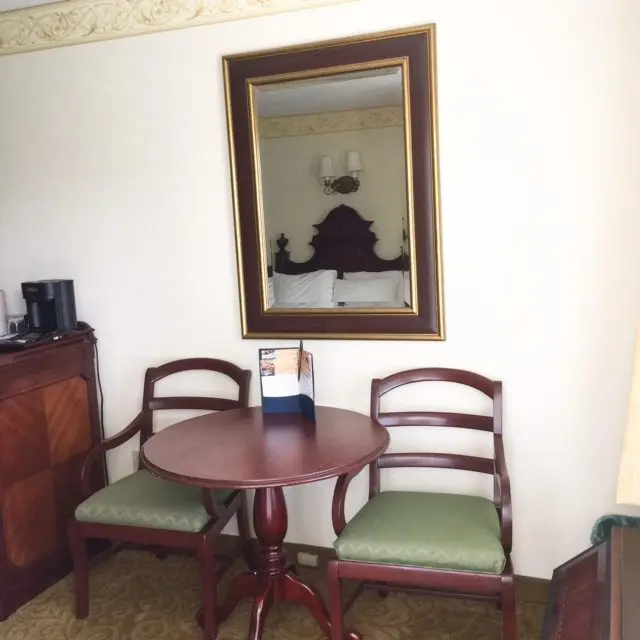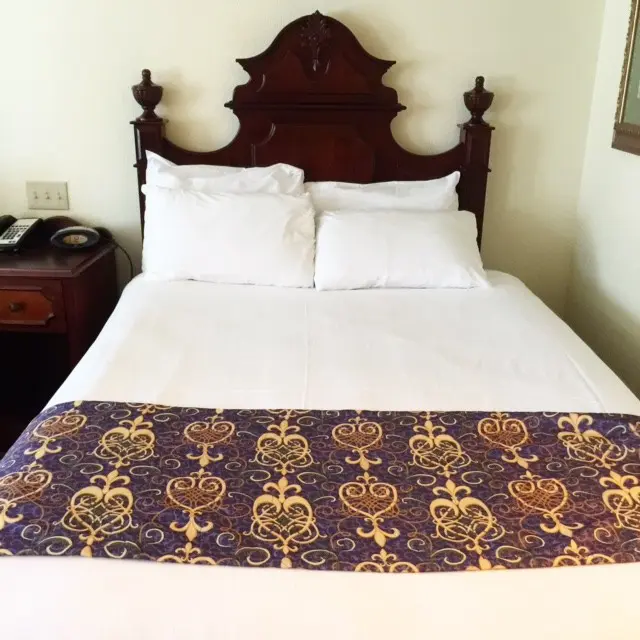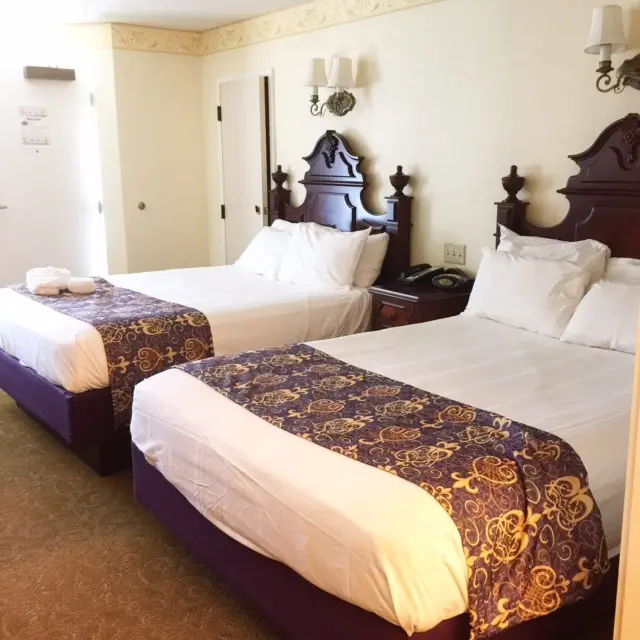 We've been staying at the Port Orleans French Quarter since I was four years old, and while it has happily had some revamping and a great makeover over the years, it remains my very favorite.
Disney Port Orleans French Quarter Pool
One of our favorite parts of French Quarter is the pool! It is a huge pool complete with King Tritan (the Little Mermaid's father) and his sea serpent as a water slide that kids love! There's also fountains and waterfalls all over, and mom and dad will love relaxing in the hot tub.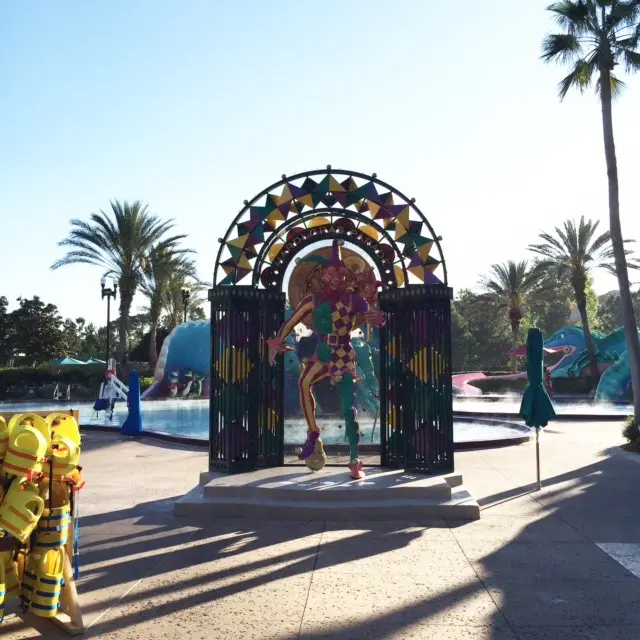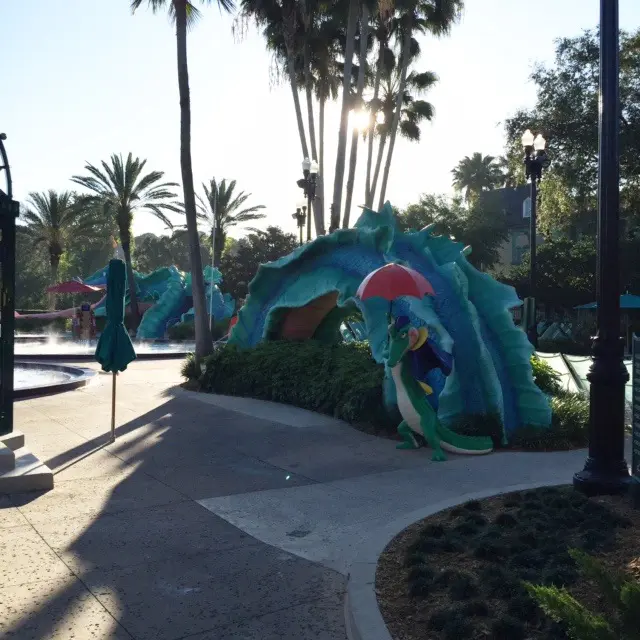 Port Orleans French Quarter also has a great playground for the kids.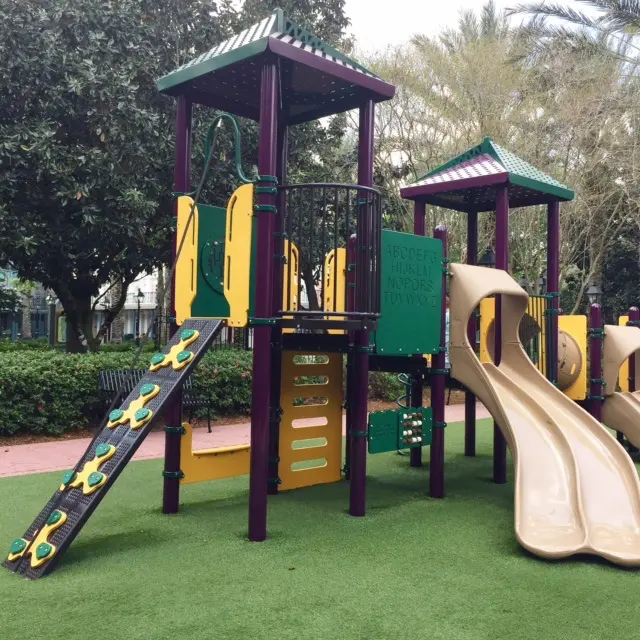 Food Court
Obviously one of my favorite parts of the resort is the amazing food court. This place is not what you might typically find: it's a five star food court complete with amazing chefs, who came out and talked to me every single time I was in there and had a question relating to my food allergies.
You can get five star food for you to grab and take to the parks, back to your room, or to just sit in one of the many areas to eat right there in the fabulously decorated dining room. The French Quarter food court is also the only place anywhere that you can get gluten free AND vegan beignets. The beignets are to die for, even if you're not staying here, I think you should stop in and try some!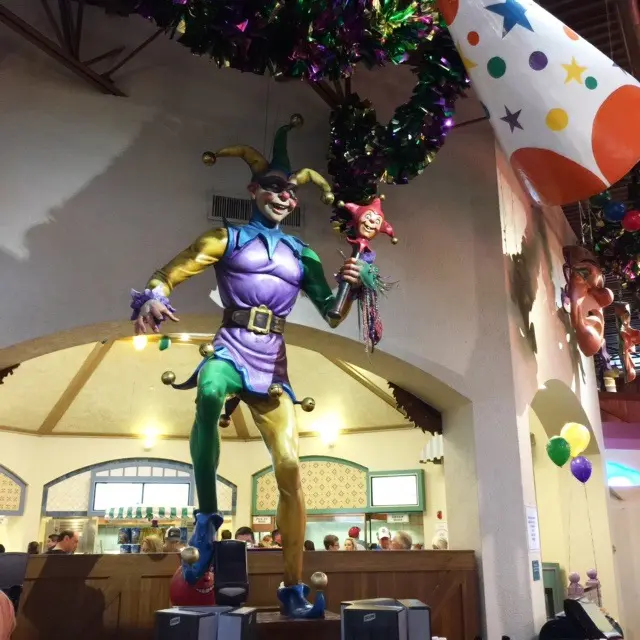 You can get breakfast, lunch, or dinner here and like I said, they are very accommodating. So if you don't see something from the huge menu selection, just ask!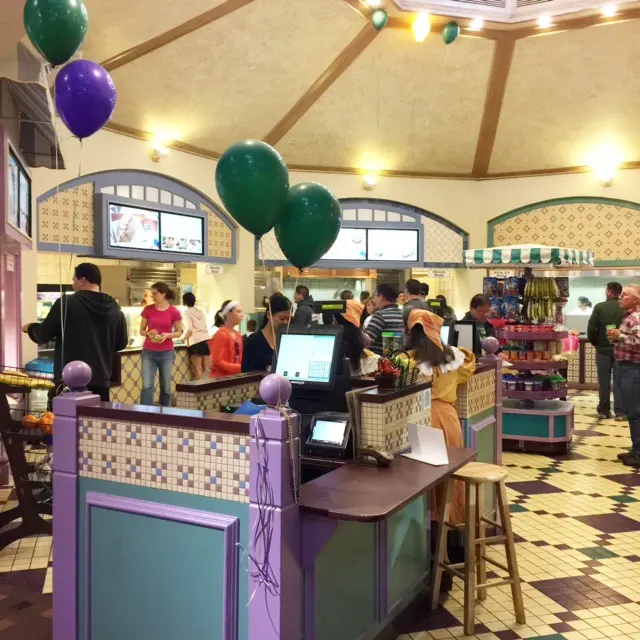 Overall, I give Port Orleans French Quarter two huge thumbs up. Check in took all of five minutes, the grounds are gorgeous, clean, and very well kept. Housekeeping never failed us. Your kids could technically spend the entire day entertained while splashing around the pool, and a soak in their hot tub is heavenly.
Rooms are big, comfortable, and quiet. You can even get wake up calls from Mickey Mouse himself if you choose to! The food court is well priced and the selection is vast and delicious. There's also an arcade inside the resort that kids can play in if you have some down time, and the resort offers fun events like Frozen Fridays where you can sing along to Frozen songs and build snowmen with Olaf.
You definitely won't be disappointed if you stay here. You get a lot for the price you pay, you're close to all the parks, and you're in great hands! I'm ready to book again!
FAQs
Is parking available at Disney's Port Orleans Resort – French Quarter?
Yes, there is parking available.
Is the Disney Port Orlean French Quarter Resort open in 2021?
No. The Walt Disney World French Quarter Resort was closed due to Covid-19 in 2020 and does not have a reopening date in 2021 yet.
OTHER DISNEY RESORT REVIEWS
Disney Art of Animation Review
Animal Kingdom Lodge Room Tour
Disney Contemporary Resort Review