Every family should have a first aid kit at home. A well stocked first aid kit should be within a parent's easy reach and full of supplies that will help you handle an emergency at a moment's notice. But what exactly should be in that first aid kit? Today I'm here to share with you what every family should have on hand.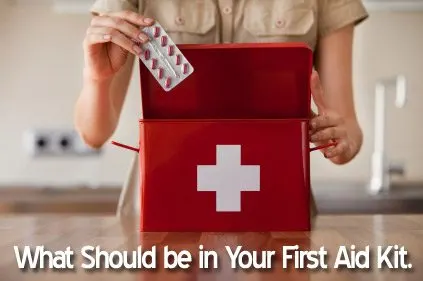 What should be in your kit-
-First aid manual
-Sterile gauze pads
-Adhesive tape
-Adhesive bandages in several different sizes
-Soap
-Antiseptic Wipes
-Antibiotic ointment like neosporin
-Tweezers
-Scissors
-Safety pins
-Disposable instant cold packs
-Thermometer
-Plastic non-laytex gloves
-Flashlight and extra batteries
-A blanket
-Emergency phone numbers
Some tips to keep in mind about your first aid kit at home-
-Read your first aid manual before you stock it away.
-Understand how to use the contents of your kit or otherwise they are basically useless.
-Store your first aid kit in a place that is out of your children's reach but is easily accessible for adults.
-Make sure you check your kit from time to time and re-stock when needed.
-You can purchase a first aid kit at drugstores or a local Red Cross office.
-If you are making your own, choose a container that is easy to carry and simple to open.
-Having a second first aid kit in your car is always a great idea.
-Make sure the batteries for your flashlight work.
-Check expiration dates on products and replace them with new ones when needed.
-Include any personal items you need like specific medications.
Do you have a first aid kit at home? What do you have in it? Where do you store it? Leave us a comment and add any suggestions or items you have!