Do you have a hard time going to museums because your kids want to touch everything or worse climb it? Then I have the perfect place for you. Two weekends ago we travelled to St Louis for the day. Had a nice picnic beneath the Arch and instead of waiting in line to go to the top decided we wanted to go see City Museum. Best decision ever!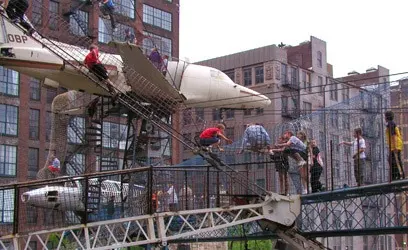 It's hard to describe the City Museum. I had seen the website and read the reviews but was still amazed when I walked in. I was even more amazed as we actually explored the Museum. Here is my attempt at a description. The City Museum is like entering an art museum featuring life size structural art except instead of admiring the art you get to touch it, and climb it, or go over it, or under, or through it and it leads you to something completely different.
A simpler description could be that it's Tim Burton's playhouse. Here is how City Museum likes to describe themselves:
Housed in the 600,000 square-foot former International Shoe Company, the museum is an eclectic mixture of children's playground, funhouse, surrealistic pavilion, and architectural marvel made out of unique, found objects. The brainchild of internationally acclaimed artist Bob Cassilly, a classically trained sculptor and serial entrepreneur, the museum opened for visitors in 1997 to the riotous approval of young and old alike.
Cassilly and his longtime crew of 20 artisans have constructed the museum from the very stuff of the city; and, as a result, it has urban roots deeper than any other institutions'. Reaching no farther than municipal borders for its reclaimed building materials, CITY MUSEUM boasts features such as old chimneys, salvaged bridges, construction cranes, miles of tile, and even two abandoned planes!
"CITY MUSEUM makes you want to know," says Cassilly. "The point is not to learn every fact, but to say, 'Wow, that's wonderful.' And if it's wonderful, it's worth preserving."
This is the first museum I have been to where I want a membership. I wish I lived in or around St Louis so that I could go back again and again. If you are traveling to this city or even within 100 miles of St. Louis then you need to make a detour.
The City Museum is worth the stop for almost all ages. Thing 1 is four years old now and loved the museum. He loved dragging Mommy or Daddy through all the holes, caves, cages, and whatever else he could find. Some of the areas get pretty tight but we managed them. As we explored I was actually shocked that a place like this could exist in this day and age. Lawyers would probably advise against most of the exhibits saying they are just a lawsuit waiting to happen but this is why we loved it. The imagination truly can run wild in the City Museum.
Thing 2 is still a few months shy of two years old. She had a blast but had to stay on the main path more often since most of the caves, tubes, slides were too adventurous for her abilities. The City Museum has Toddler Town built for boys and girls just like her.
The playground is not as impressive as the rest of the museum but Thing 2 didn't seem to mind. More cautious parents will also be thankful with how tame Toddler Town is. Near Toddler Town is the Museum's Art City. The Art City was a large open room of endless art projects. Just as the museum is a collection of recycled items so is the Art Room.
Using old cardboard boxes and plastic bottles toddler and teenagers alike were building flowers, frames, and canvases and finishing them off with paint and glitter. There were craft stations too to make more elaborate projects using clay, copper, etc.
The museum costs $12 for every person over 3 years old and is worth every penny. There are additional charges for the attached aquarium and roof exhibits. City museum has a coat and bag check. You can check any items including strollers for just $1. They didn't ask me to break my stroller down either so you can stuff the basket full of other items. For those with infants I would suggest babywearing due to all the stairs in the museum. There are lots of ramps so you could get buy with a stroller of any size but you will limit yourself immensely.
The City Museum is truly an awesome place for all ages. Explore the City Museum.