Have you ever spent hours scrolling through Pinterest, looking at all the incredibly cute ideas for crafts, activities, and recipes, just to end up feeling totally inadequate and boring because you know you'll never actually attempt anything you're re-pinning?
As each new holiday approaches, I find myself in this predicament. I get so excited to try all these ideas, knowing my toddler would love to join me in my crafting, but never actually get around to doing any of it. Since St. Patrick's is around the corner, I once again have determined I will be a "fun mom" and create at least one holiday decoration with my daughter. So I've rounded up 10 fun toddler-friendly St Patrick's Day Crafts to choose from that are easy enough to get me off my lazy butt!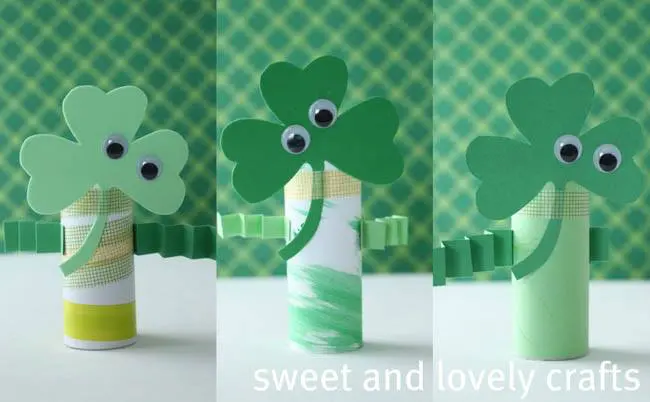 Shamrock Stamping—Your child can use a pencil and paint to create a cute shamrock outline. Put this on a card to their grandparents and make their day!
3D Over the Rainbow—A 3D rainbow with a pot of gold. This craft is a little more challenging since it has a few more steps than other crafts I'm suggesting, but it's just so cute!
Leprechaun Face with Fork Paint Beard—How cute is this leprechaun face with a beard you paint on using a fork?
Shamrock Wand—Any little girl who loves to be a fairy or princess will love waving around this craft.
Q-tip Shamrock—Everything is cuter in miniature, right? Add these little decorations to pretty much anything else to increase the "adorable" factor.
Leprechaun Beard—I can just hear my toddler's giggles now as she stares at her reflection and feels the paper from the beard tickling her face. This may be one of the St Patricks Day Crafts I make sure I complete.
Activity: Coin Dig—Okay, this may not be a "craft" that you'd file away as a keepsake, but what toddler doesn't like getting their hands messy and finding treasures?
Cereal Sort (Sensory Play)—First you do this sort using Lucky Charms cereal, then you use the marshmallows to create a cute rainbow!
Wee Little Shamrock Men—Using toilet paper rolls and googly eyes, you create funky looking little "men" your toddler can play with in their doll houses and race cars.